Witness Hints Ben and J. Lo's Wedding Wasn't Planned: They Were a 'Walk-In'
A witness working at The Little White Chapel in Las Vegas is spilling a few details about Ben Affleck and Jennifer Lopez's Las Vegas wedding ceremony.
Kenosha Portis told Good Morning America the venue was wrapping up for the evening when the A-lister walked in, hinting Bennifer's nuptials weren't planned.
"It was so exciting. I mean, we were getting ready to close and we had a special guest arrive as a walk-in," she shared on the ABC talk show. "I started shaking a little bit, you know? I was like, 'Oh my God, this is Jennifer Lopez!'"
Portis added that the pair read each other their vows, which were "very sweet."
"They both were emotional. They cried to each other. The kids were right there behind them."
As for the Marry Me actress' wedding look, "She had on a nice, elegant, beige, lacey-type dress that had a train on it. It was beautiful," Portis said. "Everything was very sleek and beautiful. She was stunning."
"She had a beautiful bouquet, white bouquet, and he had a boutonnière as well that matched that."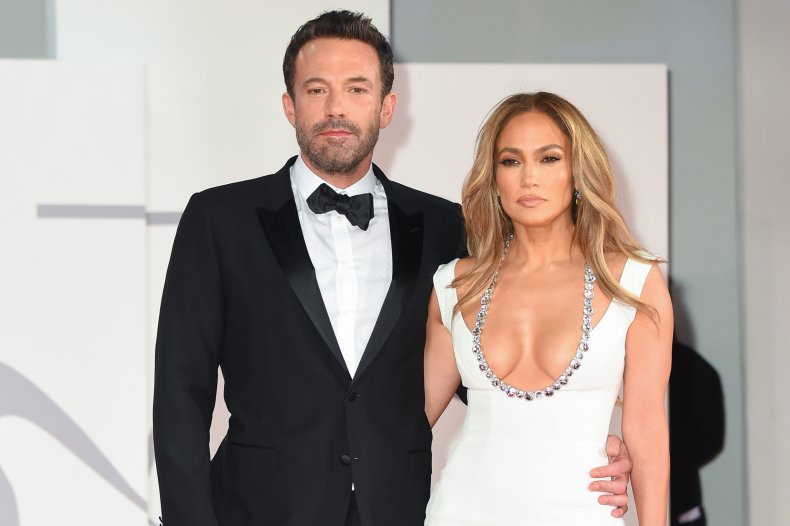 On Sunday, July 17, J. Lo, 52, confirmed she and Affleck, 49, tied the knot more than 16 years after the couple called off their first engagement.
"We did it. Love is beautiful. Love is kind. And it turns out love is patient. Twenty years patient," the Super Bowl Halftime Show performer gushed via her "On the JLo" newsletter.
"We barely made it to the little white wedding chapel by midnight," she revealed, echoing Portis' point about their late arrival. "They graciously stayed open late a few minutes, let us take pictures in a pink Cadillac convertible, evidently once used by The King himself (but if we wanted Elvis himself to show, that cost extra and he was in bed)."
She added: "So with the best witnesses you could ever imagine, a dress from an old movie and a jacket from Ben's closet, we read our own vows in the little chapel and gave one another the rings we'll wear for the rest of our lives."
The "Let's Get Loud" singer said "it was the best possible wedding we could have imagined" and "one we dreamed of long ago."
Lopez, who revealed she changed her name to Affleck, and her new husband met on the set of their movie Gigli, while she was still married to her second husband Cris Judd.
Following their breakup, the duo got together and the Deep Water actor proposed in 2002. Unfortunately, they never made it down the aisle and called it quits in 2004.
Despite going their separate ways, they never spoke badly about one another over the years. Affleck even praised his then-ex in early 2021 during an interview with InStyle, calling Lopez the "hardest-working person."
"I thought I had a good work ethic, but I was completely humbled and blown away by what [Lopez] was committed to doing day in and day out, the seriousness in which she took her work, the quiet and dedicated way she went about accomplishing her goals and then how she would go back and redouble her efforts," the California native sweetly shared.
"She has great talent, but she has also worked very hard for her success, and I'm so happy for her that she seems, at long last, to be getting the credit she deserves."
After getting back together in 2021 and re-engaged in 2022, the Hustlers star reflected on the reason for their split.
"When Ben and I were younger and we were together, we were just out there with our relationship," Lopez explained in February 2022, noting they were "just at a different place in our life." She continued, "We're going to try to keep as much as we can sharing our happiness, but at the same time keeping it very sacred and close to our own hearts."
Now, the Afflecks are officially a blended family. Lopez shares twins Max and Emme Muñiz with ex-husband Marc Anthony, while the Gone Girl alum shares daughters Violet and Seraphina and son Samuel Affleck with ex-wife Jennifer Garner.