Jennifer Lopez Said She Would Change Her Name to Affleck in Resurfaced Clip
A resurfaced clip from 2004 of Jennifer Lopez saying she would take Ben Affleck's name when they get married is melting hearts on social media.
In the hours following the couple's surprise Las Vegas nuptials, a clip of the pop star discussing her marriage to the actor the first time they were engaged began circulating on social media.
The "Let's Get Loud" singer is now officially Jennifer Affleck after they finally tied the knot since they rekindled their romance last year following their engagement back in the early 2000s.
The couple dated from 2002 to 2004 and called off their wedding due to the intense media scrutiny into their relationship.
Both went on to marry others and have children, but they reunited in 2021.
Lopez announced the news they had wed in her official newsletter, with the heading: "We did it."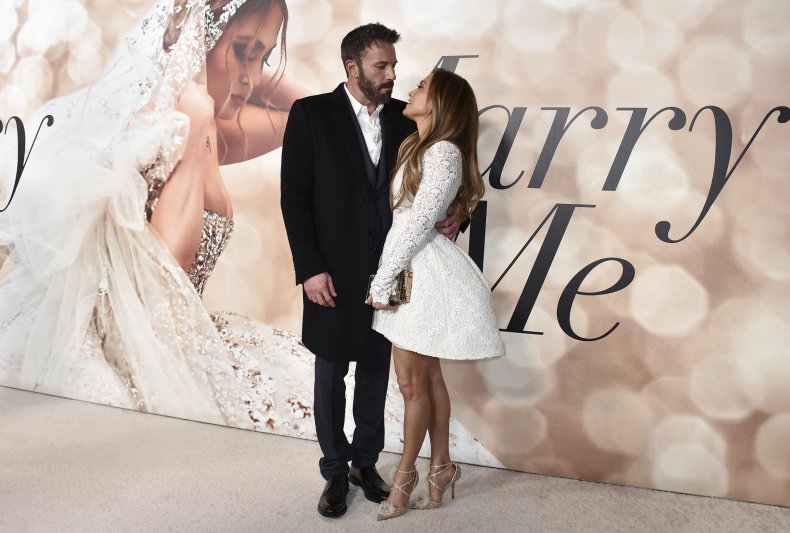 She wrote: "Love is beautiful. Love is kind. And it turns out love is patient. Twenty years patient."
She also added the Vegas ceremony was the "best possible wedding we could have imagined."
Lopez also appeared to confirm she would be taking Affleck's name, signing her newsletter off as "Jennifer Lynn Affleck."
The Hustlers star spoke about changing her name in an Access Hollywood special in 2014, according to Hollywood Life.
"I wanna know, a week after you're married, what will your name be?" host Pat O'Brien asks Lopez in the clip which has clocked up more than 20,000 views on Twitter at the time of writing.
"Jennifer Lopez, but my name will be Jennifer Affleck, obviously," she answered, before joking: "J. Aff...doesn't quite the same ring to it, but..."
In her wedding announcement on Sunday, the new Mrs. Jennifer Affleck added: "When love is real, the only thing that matters in marriage is one another and the promise we make to love, care, understand, be patient, loving, and good to one another. We had that. And so much more. Best night of our lives.
"They were right when they said, 'all you need is love,'" Lopez concluded in her newsletter posted on Sunday, July 17.
"We are so grateful to have that in abundance, a new wonderful family of five amazing children and a life that we have never had more reason to look forward to. Love is a great thing, maybe the best of things—and worth waiting for."
This statement is in stark contrast to the one the couple released announcing the end of their engagement on 2004, which read: "Due to the excessive media attention surrounding our wedding, we have decided to postpone the date," they said in the joint statement at the time. "When we found ourselves seriously contemplating hiring three separate 'decoy brides' at three different locations, we realized that something was awry."
They also noted that the "spirit of what should have been the happiest day of our lives could be compromised."
In recent months, Lopez has been in the news for more than just her love life, although another resurfaced video showed what Lopez truly thinks of Affleck's large back tattoo.
In June, a series of scathing comments made by Jennifer Lopez has gone viral after she voiced her displeasure at having to share the 2020 Super Bowl halftime stage with Shakira.
That same month, Lopez was granted the generation award at the MTV Movie and TV Awards, a new trophy that "celebrates beloved actors whose diverse contributions to both film and television have turned them into household names."
Lopez also won best song, for "On My Way (Marry Me)" from her latest movie, Marry Me.