Ben Crump Reacts to Daunte Wright Killing After George Floyd— 'When Will This Stop?'
Civil rights attorney Ben Crump has condemned the fatal shooting of 20-year-old Daunte Wright by police.
Wright's family identified him as the person killed during a traffic stop in the Minneapolis suburb of Brooklyn Center on Sunday afternoon.
The Black man's death triggered protests in an area already on edge during the trial of Derek Chauvin, the former Minneapolis police officer charged in the death of George Floyd.
Floyd died after Chauvin was seen on video kneeling on his neck for more than nine minutes in May last year, sparking protests that quickly spread from Minneapolis to the rest of the country and beyond.
Crump, who represents the Floyd family and has also worked with the families of Trayvon Martin, Ahmaud Arbery and Breonna Taylor, took to Twitter early Monday to decry police violence.
"Daunte Wright, a 20yo Black man, was fatally shot by police during a TRAFFIC VIOLATION in Minneapolis, only a few miles from where George Floyd was murdered!" Crump tweeted.
"The police have unjustifiably made themselves judge, jury, & executioner. When will this stop?!"
Speaking to Reuters as the Chauvin's trial entered a third week, Crump criticized the defense team's attempt to blame the ex-officer's use of force on the crowd around him during Floyd's arrest, calling it "asinine."
Crump has been contacted for additional comment.
Wright's mother Katie Wright told reporters her son called to say he had been pulled over because of air fresheners that were hanging from his rearview mirror.
In a news release, Brooklyn Center Police Chief Tim Gannon said a driver was pulled over for a traffic violation, and officers then learned he had an outstanding warrant for his arrest.
Gannon said that as the officers attempted to take the driver into custody, he got back in his vehicle. An officer shot the driver, Gannon said, and his car "traveled for several blocks before striking another vehicle."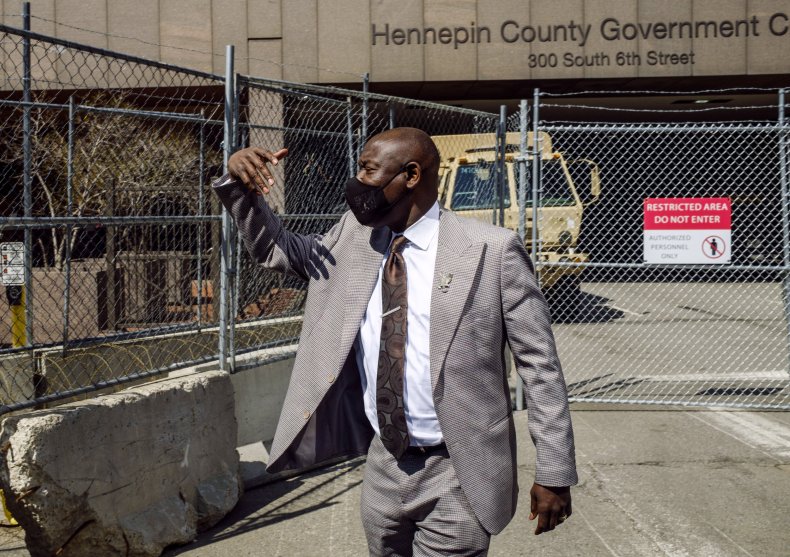 Police said a woman who was also in the car sustained injuries that were not life-threatening. Wright's mother identified that woman as her son's girlfriend.
During her call with her son, Wright told reporters that she "heard the police officer come to the window and say to put the phone down and get out of the car. And Daunte said why, and he said, we'll explain to you when you get out of the car."
She said her son then dropped the phone or put it down. "I heard scuffling and I heard the police officer say, 'Daunte, don't run,' and the other officer said, 'put the phone down' and hung it up," she added.
"Like a minute later, I called and his girlfriend answered, which was the passenger in the car, and said that he'd been shot and she put it on the driver's side, and my son was laying there lifeless."