Daunte Wright's Girlfriend Was With Him When He Was Shot, His Mother Says
Daunte Wright had been driving in a car with his girlfriend when he was fatally shot by a police officer during a traffic stop, his mother has said.
Wright, a 20-year-old Black man, was identified by his family as the person fatally shot by police in Brooklyn Center, a suburb of Minneapolis, on Sunday afternoon.
His mother, Katie Wright, told reporters that her son had been pulled over because of air fresheners that were hanging from his rearview mirror.
In a news release, Brooklyn Center police chief Tim Gannon said officers shot the man after pulling his car over for a traffic violation, and learning that he had an outstanding warrant for his arrest.
Gannon said the man had gotten back into his vehicle as officers attempted to take him into custody. At that point, an officer shot him and the man's car "traveled for several blocks before striking another vehicle," Gannon said.
Gannon said a woman who was in the vehicle was hurt in the crash, but her injuries were not life-threatening. She was transported to North Memorial Hospital in Robinsdale, he said.
Katie Wright identified the passenger as her son's girlfriend.
She said her son had called her when he was pulled over in the vehicle, which she said she had recently given him.
"Then I heard the police officer come to the window and say to put the phone down and get out of the car," she told reporters. "And Daunte said why, and he said, we'll explain to you when you get out of the car."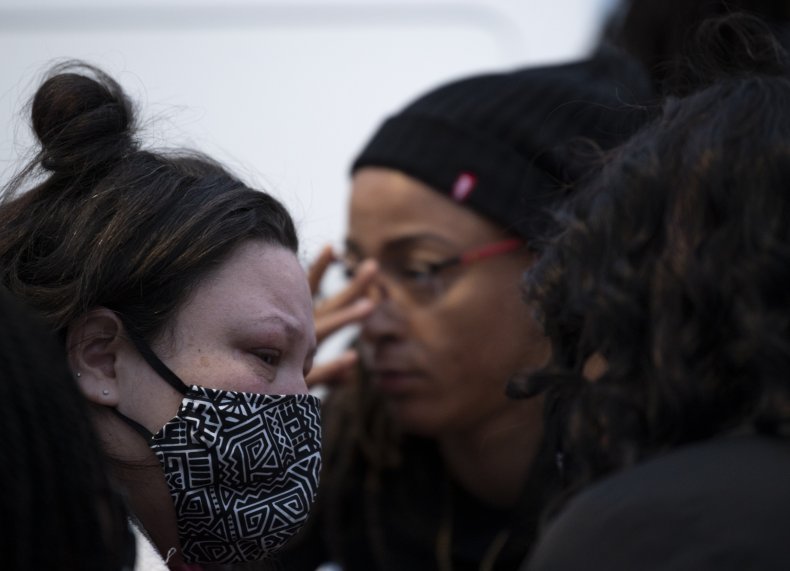 She said her son then dropped the phone or put it down. "I heard scuffling and I heard the police officer say, 'Daunte, don't run,' and the other officer said, 'put the phone down' and hung it up," she continued.
"Like a minute later, I called and his girlfriend answered, which was the passenger in the car, and said that he'd been shot and she put it on the driver's side, and my son was laying there lifeless.
"And then I said, 'where are you?' and she said, 'I don't know.'"
Wright said an officer made her son's girlfriend end the call, and she then called 911 to find out where the incident occurred.
Wright's shooting has triggered unrest at a time when tensions were already high in Minneapolis, where the trial of Derek Chauvin, the former officer charged in the death of George Floyd, is about to enter its third week.
Brooklyn Center police fired tear gas and flash bangs into a crowd of protesters who gathered outside the police department's headquarters on Sunday night. The city's mayor Mike Elliott announced a curfew until 6 a.m. Monday and the National Guard were called to the city.
Meanwhile, calls are mounting for the police body camera footage of the shooting to be released. Gannon said Brooklyn Center officers are equipped with body-worn cameras, and it is believed that body-worn cameras and dash cameras were activated at the time.
The police department said it had asked the Minnesota Bureau of Criminal Apprehension (BCA) to conduct an independent investigation into the incident.