Ben Stein Slammed Over 'Racist' Aunt Jemima Syrup Comment—'STFU and Listen'
Ben Stein has been slammed on social media for lamenting the removal of the "large African American woman chef" from the syrup brand formerly known as Aunt Jemima.
The original Aunt Jemima image was that of a "mammy" caricature that depicted female slaves as happy to be enslaved, who cared for the white family of the slave owners and ignored their own.
While the image of Aunt Jemima in the logo was eventually updated to move away from the caricature, the brand's name had racist roots, too. The brand got its name from the song "Old Aunt Jemima," which was performed at minstrel shows, often by a white man wearing blackface.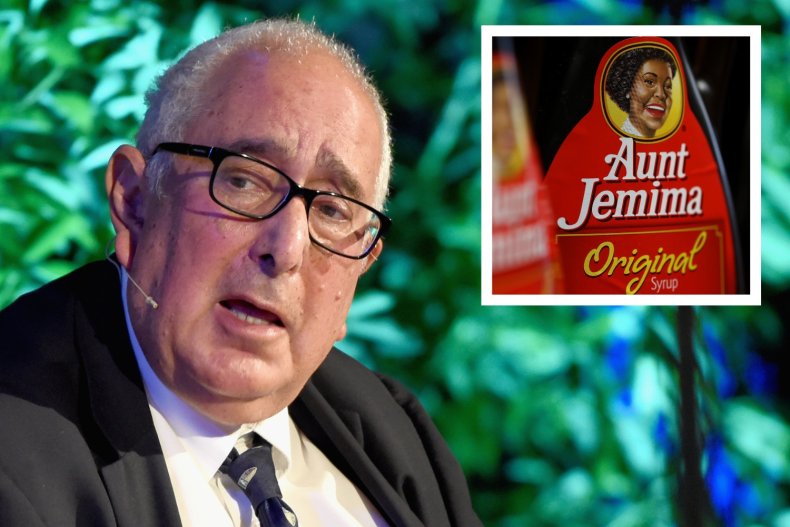 Amid the Black Lives Matter Movement protests in 2020 and amplified criticism, Quaker Foods—which is owned by Pepsi Co.—said that it would remove the image and change the brand's name to Pearl Milling Company.
This change appeared to leave actor and conservative commentator Stein, 78, particularly unimpressed, as he addressed the alternative branding while speaking of sometimes making himself "breakfast for dinner."
In a video shared on Truth Social, the Ferris Bueller's Day Off star held up a bottle of the syrup as he said: "This used to show a large African American woman chef, but because of the inherent racism of America's corporate culture they decided to make it [with] a white person on it, maybe no person at all."
"But I prefer it when it when it was a Black person showing their incredible skill at making pancakes," he added. "So, God bless you all and have a good evening."
Stein's post was this week shared on Twitter by attorney Ron Filipowski, sparking outrage among a wave of detractors on the social media platform.
"To go out of your way to complain about not having the racist depiction of Aunt Jemima on a bottle of high fructose corn syrup and artificial flavoring and coloring railing shows the profound absurdity of latent racism that persists in many people like Ben Stein," tweeted lawyer and podcast host Exavier Pope.
"I'm curious how he'd feel if it was a blatantly racist picture of a Jewish person advertising a savings account," wrote retired MMA fighter Nathan Quarry.
Author Nnedi Okorafor stated that Stein's take was a "prime example of 'When you don't know the context and history behind a conversation you should just STFU and listen.'"
"I love when people don't know the reason behind the change, but for those who don't, here's a history lesson; Aunt Jemima was modeled after, and has been a famous example of, the 'Mammy' archetype in the Southern United States from the 1800's, which was racist," said another Twitter user.
Echoing that sentiment, another shared images to illustrate the fact, adding in a caption: "Hard to believe this needs to be explained to anyone in 2023: 'Aunt Jemima' was [a] fictional character in minstrel shows. The name was used by white entrepreneurs to sell pancake mix. The marketing was often over-the-top racist, including mammy dolls for children."
"They ALWAYS do this," tweeted another. "They say that representation doesn't matter so they don't want Black characters in shows. But then when the Black caricature is taken off of a bottle it is suddenly a problem? Please."
"Please don't call Ben Stein an actor. It makes us all look bad," said Fear and Loathing in Las Vegas star Ellen Barkin, while comedian Loni Love wrote: "Now I know why he gave me 5 stars on Star Search... Ben you damn well this is not right .. stop it."
Another said that "there are a lot of systemically privileged white people who lament their fond childhood memories of other people's oppression. We need to teach U.S. history, not parse it into subsets. The whole ugly and glorious truth."
Posting a GIF of Denzel Washington slamming a door shut, comedian David Alan Grier wrote of Stein: "He'll get over it."
While Stein's video was met with widespread outrage on Twitter, the actor had a faction of supporters who spoke out on the platform in his defense.
"Ben Stein preaching truth! Wokeism = Idiotism," wrote one, while another said that Stein has "got a point."
"He's exactly right and is only pointing at just one instance," another tweeted.
In 2021, the brand famous for its pancake mix and syrup rebranded to Pearl Milling Company, named after the company founded in 1888 in St. Joseph, Missouri, that originally created the self-rising pancake mix that would eventually be branded as Aunt Jemima.
The new packaging was released a year after Quaker Oats Company announced it would transition from the Aunt Jemima packaging and pledged $5 million commitment to support the Black community.
Kristin Kroepfl, vice president and chief marketing officer of Quaker Foods North America, said in a press release at the time: "We recognize Aunt Jemima's origins are based on a racial stereotype. As we work to make progress toward racial equality through several initiatives, we also must take a hard look at our portfolio of brands and ensure they reflect our values and meet our consumers' expectations."