Israeli Prime Minister Benjamin Netanyahu mocked the investigations that have plagued Donald Trump's administration at the White House on Monday, as the president signed an executive order officially announcing U.S. recognition of Israeli sovereignty over the disputed Golan Heights.
In comments made before reporters, Netanyahu told Trump, "I've brought you a case of the finest wine." Continuing, the prime minister said, "I understand you're not a great wine drinker. But could I give it to your staff?"
Trump responded in the affirmative, prompting Netanyahu to quip, "And I hope they don't open an investigation on it."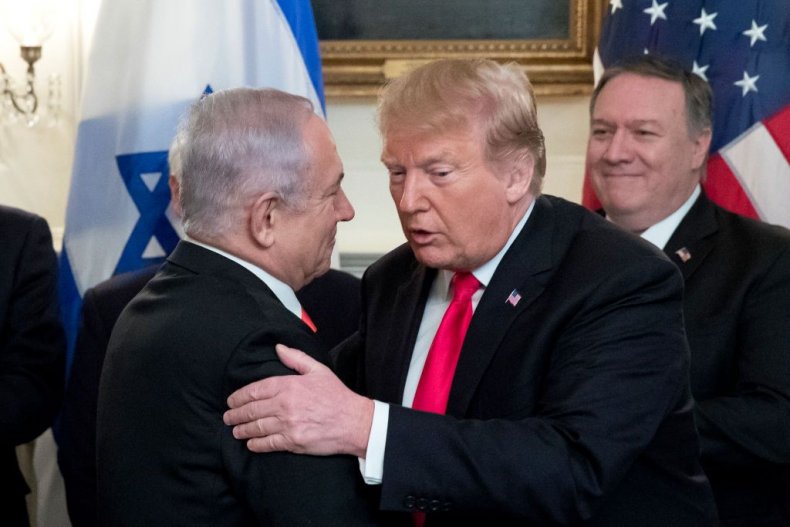 The Israeli leader's remark came a day after Attorney General William Barr officially revealed the conclusions of special counsel Robert Mueller's 22-month-long investigation into whether or not Trump's 2016 campaign team colluded with Russia. Mueller's final report concluded Trump and his associates did not conspire with Moscow, although it left open the possibility that the president had obstructed justice by interfering with the probe.
Netanyahu's joke was met with laughter, and Trump, smiling broadly, shook the Israeli leader's hand. The president's staff, including his son-in-law and senior adviser, Jared Kushner, smiled in the background.
Notably, the Israeli prime minister is facing indictment back home for alleged corruption. Netanyahu has been accused of favorably adjusting regulations to benefit Bezeq telecommunications, which in turn provided favorable media coverage. The prime minister and his wife allegedly accepted bribes as part of the scandal, including cigars, champagne and jewelry.
As Netanyahu faces a neck-and-neck election early next month, Trump's decision to recognize Israel's claim to the Golan Heights, which were captured from Syria in 1967 and later annexed, is widely seen as an attempt to boost a close political ally in the Middle East. The international community, based on numerous resolutions from the United Nations, does not recognize Israel's claim to the territory.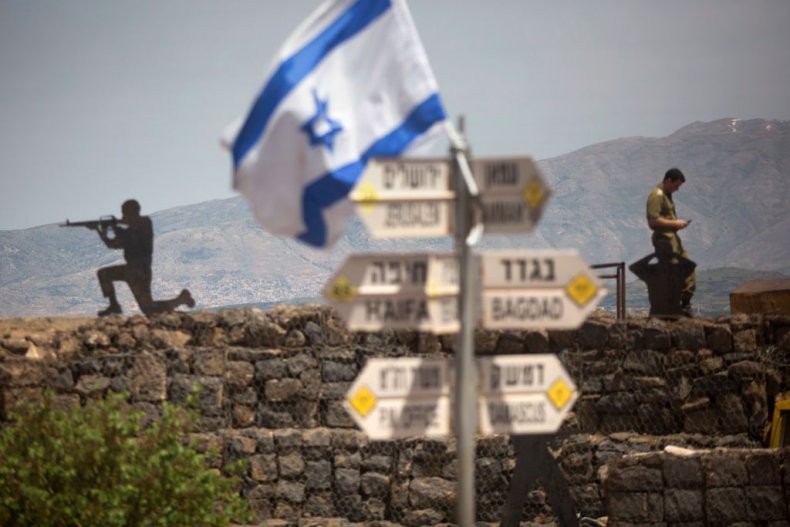 "Under my administration, the unbreakable alliance between the United States and Israel has never been stronger," Trump told reporters at the White House on Monday, Bloomberg reported. Since taking office, the president has gone counter to decades of U.S. foreign policy toward Israel, officially recognizing Jerusalem as the country's capital and disregarding the Palestinians claim to the historic city. He has also cut U.S. funding to the Palestinians and taken a hardline stance against Israel's arch regional rival, Iran.
Analysts have suggested that if Netanyahu fails to win the upcoming April election, Trump's foreign policy toward the region could face a significant roadblock. The president has tasked his son-in-law Kushner with mapping out a Middle East peace deal, but Netanyahu's possible loss in the election may potentially derail the plan altogether.