Bernie Sanders and AOC Get Just 2% Each in 2024 Iowa Democratic Caucus Poll Without Biden
Sen. Bernie Sanders (I-Vt.) and Rep. Alexandria Ocasio-Cortez (D-N.Y.) are distant longshots in a new survey of Iowa's 2024 Democratic presidential caucuses that does not include President Joe Biden.
The poll released Monday by Republican firm Victory Insights shows both progressive lawmakers with 2 percent support each. Vice President Kamala Harris is the clear frontrunner at 28 percent, with Secretary of Transportation Pete Buttigieg following at 15 percent and former first lady Michelle Obama at 12 percent.
Sen. Amy Klobuchar (D-Minn.) had the support of 9 percent of respondents. Another 7 percent preferred former 2004 Democratic nominee John Kerry, while 3 percent said Sen. Elizabeth Warren (D-Mass.) was their choice. "Undecided" was the second-most popular choice overall at 16 percent, with 5 percent saying they would vote for "someone else."
Biden was far and away the top choice when he was included in the poll, with 63 percent support. Only 11 percent said they would choose someone else when the current president was an option, although 26 percent said they were undecided. Support for Biden was strongest among respondents who identified as progressives, with 73 percent of "very progressive" preferring the president compared to 43 percent of "very moderate" voters.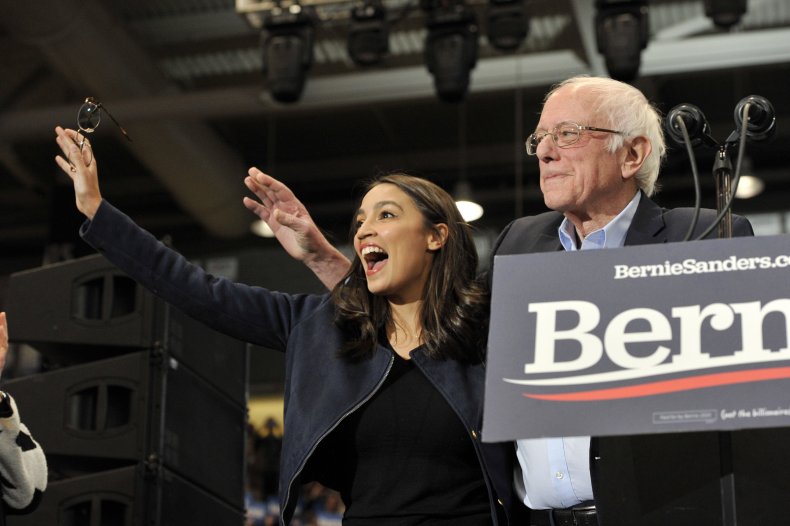 Perhaps surprisingly, Iowa voters who said they were progressive were also the least likely to choose Sanders and Ocasio-Cortez out of all the named candidates. Sanders had the support of 3 percent of progressives, while Ocasio-Cortez was favored by 2 percent. Klobuchar, who was considered one of the more moderate Democrats during the 2020 primaries, had twice the support of Sanders and three times the support of Ocasio-Cortez among Iowa progressives.
The poll was conducted over the phone among 600 Iowa Democrats on April 8. It has a margin of error of 4.2 percent.
At 24.7 percent, Sanders won the largest share of votes in the 2020 Democratic Iowa caucuses, although Buttigieg controversially won a narrow victory on delegates despite trailing slightly in the popular vote with a 25.1 percent share. Biden was a distant third, winning only 13.7 percent of the vote.
The 2024 election would be Ocasio-Cortez's first opportunity to run for president. She will only be 34 years old at the time of the Iowa primary but will have turned 35, the minimum age to serve as president, by the time of the general election.
Sanders, who would be 84 years old by the time of the 2024 election, has described his chances of running again as "very, very slim." Although concerns about age have led some to question whether Biden will run for reelection at 81, the president said last month that he does plan to run. Ocasio-Cortez has not indicated that she is considering a run for president.
Newsweek reached out to the offices of Sanders and Ocasio-Cortez for comment.