Sen. Bernie Sanders (I-Vt.), one of the most outspoken stimulus proponents in Congress, has a higher net favorability rating than both President Joe Biden and Vice President Kamala Harris, according to a new poll.
A poll released Tuesday by The Economist/YouGov found that while 39 percent of respondents said they had either a "somewhat" or "very" unfavorable view of Sanders, 49 percent said they had a very or somewhat favorable view, giving him a net favorability rating of 10 points.
Biden had a net favorability rating of 8 points due to 50 percent of respondents having a favorable view and another 42 percent having an unfavorable view of the president. Net favorability for Harris was 5 points, with 48 percent viewing her favorably and 43 percent viewing her unfavorably.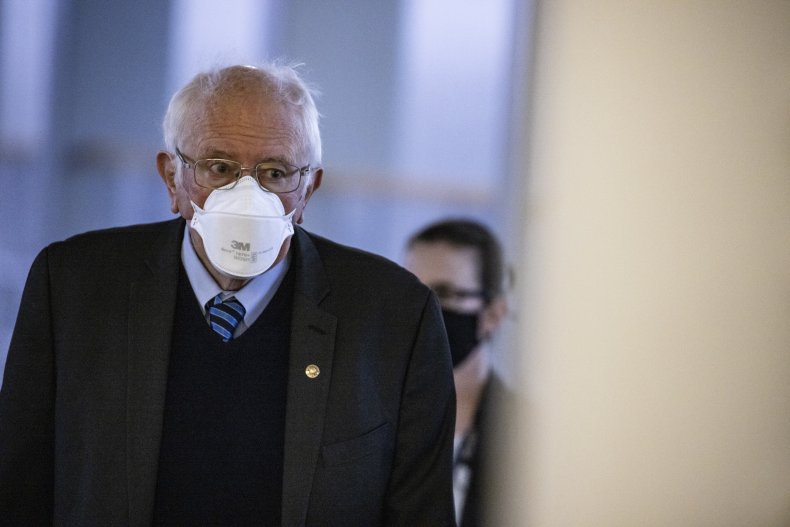 The survey measured favorability for more than a dozen key political figures. Rep. Alexandria Ocasio-Cortez (D-N.Y.), another outspoken stimulus proponent, had a slightly positive net favorability of 1 point.
Senate Minority Leader Mitch McConnell (R-Ky.), who blocked a vote for $2,000 stimulus checks during his last month as majority leader, had by far the worst rating in the poll. Net favorability for McConnell was negative 48 points, with 65 percent viewing the Republican leader unfavorably and only 17 percent taking a favorable view.
The poll was conducted online among 1,500 U.S. adults between February 19 and February 22. It has a margin of error of plus or minus 2.7 percent.
The poll also showed a negative 11 point net favorability rating for Sen. Joe Manchin (D-W. Va.), a moderate who has strikingly different views to most Democrats with regards to the stimulus package's proposal to raise the federal minimum wage from $7.25 per hour to $15 per hour.
Manchin's vote will be critical in passing any part of Biden's $1.9 trillion plan due a razor-thin Democratic hold on the Senate. He has proposed amending the legislation to increase the minimum wage to $11 per hour instead, telling reporters that "$11 is the right place to be" on Monday. Sanders, chair of the Senate Budget Committee, rejected the compromise on the following day.
"We have tens of millions of workers working for starvation wages," Sanders told reporters. "It is an absolute national disgrace. $15 an hour is not a radical idea."
Biden previously refused calls from Republicans and moderates to lower the amount or change eligibility requirements for the $1,400 stimulus checks but suggested that he would be open to compromising on the minimum wage increase during an interview with CBS earlier this month.
However, White House Press Secretary Jen Psaki insisted that Biden "proposed the $15 increase for a reason" and "stands by it" on Tuesday.
"The President proposed $15 because that's what he feels is right for the American worker—American workers, I should say—and the men and women who are working hard just trying to make ends meet," Psaki said during a press briefing. "And that's why that number was in his package."
Newsweek reached out to the White House for comment.