Bernie Sanders Is Working With Democrats Now, but Will He Be Their Pick for President in 2020?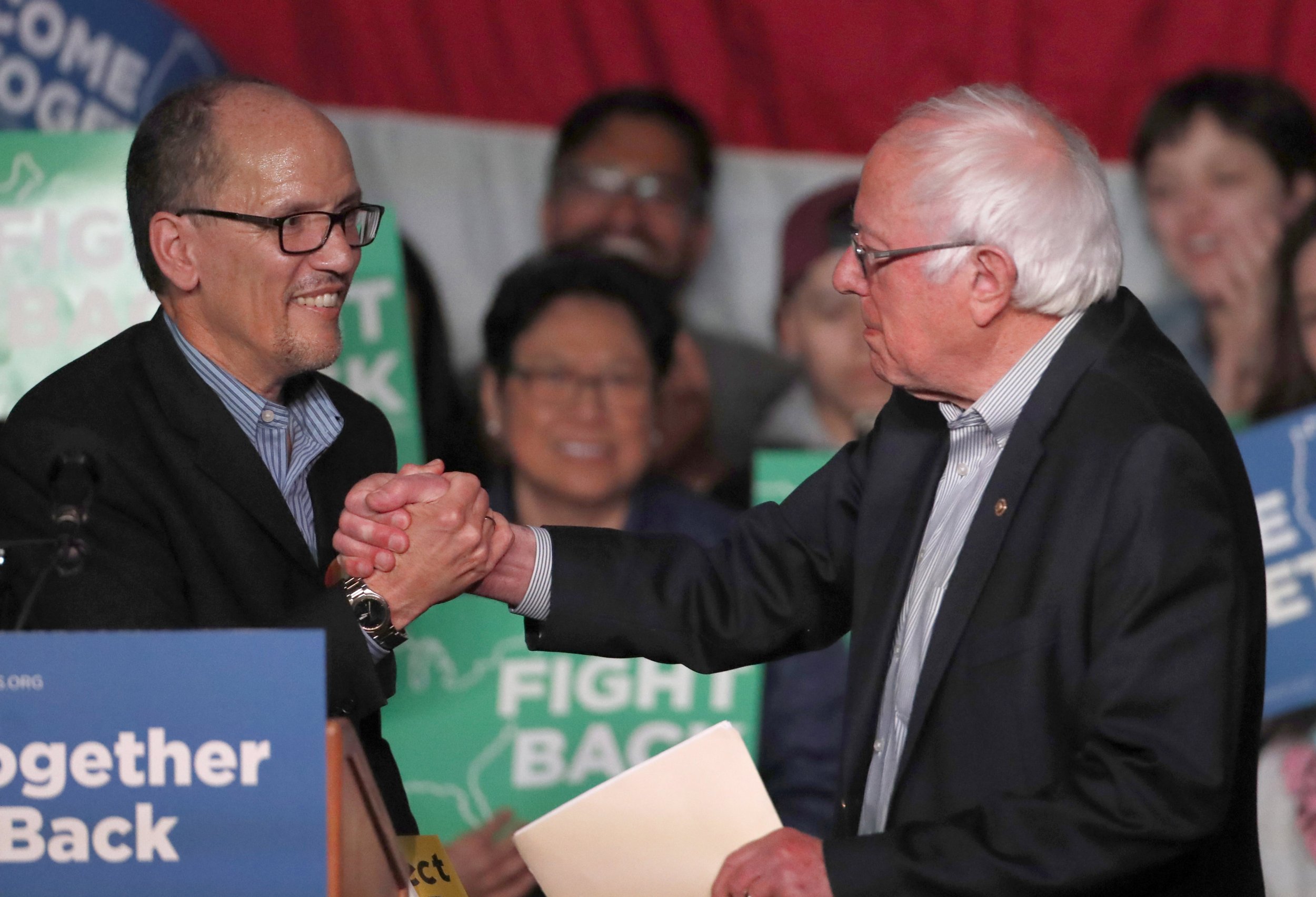 The Democrats' economic agenda may have a less than inspiring slogan, but it embraces many of the progressive positions that Bernie Sanders brought to the table in the 2016 election. Yet having seen his candidacy rejected by the Democrats last time out, the question remains whether the independent senator from Vermont will be embraced by the party when it comes to running for president in 2020.
Related: Bernie Sanders says 'it's no great secret' Russia was trying to divide Democrats against Hillary
Unveiled Monday, the slogan ("A Better Deal: Better Skills, Better Jobs, Better Wages") is the party's rebuke of Donald Trump and the Republicans and an attempt to capitalize in next year's midterms on the president's historic unpopularity and the GOP's stalled agenda. The set of economic priorities has the clear goal of appealing to the disillusioned voters who were attracted to the messages of both Sanders and Trump in 2016.
It talks of creating jobs and, in a move away from the Democratic Party's direction of recent years, of providing a counterbalance to big business.
"Democrats have too often hesitated from taking on those misguided policies directly and unflinchingly—so much so that many Americans don't know what we stand for," Senate Minority Leader Chuck Schumer wrote in The New York Times Monday. "Not after today. Democrats will show the country that we're the party on the side of working people."
While it isn't included in the agenda, Schumer stressed that a single-payer health care system, one of Sanders's most prominent talking points, remained on the table for discussion.
It is just the latest move by the party's leadership to embrace the liberal platform of Sanders, who is set to appear in a video message supporting the plan's rollout. Although Sanders's preferred candidate, Keith Ellison, lost the contest for the Democratic National Committee's chairmanship to Tom Perez in February, Ellison was appointed by Perez as his deputy. In April, Perez and Sanders headed out on a unity tour, taking in several red and swing states.
At the same time, Sanders has offered no indication that he is giving up his independent tag and reportedly continues to be viewed skeptically by those aligned with Hillary Clinton. Despite being embraced by the Democratic establishment, Sanders has not halted his criticism of Clinton's campaign or the party.
That means more conflict could lie in store heading toward 2020. A multitude of polls have indicated that Sanders is the most popular active politician in the United States. And a survey from Public Policy Polling released last week showed Sanders winning a hypothetical election against Trump by 52 percent to 39 percent.
However, the winning margin was even more resounding for former Vice President Joe Biden. After opting against running in 2016 due to the death of his son, Biden has not ruled out doing so in 2020. However, speaking on Saturday, the 74-year-old did say that his "hope and expectation is that some of the younger folks are going to come up, and they're going to fill that void."
In conversations with The Hill in recent days, some Democrats have similarly expressed a wish that the party turn toward a fresh face, like California Senator Kamala Harris. But, said one associate who worked on Sanders's 2016 campaign, the 75-year-old is in no mood to step out of the 2020 picture.
"He thinks he's earned the right to run again, and he believes if he would have been the candidate, he would have won against Trump," the associate told The Hill. "The last thing he's going to do is step aside and let Joe Biden take it."