Bernie Sanders Dismisses Meeting in 'The Middle' With Republicans on Key Crises
Senator Bernie Sanders dismissed the idea of compromising with Republicans on the key crises facing America as President Joe Biden called for unity on his first day in the White House.
The Vermont independent told NBC News that he didn't know what a compromise solution to the critical issues of climate change and poverty would look like, warning that Democrats would not spend "months and years" negotiating with Republican lawmakers on urgent problems if he had any say in the matter.
Asked whether he was ready to compromise with Republicans, Sen. Sanders said: "It's not a question of the middle, it's a question of responding to the crises. I don't know what the middle is when you deal with climate change—and scientists tell us we have a few years to address that crisis or else there will be irreparable harm.
"I don't know what being in the middle means when half of our population is working pay check to pay check, when 40 million people are facing eviction, when we have massive levels of income and wealth inequality."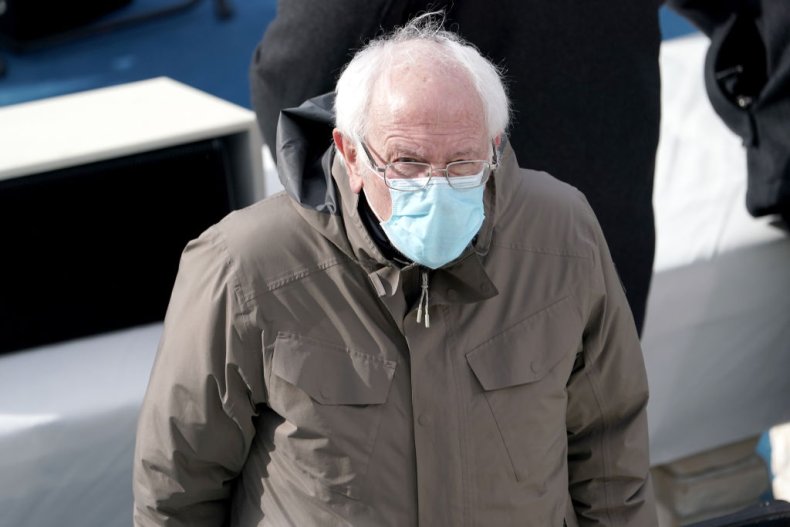 He later said that he "of course" wanted to work with Republican lawmakers, but cautioned that he hoped his GOP colleagues were aware of "the pain" felt by working-class families across the U.S.
The Vermont senator added: "But we're not going to spend, if I have anything to say about it, months and months and years, and not address the incredible pain that the working class and the middle class, small businesses are now experiencing."
Newsweek has contacted Sanders' office for further comment.
The Vermont senator's comments came after President Biden emphasized unity and compromise in his inaugural address on Wednesday.
"This is our historic moment of crisis and challenge, and unity is the path forward," the new commander-in-chief said. "And we must meet this moment as the United States of America. If we do that, I guarantee you, we will not fail."
Several key guests at the Inauguration Day ceremony wore purple, a choice widely viewed as a gesture of unity and bipartisanship, given that the flagship colors of the two major parties, blue and red, combine to make purple.
In a San Francisco Chronicle op-ed published earlier this week, Vice President Kamala Harris also said Republicans and Democrats in the Senate needed to find "common ground" on key legislation, as she warned that she was ready to use her tiebreaker vote if necessary.