Bernie Sanders Doll With Inauguration Mittens Sells on eBay for $20,300
Bernie Sanders' ensemble worn at Capitol Hill during Joe Biden's presidential inauguration spurred a plethora of memes, merchandise and conversations about his mittens.
One woman who joined in on the craze—Texan Tobey King—crocheted a doll of the Vermont senator in the same outfit and pose, sat wearing mittens to fend off the cold. Now that doll has sold on eBay for more than $20,000.
The pint-sized 9-inch creation replicates the image of Sanders from the day which has since been shared widely on social media as the "Bernie Sanders mittens" meme.
King crocheted the doll on January 21, the day after the inauguration, and shared photos of the design to her Etsy and Instagram account.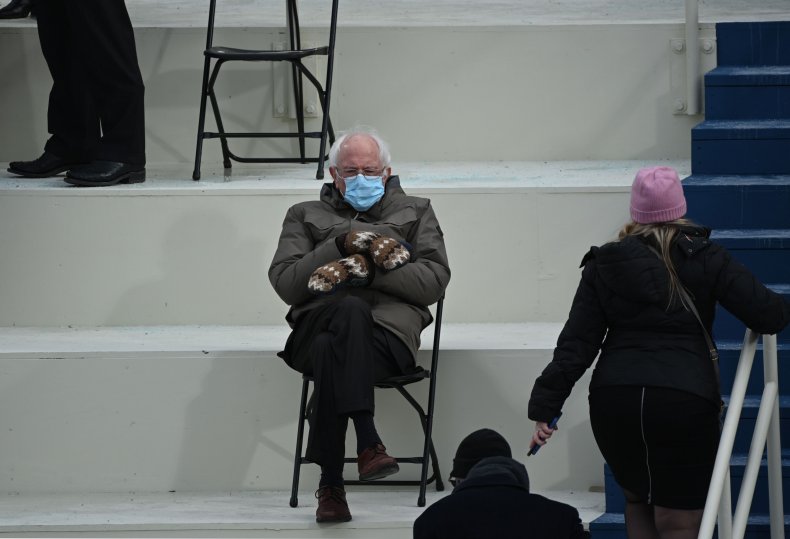 After the handcrafted doll quickly became an online sensation, King decided to auction the Bernie look-a-like to eBay, pledging 100 percent of the proceeds would go to charity Meals on Wheels.
Bids surpassed $15,000 overnight and by Tuesday the doll sold for a whopping $20,300, eBay records show.
King took to social media to share the news, adding that the winner wished to remain anonymous.
"The auction is over!" the 46-year-old announced. "This guy raised $20,300 for Meals on Wheels America! Winner wishes to remain anonymous and that person has my heart! Thank you everyone who has shared, commented and liked this Bernie doll. You helped bring attention to the auction that is going to help so many people!"
In a series of posts, King said she never expected the doll to go viral, but once it did, she saw "the opportunity to use it for good."
The crafty mom has also made a downloadable pattern for the doll for $5 from her Etsy store, TobeyTimeCrochet.
"We're all just looking for something to bring us joy right now," King told the San Antonio Express News. "I really hope that he thinks this is something cool and that I'm doing something good," she added in reference to Sanders.
The donation came at a much-needed time for Meals on Wheels America, who said demand for their services has "skyrocketed" during the pandemic.
"Amid the pandemic, the demand for Meals on Wheels has skyrocketed," Vice President of Communications Jenny Young told The Express. "The awareness for our cause is needed now more than ever, and on behalf of the entire nationwide network, we greatly appreciate the support."
King, who lives with her husband and 9-year-old daughter in Corpus Christi, said proceeds from the sales of the doll pattern will allow the family to have more financial freedom after her husband lost his job in Washington earlier last year.
"Being that successful has made a huge difference in our financial situation," she said. "Now we don't have to be apart anymore. We can get this family back together."
Meanwhile, Sanders' campaign team have also used the photograph of Sanders to display on a sweatshirt, in aid of charity. All proceeds from sales of the $45 top will be donated to Meals on Wheels Vermont, the campaign said.
Asked about the internet's response to the picture after the January 20 inauguration, the 79-year-old laughed and commented: "I heard about that."
Sanders told CBS' Gayle King that he was not trying to make any kind of statement with his clothing at the inauguration. "In Vermont, we dress warm, we know something about the cold," he said. "And we're not so concerned about good fashion. We want to keep warm. And that's what I did today."
Those now-famous mittens, however, won't be going on sale anytime soon, according to their designer.
Jen Ellis, 42, a second-grade teacher who lives in Vermont, made the gloves from repurposed sweaters and recycled plastic.
Sanders' daughter-in-law, Liza Driscoll, runs Ellis' daughter's daycare. Ellis made mittens for the daycare's teachers and gave an extra pair to Sanders, more than two years ago.