Bernie Sanders Mittens Bobblehead, Stickers and Other Merch You Can Buy
President Joe Biden was inaugurated yesterday, but another former presidential candidate got the internet talking: Bernie Sanders. The Vermont senator had everyone talking about his outfit, specifically his mittens.
The image of Sanders wearing his mittens at the inauguration quickly went viral, and the Bernie Sanders mittens meme was born as Twitter users photoshopped Sanders sitting in various locations, from Lady Gaga's album cover to the set of Breaking Bad.
Someone even made a website that allows users to insert Sanders anywhere in the world using Google Maps.
Sanders wore mittens made for him by second-grade school teacher Jen Ellis of Essex Junction, Vermont. Sanders' daughter-in-law, Liza Driscoll, runs Ellis' daughter's daycare. Ellis made mittens for the daycare's teachers and gave an extra pair to Sanders, more than two years ago.
When Gayle King asked Sanders about his mittens, Sanders said: "In Vermont we dress warm, we know something about the cold. And we're not so concerned about good fashion. We want to keep warm. And that's what I did today."
While Bernie fans may be disappointed that his mittens are not for sale, they should know that they can get the next best thing: Bernie Sanders mittens merch.
Bernie Sanders Inauguration Day Bobblehead
The National Bobblehead Hall of Fame and Museum has created a Bernie Sanders Inauguration Day bobblehead, which is available to preorder for $25 now, and is expected to ship in May 2021.
As well as the Bernie bobblehead, the National Bobblehead Hall of Fame and Museum has also created bobbleheads of Biden, Vice President Kamala Harris, first lady Jill Biden, and the Biden dogs, Champ and Major.
Bernie Sanders Mittens Cartoon Sticker
Casandra Ng is selling a sticker of a cartoon Sanders wearing mittens that can be used to "decorate and personalize laptops, windows, and more," according to the RedBubble seller.
A small matte sticker, which is 2.1 x 4 inches, is selling for $3.95, while a medium matte sticker, which is 2.9 x 5.5 inches, is selling for $9.50. There are also glossy and transparent stickers available, though prices vary.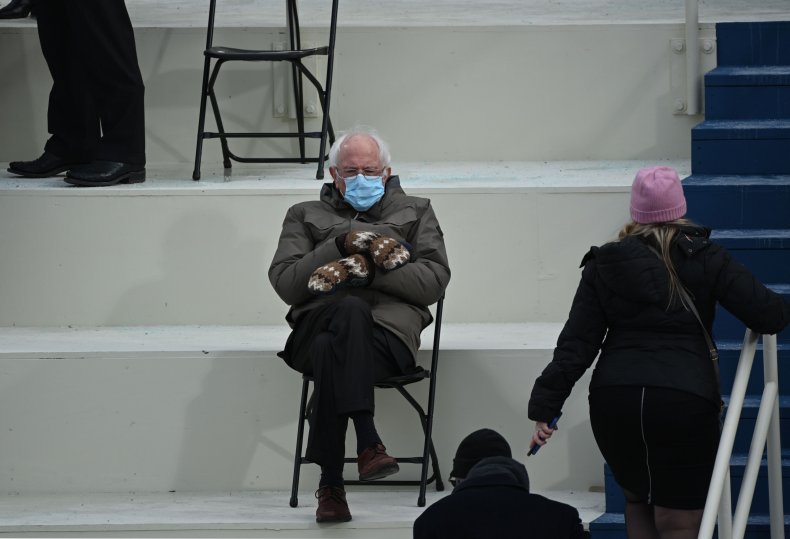 Bernie Sanders Mittens Space T-shirt
The Bernie Sanders mittens meme has also been placed on a T-shirt, like this one from linesdrawings on RedBubble. This creative take on the meme sees Sanders appearing to be sitting on a moon or foreign planet, and is captioned: "I am tired of Earth. These People. I am tired of being caught in the tangle of their government."
The T-shirt is selling for $19.90, but other color options and styles are available, and prices vary.
Bernie Sanders Mittens Meme T-shirt
Alternatively, a simpler Bernie mittens meme T-shirt is available. Ella Jack Designs has created a T-shirt that features the image of Sanders captioned "Inauguration Day 2021," which is selling for $24.99.
Newsweek has affiliate partnerships. If you make a purchase using our links, we may earn a share of the sale.