Bernie Sanders, Elizabeth Warren Tapped for Senate Democratic Leadership Team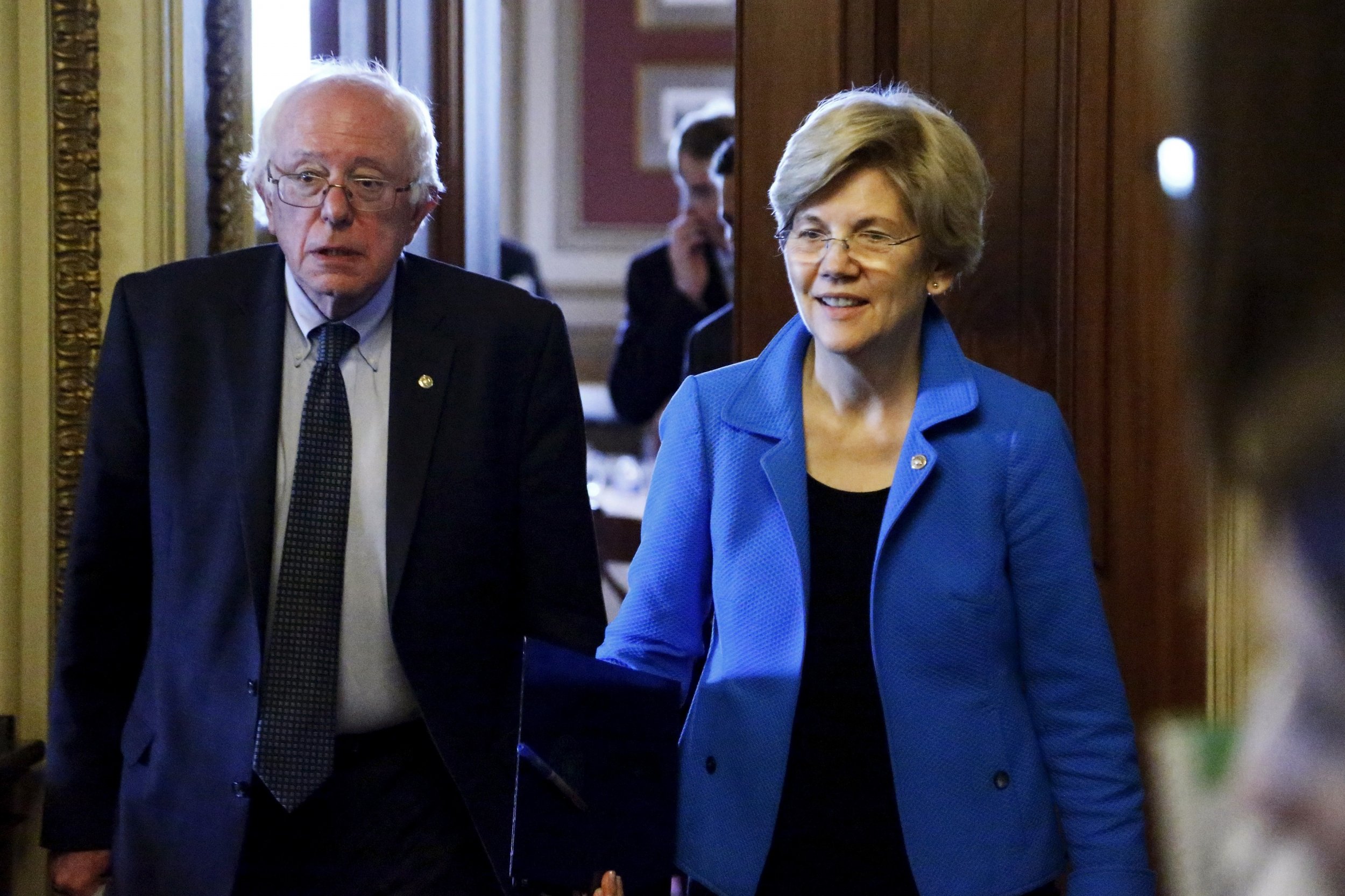 After Senator Charles Schumer of New York was elected as the new leader of the Senate Democrats earlier on Wednesday, he gave both Bernie Sanders and Elizabeth Warren leadership roles in the upcoming first Congress under President-elect Donald Trump.
Their roles are less meaningful than those of others on the leadership team, but their appointments are a sign that Democrats recognize and are responding to the progressive tilt in their party. Schumer had faced pressure to add the senators; earlier this week, dozens of protesters staged a sit-in outside of his office. Some liberals are skeptical of Schumer's ties to Wall Street, while both Sanders and Warren are high-profile critics of big banks.
Sanders, an independent who caucuses with the Democrats, faced off against Hillary Clinton in the Democratic presidential primary. Even after it became clear she would win the nomination, he held on to his presidential bid and resisted endorsing Clinton. During that time he won major concessions while pushing the Democratic Party into approving the most progressive platform in its history, including seeking a $15 federal minimum wage and a carbon pricing regime to combat climate change.
Schumer had hoped to become Senate majority leader under a Clinton administration. But with Trump's stunning victory last week, he will have to deal with a Republican in the White House and both houses of Congress under Republican control. Schumer will replace Harry Reid, who is retiring at the end of this year.
Senator Dick Durbin will continue in his role as party whip—the second-ranking Democrat—and Senator Patty Murray will assume the new title of assistant Democratic leader and be the third-ranking party member. Schumer's team also includes Senator Tammy Baldwin, the first lesbian senator to hold a leadership role, and Senator Joe Manchin, a moderate.
"This team is ideologically and geographically diverse, it mixes the wisdom of experience with the vigor of youth, at least in Senate years, but from the top to bottom, each of these senators has devoted their lives to fighting for the middle class and those struggling to get there," Schumer said in a statement Wednesday.
Meanwhile in the House, Democrats have forced the postponement of their leadership vote until November 30, in the hope of giving the party time to understand how it failed in the presidential and down-ballot races. Representative Nancy Pelosi has declared she is running to maintain her role as House minority leader.
Republicans are keeping Mitch McConnell as the Senate majority leader and Paul Ryan as the speaker of the House.