An impassioned plea by Vermont Senator Bernie Sanders to increase direct payments for Americans to $2,000 has been backed by many on social media.
During his speech to the Senate on Wednesday, Sanders used a tweet from President Donald Trump that said "$2,000 ASAP" as a visual aid to bolster his push for Senate Majority Leader Mitch McConnell (R-KY) to allow a vote on more than tripling the $600 payments.
Sanders said McConnell "might want to get on the phone and start talking to working families in Kentucky" about getting the $2,000 check, pointing out the state has 10 of the poorest 25 counties in the country.
Sanders said it would be tough to get the required 60 senators to agree to the proposal, telling the upper house: "All that I am asking is give us a vote. What's the problem? Allow the United States senators to cast a vote as to whether or not they are for the $2,000 check or they are against it."
"We have a very unlikely ally in President Trump...so even on this issue, amazingly enough, the president of the United States is right."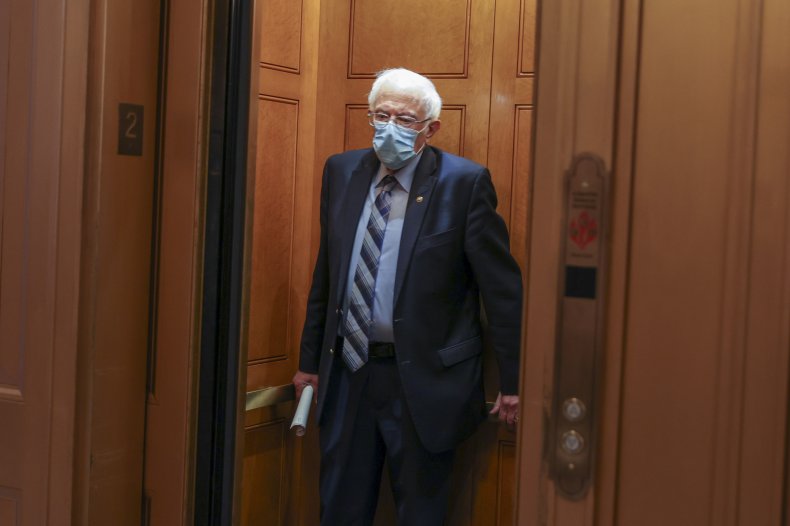 McConnell has said there is "no realistic path" to the proposal to increase the cash payments, telling the Senate floor that lawmakers were "not going to be bullied into rushing out more borrowed money into the hands of Democrat rich friends who don't need the help."
Many expressed their support for Sanders on social media.
"Bernie Sanders is a National Treasure," the left-leaning think tank the Gravel Institute tweeted to its 300,000 followers, which sparked a thread in which other progressives lent their support to the former Democratic primary candidate.
In another tweet, the Gravel Institute said: "If we get the $2,000 checks, Bernie Sanders and Ed Markey will be national heroes," referring to the Massachusetts senator who has been fighting along with Sanders for the extra payments.
Civil rights advocate Ja'Mal Green tweeted: "Bernie Sanders should be president and it's honestly hard as hell to forgive the establishment party and figureheads for what they did to him."
Democratic nominee for U.S. Senate in West Virginia, Paula Jean Swearengin tweeted to her 73,000 followers: "If everyone in Congress fought as hard for us as @BernieSanders does this country would be a better place."
Meanwhile, candidate for the U.S. House in Ohio's 11th District, Nina Turner, tweeted: The kind of leadership we saw from @SenSanders and @EdMarkey today shouldn't be an exception. We need more leaders willing to fight for everyday people."
Missouri congresswoman-elect Cori Bush shared a message from Sen. Markey which compared the $740 billion defense budget with the $2,000 checks, tweeting: "Defund the Pentagon. Fund our monthly survival checks."