Best Amazon Black Friday Deals 2021: From Kindles and Ring to Echo Smart Speakers
Black Friday deals are live at every major U.S. retailer on Friday, but Amazon has really embraced the occasion.
The online marketplace has discounts on everything from video games to beauty care products, kitchen appliances and toys.
However, some of the best deals you can find are actually for products that are manufactured by the retail giant itself. For instance, the prices of Kindle eBook readers, Ring home security devices and Echo smart speakers have all been dramatically reduced.
As is always the case, these offers will not last forever and there will be a lot of competition in the form of other bargain-hungry shoppers. As such, it's important to get ahead of the crowds.
Newsweek has already prepared a detailed guide on how to do this for the entire Black Friday period (as well as a separate tips and tricks article for those who are hoping to procure gaming consoles).
In addition to this, we've also pulled together a short list of the best deals currently available at Amazon, which you can see below.
You can also follow our Black Friday 2021 live blog here, for all the latest deals and discounts, as they happen.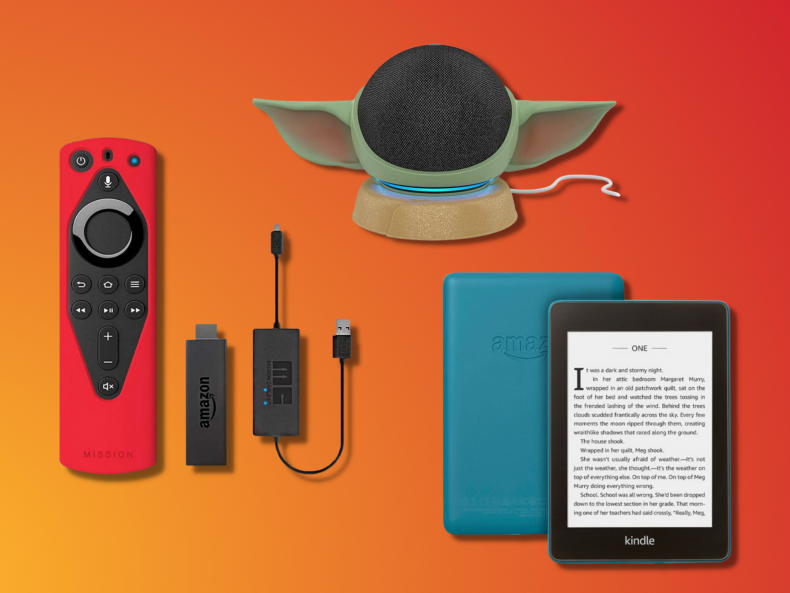 Amazon Echo
For Star Wars fans, you can get a special Echo Dot smart speaker designed to look like the adorable baby Yoda (aka, Grogu) for just $51.94. Not only is this item a nice conversations starter, but it's also fully voice-controllable, integrated with Alexa, and delivers crisp audio for a better listening experience.
Alternatively, if you're not as keen on making your home look like it belongs in a galaxy, far, far away, a standard third generation Echo Dot is also going for cheap on the Amazon marketplace. This version is listed for $19.99 and comes with a free Sengled Bluetooth color lightbulb.
Amazon is not the only retailer who is slashing prices on its products. For instance, Best Buy currently has a number of deals running on Amazon branded smart speakers, with one particular highlight being that the third generation Echo Dot is going for half price.
Amazon Ring Doorbell
From the Amazon marketplace itself, you can get the Amazon Ring video doorbell (bundled with the Echo Show 5) for just $61.99. This bundle has been marked down from its original cost of $144.98.
Alternatively, you can get the Ring doorbell with an Echo Dot for $41.99 (marked down from $99.98), which is a very good deal.
Amazon Kindle
You can find an entire page on Amazon dedicated to the cheapest Black Friday Kindle reader deals. For the most part, all of the bundles here seem to be going for the same price of $79.97.
In terms of what distinguishes them, they all come with power adapters, but you do get a choice of which type of cover you want (there's a bookcase version and various picturesque scenes).
Elsewhere, there is a page for more expensive bundles that come with newer model devices (the Kindle Paperweight) and fabric covers. If you are really serious about your eBook experience, this version of the Kindle has a bigger display, thinner borders, faster page turns and superior battery life. However, you would need to be really serious about it indeed, as this offer cost nearly twice as much at $164.97.
For a better deal, we would recommend going to Best Buy and getting the Kindle Paperweight (without the extras) for just $84.99, which is a saving of $75.
Amazon Fire TV Stick
You can get an Amazon Fire TV Stick (with an Alexa compatible voice remote) from Best Buy at the discounted rate of $24.99. The product usually costs $49.99 from the retailer.
Again, there is also a Star Wars-themed version of the Fire TV stick, but this one is a little more expensive at $36.98.
Alternatively, Amazon is offering an essentials bundle, which includes the Fire Stick, a voice remote (with a snazzy red cover) and a USB power cable. This is priced at $55.97.
While Black Friday is far from over, it's never too soon to start planning for the imminent Cyber Monday sales. For more info on this, click here.
Newsweek has affiliate partnerships. If you make a purchase using our links, we may earn a share of the sale.