Beto O'Rourke Declines to Say if He Wants Joe Biden to Campaign for Him
Texas gubernatorial candidate Beto O'Rourke declined to say if he wants Joe Biden to campaign for him in the state as the president's approval rating continues to slip.
On State of the Union Sunday, host Dana Bash asked O'Rourke if he would like Biden to campaign for him, noting that his approval rating in Texas is only 35 percent—lower than his national approval.
"This campaign in Texas is not going to be about Joe Biden. It's not going to be about Donald Trump. It's not going to be about anyone from outside our state," he said. "This is going to be about the people of Texas and what the people of Texas want."
O'Rourke, a Democrat, announced Monday he'll challenge Republican Greg Abbott in the governor's race. He ran in the 2020 presidential primary and for the U.S. Senate in 2018.
When pressed by Bash, he shifted to his campaign platform, noting that he believes Texans are focused on issues including jobs, education, health care and competency in the state government. But he did not say if he wanted Biden to campaign for him.
Bash followed up, asking, "Does that mean that you prefer that he not come, based on what you just said?"
"It means that I'm focused on Texas and on my fellow Texans. Those are the people most important to me," he said. "There is no politician—there is no other person from outside of this state who can help to change the course of this election for better or for worse."
O'Rourke has been a supporter of Biden. He endorsed the then-candidate in March 2020, months after ending his own campaign.
In recent months, Biden's approval rating—high at the start of his term—has dropped as he has dealt with a myriad of crises, including a heavily-scrutinized withdrawal from Afghanistan, rising inflation and gas prices, and a stalled legislative agenda.
A Quinnipiac University poll released Thursday found that 36 percent of Americans approve of Biden's job performance, while 53 percent disapprove. The poll found that Biden hit his lowest approval in several key areas, including managing the COVID-19 pandemic.
O'Rourke previously ran for U.S. Senate in Texas in 2018, challenging Republican Ted Cruz. Though he ultimately lost by 2.6 points, Democrats praised his campaign for making significant gains in the state, which was previously believed to be solidly conservative.
Democrats have made gains in the state in recent elections, mainly around its major cities, including Houston, Dallas, Austin and San Antonio.
O'Rourke previously served in U.S. Congress, representing Texas' 16th District from 2013 to 2019.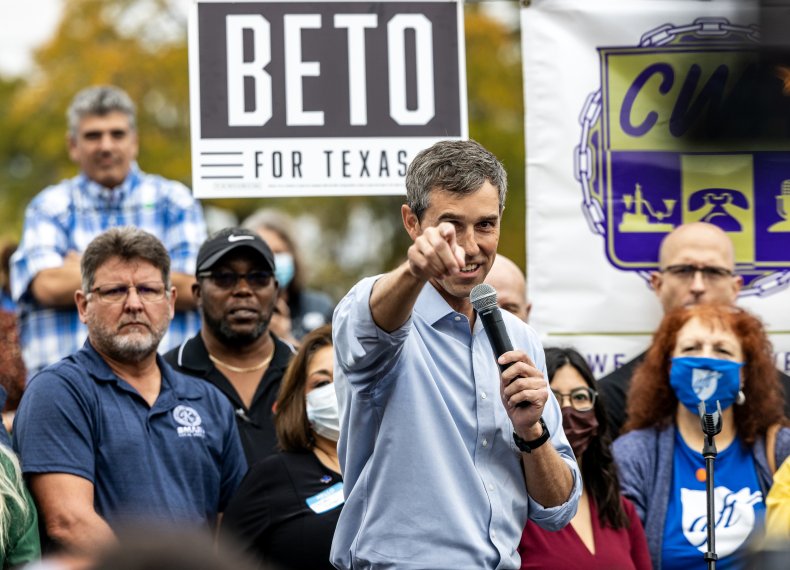 Many Democrats view him as a strong candidate against Abbott, who has faced mounting criticism over his policies surrounding reproductive rights and his handling of the pandemic. Some polls indicate that the race could be tight, while others show Abbott with a wider leader.
In the first 24 hours after his campaign announcement, O'Rourke raised $2 million, which his campaign said was the record for any Democratic gubernatorial candidate in the first 24 hours.
Newsweek reached out to O'Rourke's campaign for comment Sunday morning but had not heard back by publication. This story will be updated with any comment.