Beto O'Rourke Gives Ted Cruz Tips on How to Tackle Texas' Border Crisis
In a string of tweets shared Friday, former Texas Representative Beto O'Rourke offered tips to Senator Ted Cruz on how to tackle the state's current border crisis.
O'Rourke posted a video of the senator during his Thursday night trip to the Texas border, writing, "You're in a Border Patrol boat armed with machine guns. The only threat you face is unarmed children and families who are seeking asylum (as well as the occasional heckler). If you're looking for a crisis to cosplay Senator for, I'm happy to point you in the right direction."
In recent weeks, Cruz has been an outspoken opponent of President Joe Biden's immigration policies as the number of migrants at the southern border has surged.
Central Americans seeking refuge in the U.S. have rushed to cross the border in hopes that Biden will be much more welcoming than his predecessor. But their wishful thinking has overwhelmed Border Patrol facilities that are trying to shelter the numerous unaccompanied children, who have greater protections now under the Biden administration.
On Thursday, Cruz and 17 other Republican senators headed south to see the situation in border town of McAllen, Texas, for themselves.
While spending three hours on a night shift with the Border Patrol, Cruz said in a video shared on social media, "They'll have cartel members who'll throw rocks at them, they'll have cartel members who'll shoot at them, and that's a regular occurrence in terms of the dangerous environment these Border Patrol agents are operating in."
He also said that migrants who are apprehended are released just moments later, exhausting federal agents who continue to capture them again.
"They repeat the cycle over and over and over again, and it's incredibly frustrating and demoralizing," the senator said.
Biden, meanwhile, has denied that migrants are being released. In his first news conference as president, he said that only the unaccompanied minors are being transferred to federal shelters, while everyone else who illegally crosses the border is being sent back.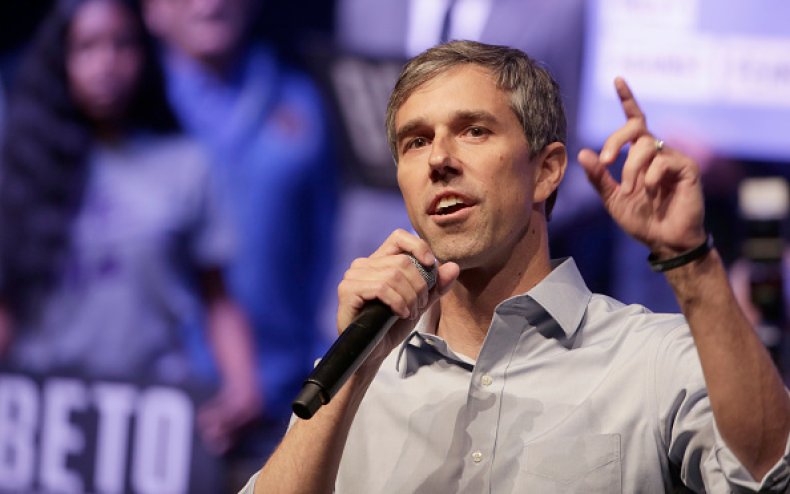 O'Rourke, who ran against Cruz in a narrow Senate race in 2018, argued that the trip did little to benefit or provide relief to Texans who are being affected by the migrant surge.
"If you're ever interested in actually working on solutions to what we're seeing at our border (instead of trafficking in seditious lies, fleeing Texas during a storm that killed more than 100, etc.), here are some ideas," O'Rourke wrote on Friday.
In a seven-tweet thread, the Democrat suggested immigration reform for family reunification, prioritization of Mexico and Central America in the nation's foreign policy, partnerships with nongovernmental organizations, action on climate change and acknowledgement of the U.S.' role in the civil wars south of the border.
O'Rourke also referenced Cruz's scandal from last month. The senator faced widespread criticism after he flew to Cancun, Mexico, as Texans endured a severe winter storm that left 3.3 million residents without power or running water for days. At least 140 Texans died.
The former congressman told Cruz to focus on other issues unique to Texans, including recent mass shootings, a rise in evictions, high numbers of minimum wage workers and low rates of medically insured residents.
"The truth is, the number of individual asylum seekers and immigrants seeking to come to this country is the SAME or LOWER than it was in 2019 when Trump was President (and you were, apparently, Senator)," O'Rourke wrote. "This isn't any more of a crisis today than it was then."
Newsweek reached out to Cruz for comment, but he was unavailable.