List of GOP Senators Visiting the Border as Pressure Mounts on Joe Biden
A group of Republican senators are set to visit the southern border this week as President Joe Biden continues to face scrutiny over the situation there.
A surge in migrants at the border has posed problems for the administration, with GOP lawmakers rounding on the issue. Biden is expected to visit the border himself but plans have not been confirmed.
Senators Ted Cruz (R-TX) and John Cornyn (R-TX) are due to lead a delegation of their Senate colleagues on a visit to the border in Texas on Friday.
At a press conference on Wednesday, Cruz said senators were making the trip to "see firsthand the crisis that is unfolding."
"It is a crisis. It is a crisis that was created by the Biden administration, by their own policies," Cruz said.
Sen. Cornyn retweeted a list of Senators from Nexstar reporter Wes Rapaport detailing attendees.
These included in addition to Cruz and Cornyn:
Sen. John Thune (R-SD)
Sen. John Barrasso (R-WY)
Sen. Chuck Grassley (R-IA)
Sen. Susan Collins (R-ME)
Sen. Lindsey Graham (R-SC)
Sen. John Hoeven (R-ND)
Sen. Ron Johnson (R-WI)
Sen. Mike Lee (R-UT)
Sen. Tom Cotton (R-AR)
Sen. Steve Daines (R-MT)
Sen. James Lankford (R-OK)
Sen. Dan Sullivan (R-AK)
Sen. Thom Tillis (R-NC)
Sen. John Kennedy (R-LA)
Sen. Cindy Hyde-Smith (R-MS)
Sen. Mike Braun (R-IN)
Sen. Tommy Tuberville (R-AL)
Newsweek has contacted the lawmakers mentioned for comment on the visit.
In comments made on a call with reporters on Wednesday shared with Newsweek, Tuberville said: "At the border, I will ask tough questions and get answers that Alabamians want about how we combat this crisis immediately, because border security is national security."
Sen. Kennedy, in comments shared to Newsweek, said: "There's no mystery here. President Biden created this border crisis, and he can fix it by reimplementing the Trump Administration policies, which were working.
"The border crisis highlights the shortsightedness of President Biden's immigration agenda. Our immigration system is in chaos, and we need laws that keep Americans safe and reward people who follow our laws."
At a press conference, Lankford said: "This is a humanitarian crisis, an emergency that has been created."
Sen. Thune also labelled the situation a "crisis" and "an emergency."
Sen. Barrasso said he wanted to hear from border patrol agents. He spoke of wanting to see "exactly what is happening."
"The American people should be able to see for themselves the crisis that the Biden admin's policies have created," he said.
In comments shared to Newsweek Sen. Daines criticized Biden for having rolled back Trump policies in regard to the border.
"On Day One, President Biden started unraveling Trump's policies and created this crisis at the southern border," he said. He commented on drugs being able to "pour over the border and into our communities."
"I'm headed to the border to see the Biden Border Crisis firsthand," he said.
Sen. Hoeven said the Biden administration was moving in the "wrong direction on illegal immigration," in comments to Newsweek.
"The administration needs to address the causes of this surge in illegal crossings," Hoeven said. "That includes enforcing our nation's immigration laws, resuming construction of the border wall and working with Congress to ensure we have in place the infrastructure, personnel and technology needed to secure the border."
The U.S. is on course to see more migrants at the border than at any time in the past 20 years.
Republican lawmakers have blamed the situation on Biden's stances, suggesting these have exacerbated the situation.
The Biden administration has suggested the issues stem from problems with the immigration system under former President Donald Trump's time in office. The former president and his allies have rejected such criticism.
The graphic below, from Statista, details the numbers of families and unaccompanied minors being apprehended at the border in recent months.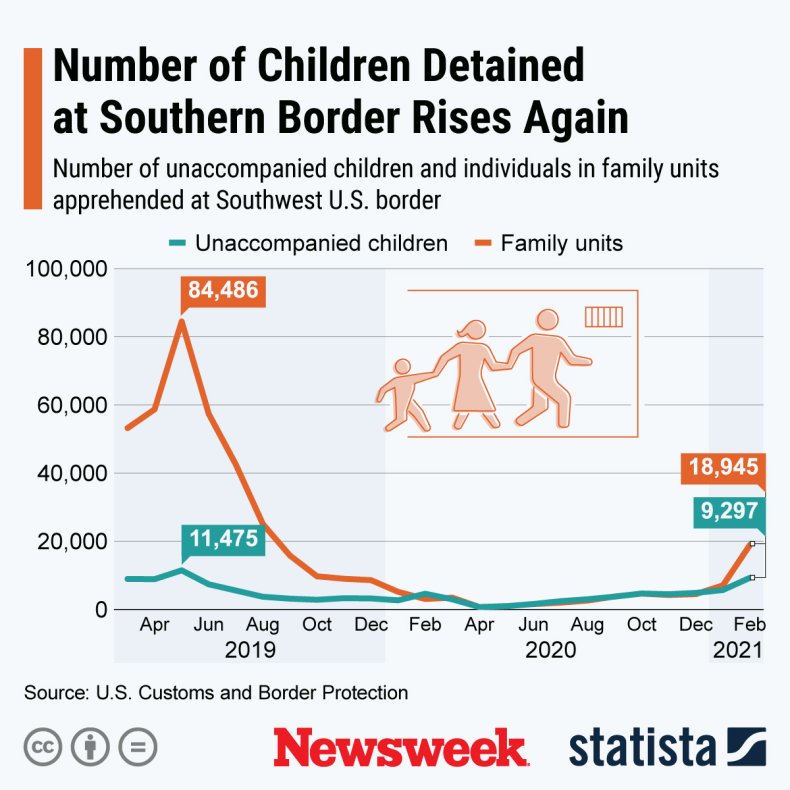 As the administration looks to handle the issues at the border, Vice President Kamala Harris has been tasked with leading the response.
In comments made on Wednesday, she said: "There is no question that this is a challenging situation. While we are clear that people should not come to the border now, we also understand that we will enforce the law and that we also—because we can chew gum and walk at the same time—must address the root causes that cause people to make the trek, as the president has described, to come here."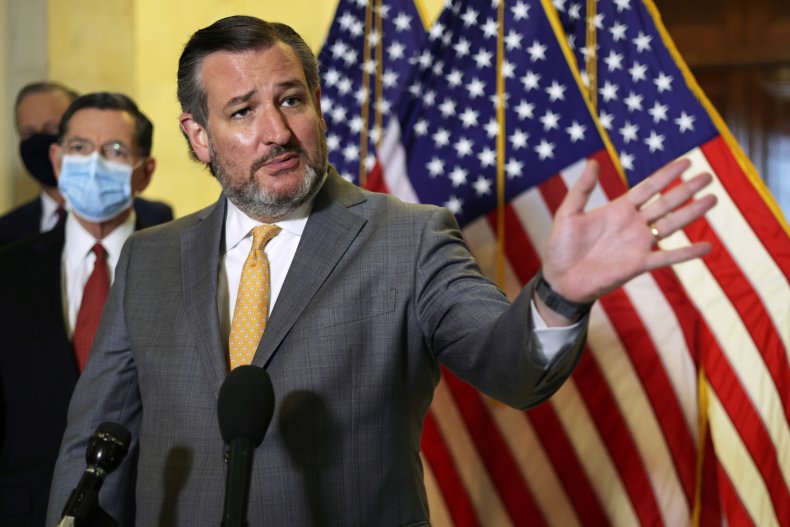 Update 03/25/2021, 11:10 a.m. ET: This page has been updated with further comments from Republican senators.
Update 03/26/2021, : This page has been updated with further comments from Republican senators.