Border Problems Allow Donald Trump To Hit Repeat and Rouse His Base
Chants of "build that wall" and a focus on the southern border were key features of former President Donald Trump's 2016 campaign.
And with his successor President Joe Biden under scrutiny over the situation there, Trump has been able to return to the familiar talking point.
In doing so, the former commander-in-chief could rouse his supporters as he looks to maintain political influence.
The former president has twice released statements taking aim at Biden and his administration over the situation—defending his own record and urging completion of his border wall.
On Sunday, Trump said the Biden administration had been handed the "most secure border in history," criticizing its policies for exacerbating problems.
He called for the wall to be completed "immediately."
Earlier this month Trump labeled the situation at the border "out of control," blaming this on what he branded the "disastrous leadership of Joe Biden."
At CPAC, Trump also touted the border wall and labeled the Biden administration "anti-borders."
He utilized another attack line Republicans have turned on Biden, branding his stances as putting "America last."
"Think about it, right? America last," he said.
"There is no better example than the new and horrible crisis on our southern border."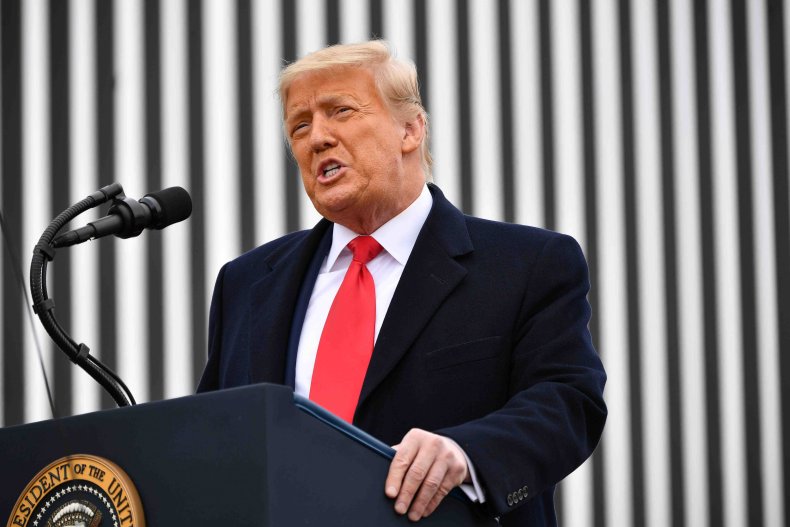 His allies have similarly touted the situation at the border as vindication of Trump's positions.
Republican lawmakers have rounded on the issue. They have also aligned with Trump's push for wall construction to resume.
Trump's interventions come as he looks to maintain a strong presence within, and a grip over, the GOP.
He has vowed to support Republicans in 2022—though suggested he could back primary challengers more aligned to his views.
Such action would test what continued sway on voters Trump has and gaining footholds to rile his supporters could boost his impact down the line.
At CPAC he spoke of his desire to see Republicans who had aligned against him ousted.
He has also hinted at a potential 2024 run for the presidency, but has not firmly confirmed this is his plan.
Polling has indicated he would be a frontrunner in a Republican primary should he wish to take another shot at the White House.
His criticism of Biden comes with his successor having looked to revise immigration policies since assuming office. This included pausing construction of the wall shortly after his inauguration.
Polling has indicated Republicans disagree with how Biden is handling immigration, with a CNN/SSRS poll conducted March 3 to 8 showing 91 percent of those asked disagree with him on this point. Overall, 49 percent of the 1,009 respondents asked disapproved of Biden on this point, while 43 percent approved.
The Biden administration has looked to pin the blame for issues at the border on the Trump administration which came before it. Biden allies have said he inherited a broken system, a charge some of those linked to the prior administration have taken issue with.
Scrutiny of Biden has come from across the political spectrum, with boosted numbers of migrants arriving at the southern border. His policies have faced criticism from Republicans, who have claimed they have exacerbated problems. Progressives, meanwhile, have raised concerns over the treatment of those detained at the border.
Newsweek has contacted the Office of the Former President for comment.
The graphic below. from Statista, shows the numbers of unaccompanied children and family units apprehended.