As D.C. GOP Blasts Biden's Immigration Policies, Poll Shows Majority of Americans Also Disapprove
Amid Washington Republicans' growing criticisms of President Joe Biden's handling of migration at the southern border, a new poll shows that a majority of Americans disapprove of the administration's immigration record.
The poll, which was released Friday by Reuters/Ipsos, found that only 41 percent of Americans support Biden's handling of immigration, while 45 percent do not.
That number was far higher among Republicans, with 79 percent of GOP voters saying they do not agree with the president's response to the border situation. In contrast, 73 percent of Democrats said they support what Biden is doing.
The poll gathered responses from 1,005 U.S. adults, including 456 Democrats and 374 Republicans. It has a margin of error of plus or minus 4 percentage points.
The survey comes during a dramatic increase of immigrants attempting to cross the U.S. border with Mexico. The number of those migrants has already reached a 20-year high, and it is expected to get even higher throughout March.
According to U.S. Customs and Border Protection, the number of unaccompanied children crossing the border increased by 63 percent in February. CBP officials apprehended more than 16,000 families and 11,242 unaccompanied migrant children at the Rio Grande Valley section of the border that month.
Biden, who vowed during his campaign to take a more humanitarian approach to immigration and reverse former President Donald Trump's hard-line policies, has now had to grapple with the border situation in his first few months in office. Most notably, Biden put an end to expelling unaccompanied migrant children without allowing them to request humanitarian refuge in the U.S., a break with Trump policy.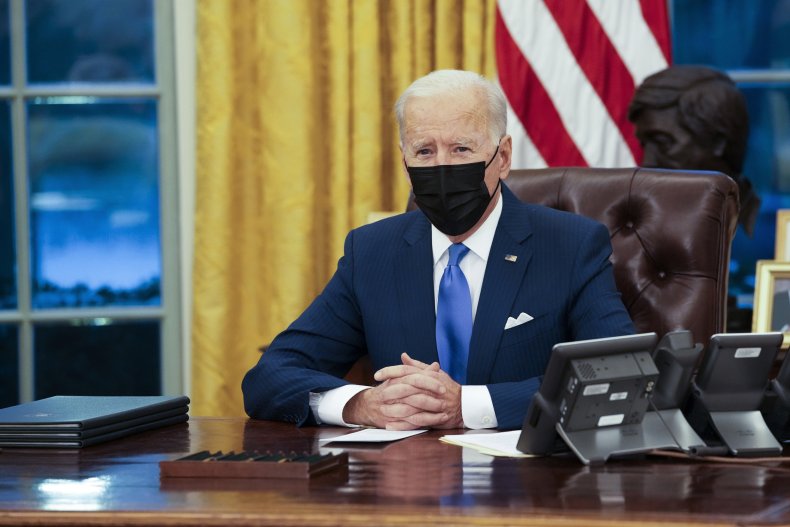 Meanwhile, Republicans have called the situation a crisis and blamed the surge of new migrants at the border on Biden's efforts to roll back Trump's policies.
Last week, Republican Senator Josh Hawley of Missouri described the situation as "a crisis" and "a full-blown emergency."
"I believe that border security is national security. If we fail to demonstrate to the American public that we are operating a controlled, fair, and orderly immigration system, then it erodes public trust in our institutions and the laws passed by Congress," Hawley said in a statement.
Senator Ted Cruz, a Texas Republican, criticized the Biden administration on Twitter, saying there was a "humanitarian crisis" at the border.
On Thursday, a number of GOP lawmakers also criticized Biden after the House passed the American Dream and Promise Act, which would allow undocumented migrants who arrived in the U.S. as children—a group known as the Dreamers—a new pathway to citizenship for at least the next 10 years.
"As the crisis at our southern border continues to grow, Democrats passed legislation this afternoon that further incentivizes illegal immigration," New York Representative Chris Jacobs tweeted Thursday. "I opposed H.R. 6 because we cannot continue to put off strong border security measures and encourage unlawful entry."
During an interview with ABC News on Tuesday, Biden addressed the growing immigration problem and said that the government was "sending back" many of the adults who are now attempting to enter the country.
The president also encouraged others who may be considering illegal migration to refrain from doing so, while promising that those seeking asylum in the U.S. would soon be able to apply.
"I can say quite clearly: Don't come over," Biden said. "What we're in the process of getting set up, and it's not going to take a whole long time, is to be able to apply for asylum in place. So don't leave your town or city or community. We're going to make sure we have facilities in those cities and towns...to say you can apply for asylum from where you are right now."
In response to the growing surge of migrants, the Mexican government is preparing to deploy militarized police forces to detain them at its border with Guatemala, sources told Reuters on Thursday.
Newsweek contacted the White House for additional comment but did not hear back in time for publication.