Ted Cruz Posts Video from Border After Joe Biden Addresses Crisis
Republican Senator Ted Cruz posted a video from the Rio Grande river that runs along the U.S.-Mexico border on social media Thursday night as President Joe Biden spoke about the border crisis at his first press briefing.
The Texas Republican said he and other senators had seen "overrun" detention facilities on their trip to the border, and witnessed migrant mothers and infants sleeping on the floor.
He also claimed that traffickers on the Mexican side of the border could be seen taunting U.S. border officials with flashlights.
Nineteen Republican senators were part of the group that visited the southern border this week, as they announced that they intended to see the scale of the border crisis "first hand" while media were still unable to access some facilities.
Posting the video last night, Sen. Cruz said: "I'm down at the Texas border along with 18 senators who made the trip to see the crisis that is playing out. We've already gone to detention facilities that are overrun, many of them with families, small children.
"We saw multiple mothers who were nursing infant babies, who had just crossed over, and were being housed in outdoor holding pens where they were sleeping on the floor and nursing their babies."
He also said that his team had been listening to and seeing "Cartel members" and human traffickers on the Mexican side of the Rio Grande river taunting U.S. officials.
"It's time for the Biden administration to put an end to it and stop sanctioning lawless chaos on our southern border," the senator later added as he stood among reeds along the river bank.
The number of unaccompanied children being encountered by officials at the Southwest border has risen sharply over the past few month, U.S. Customs and Border Protection (CBP) data has revealed, as illustrated in the graphic below from Statista.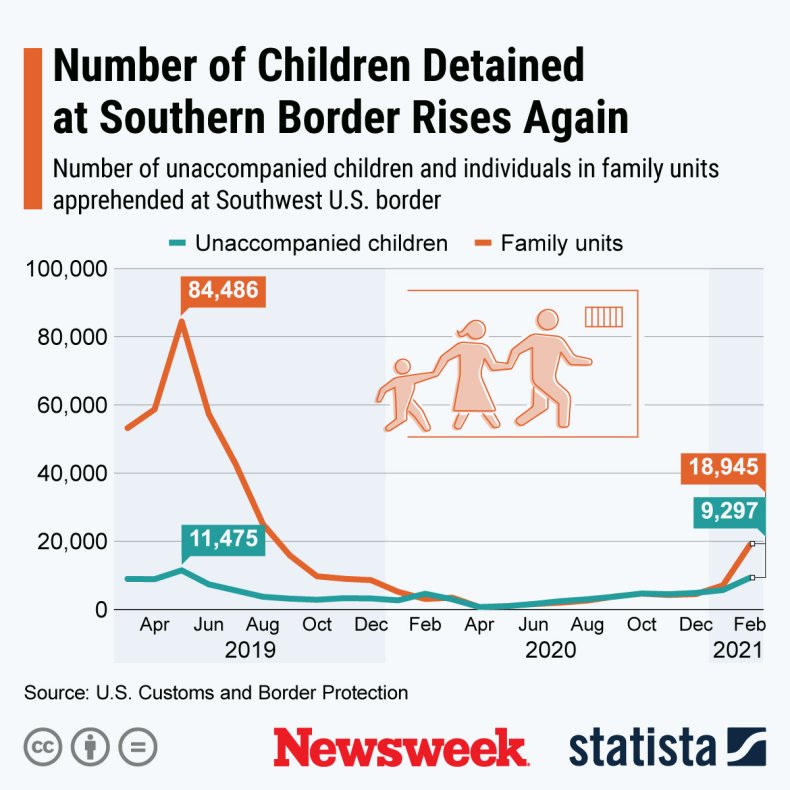 According to the latest figures, the CBP found more than 100,400 people trying to enter along the border in February alone. This marked a 28 percent increase over January this year, and mirrored a similar hike in early 2019.
Border officers have encountered 29,792 unaccompanied children at the border since the start of the 2021 fiscal year, most of whom are aged between 13 and 17 years old.
Speaking about the border crisis on Thursday night, Biden said: "The truth of the matter is nothing has changed. As many people came—28 percent increase in children to the border in my administration; 31 percent… before the pandemic in the Trump administration.
"It happens every single, solitary year. There is a significant increase in the number of people coming to the border in the winter months of January, February, March."