Chip Roy and 20 Other Republicans Plead With Biden in Letter to Stop Blocking Press Access to Border
Twenty-one House Republicans, led by Representative Chip Roy (R-Texas), pleaded with President Joe Biden in a Thursday letter to stop blocking press access to the U.S.-Mexico border.
"The southern border is clearly in crisis, and your Administration appears not only to disseminate myths to the American people about the dire situation, but is also actively engaging in behavior that is preventing transparency and accountability to the American people you were elected to serve," the lawmakers wrote.
"This crisis is out of control," the letter read. "Indeed, it is far worse than most realize, largely because your Administration is not only mischaracterizing the crisis but also prohibiting journalists from witnessing and documenting the crisis up close. This is an insult to the purposes of a free press—as defended in our Constitution—which are to inform the public and hold those in power accountable."
The Biden administration has faced scrutiny over the lack of media access journalists have had to the various Customs and Border Protection (CBP) facilities that are holding migrants, specifically the ones detaining unaccompanied minors that have crossed the border.
While the press has not been allowed into the facilities, photos and reports have emerged that living conditions have become crowded as the administration struggles to shelter the influx of migrants that has arrived at the border since Biden took office.
The letter from the 21 House Republicans notes that there are reportedly 16,000 unaccompanied children in CBP custody and that 5,000 youths are being held in south Texas facilities.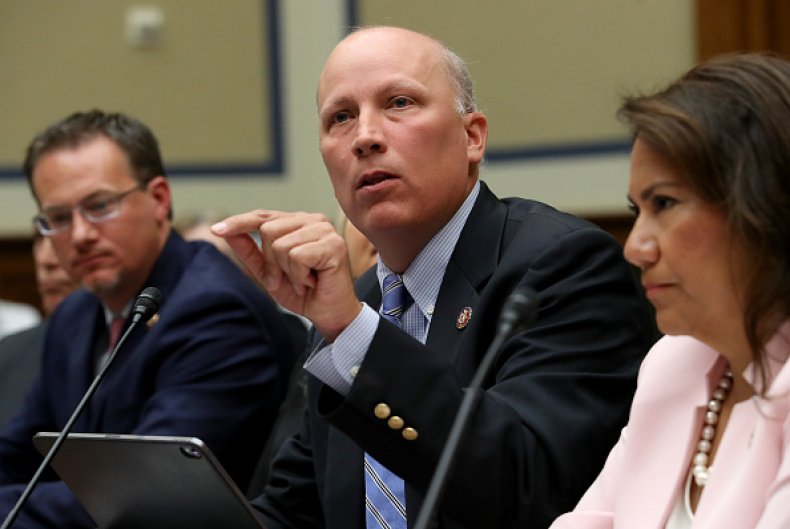 The lawmakers added that some of the children are reportedly spending roughly 136 hours in CBP custody due to a lack of resources. Under law, migrant children are not allowed to be detained for longer than 72 hours.
After facing mounting pressure from the press to allow journalists to see the facilities for themselves, a group of White House officials and members of Congress toured one Texas facility on Wednesday with a news camera.
However, during Biden's first official news conference on Thursday, journalists continued to call out the president for the lack of transparency surrounding the CBP shelters.
When asked if he would commit to allowing access to the press, Biden said, "I will commit when my plan, very shortly, is underway to let you have access to not just them but other facilities as well.
"I will commit to transparency, and as soon as I'm in a position to be able to implement what we're doing right now," Biden told reporters at the White House. "One of the reasons I haven't gone down—my chief folks have gone down—is I don't want to become the issue.
"I don't want to be, you know, bringing all the Secret Service and everybody with me to get in the way. So this has been set up, and you'll have full access to everything once we get this thing moving."
Despite his commitment to granting media access, Biden said he did not know how soon that would be.
But Republican lawmakers argued that the longer the Biden administration hesitates to let journalists into the CBP facilities, the more it seems as though the federal government is trying to hide what is really taking place in the shelters.
"Seeing as your Administration refuses to publicly acknowledge the crisis in contradiction to demonstrable facts, denying reporters access can only be seen as a craven effort to keep the public from fully realizing the extent to which this administration's policies have created chaos, lawlessness and human suffering along our southern border," the Thursday letter read.
Newsweek reached out to the White House for comment but did not hear back before publication.