Joe Biden Approval Rating Starts to Erode amid U.S. Border Crisis
President Joe Biden's approval rating has slipped over the past week as he faces continued scrutiny over the situation at the southern border.
There has been a surge of migrants at the border and criticism leveled at the administration from across the political spectrum over issues there.
Republican lawmakers have rounded on the problems and blamed Biden's stances on immigration as having exacerbated them. Meanwhile progressive lawmakers have questioned how those at the border are treated, with concerns raised over the detention of unaccompanied minors.
Biden saw an approval bump last week as stimulus checks began to roll out, though his numbers have since dipped as criticism on the border persists.
The latest Ipsos Core Political survey showed Biden's approval rating down from 59 in its results from the week before.
Results of the survey, carried out March 24 to 25 among 1,005 U.S. adults, put Biden's approval at 53 percent and disapproval at 41 percent.
With respondents split by party affiliation, the level of drop in approval varied.
For Democrats, 90 percent said they approved of the job Biden is doing. That was down two percentage points from 92 the week before.
For independents, he had 52 percent approval down from 56 percent. And from Republicans, his approval was down to 15 percent from 23 percent a week earlier.
The polling has a credibility rating of plus or minus 3.5 percentage points for the full sample, then plus or minus 5.2 percent for Democrats, plus or minus 5.8 percent for Republicans and plus or minus 10.7 percent for independents.
Newsweek has contacted the White House for comment on this change in the president's approval rating.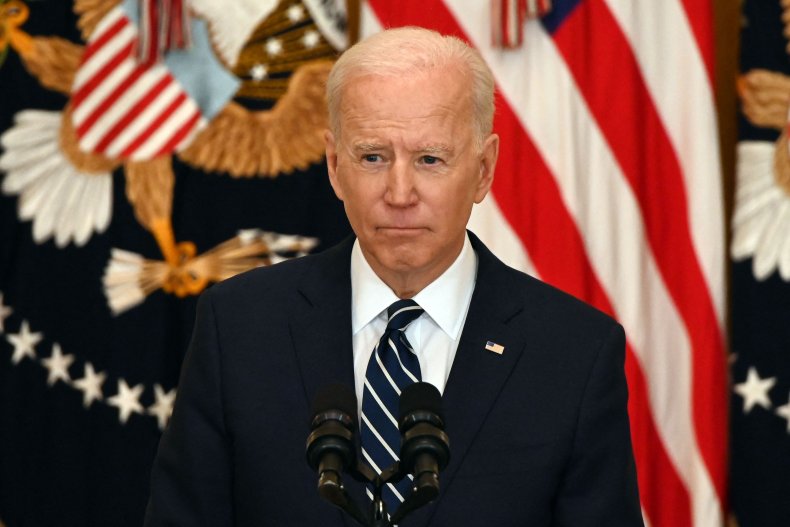 Biden looked to downplay the situation at the border in his press conference on Thursday, stating that "nothing has changed," referring to the yearly surge in migrants during spring.
Secretary of Homeland Security Alejandro Mayorkas said last week that the U.S. is on course to see the biggest surge of migrants in two decades.
However, he and others within the administration have declined to call the situation a crisis. They have also looked to attribute issues to policies of the last administration. Former President Donald Trump and his allies have rejected such suggestions, and called for border wall construction to resume.
Statistics from U.S. Customs and Border Patrol show a surge in unaccompanied minors at the border beginning before Biden took office.
Vice President Kamala Harris has been tasked with leading the administration's response to the issues at the border.
She has branded it a "challenging situation" and conceded there is a "huge problem."
The graphic below, from Statista, shows details of the number of family units and unaccompanied children apprehended at the border in recent months.