Unaccompanied Minors Surge at Border Began in September, Well Before Biden Took Office
The surge in unaccompanied child arrivals at the southwest border began before President Joe Biden took the oath of office.
U.S. Customs and Border Patrol (CBP) data shows the number of solo children encountered by border patrol last year rose dramatically between April and November, from 712 apprehensions to 3,308 encounters, respectively. September has the highest number of encounters at 3,756.
The surge in child arrivals started even before a ruling by a federal judge in November, which stated former President Donald Trump's administration must stop "expelling" minor migrants encountered at the border under a public health rule.
About 13,000 unaccompanied minors had been deported under the Trump administration last year before U.S. District Judge Emmet G. Sullivan's issued the preliminary injunction, according to Border Report. In March, the Trump administration invoked a little-known provision known as Title 42, which gives immigration authorities unchecked authority to reject arrivals in the name of public health under Section 265 of the rule. Trump applied the rule to curtail the spread of COVID-19 in immigration facilities, but Title 42 was used to reject over 200,000 migrants from March to November of last year, according to The Washington Post.
"The Court agrees that the undisputed authority granted in Section 265 is extraordinary and that the COVID-19 pandemic is unprecedented," Sullivan wrote in his decision. "But that is entirely distinguishable from whether or not Section 265 authorizes the Government to expel persons."
Rather than rapidly return them to Mexico or fly them back to their home countries, the Trump administration was ordered by Sullivan to accept child arrivals and hear their immigration claims, the Post reported. The judge did not include families and single adults in his ruling.
But the decision may have set the stage for even more child migrant to make the dangerous journey north, creating the tense situation now gripping the Biden administration. As the news spread across Central America that child migrants would not be expelled, facilities operated by the U.S. Department of Health and Human Services (HHS) started to get crowded. Biden inherited an ongoing issue, immigration advocates said to Border Report, despite arguments from critics his policies created the current influx of child arrivals at the border.
"This 'rush crisis' or politically charged-terminology did not occur in the last couple months. It has been happening all through," immigration lawyer Charlene D'Cruz said to Border Report.
A spokesperson for CBP confirmed in an email to Newsweek: "Numbers of encounters at the border have been rising since April 2020, due to several factors including ongoing violence, insecurity, and famine in the Northern Triangle countries of Central America. As it always has, the number of individuals crossing the border continues to fluctuate and we continue to adapt accordingly."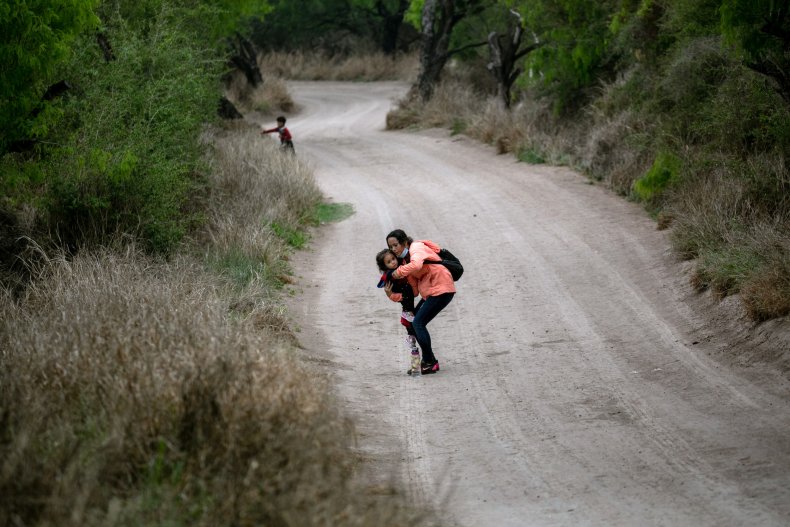 CBP data reported that 9,297 unaccompanied minors were encountered by border patrol in February. Over 11,000 solo children have been detained within the first three weeks of March, according to CNN. And Biden's approach to the influx of solo kids at the border has been met with rebuke from political critics and praise from migrants who hail the president as a humanitarian.
Like Trump, Biden continues to use Title 42 to turn away nearly all single adults and families at the border. But unlike his predecessor, Biden is keeping solo children and giving them chance to have their cases heard.
"The idea that I'm going to say, which I would never do, if an unaccompanied minor ends up on the border we're just going to let them starve to death and stay on the other side—no previous administration did that either, except Trump," he said Thursday in his first solo press conference since taking office. "I'm not going to do it. I'm not going to do it."
Homeland Security Secretary Alejandro Mayorkas said in a statement last week the number of unaccompanied migrant children under the Biden administration is on pace to be the largest in the past 20 years.
Updated 4:23 PM ET, to reflect the surge in child migrants arrivals had begun even before the judge's ruling in November.