Video Shows Migrants Thanking Joe Biden for Support Before Apprehension at Border
A group of migrants extended a message of gratitude to President Joe Biden at the same time they were apprehended by border authorities.
"Thank you for supporting us," the group in La Joya, Texas, said early Thursday morning to reporter Jorge Ventura of The Daily Caller.
The migrants said they were from Honduras, which has been struck by COVID-19, political instability and natural disasters, driving hordes of migrants to the U.S.-Mexico border in search of a better life.
The Caller's video depicts the group, which consisted of men, women and children, speaking at the same time they walked, wearing protective face masks, holding hands or embracing children in their arms. Border patrol can be seen approaching the group to take them into custody.
In a separate video posted to Twitter, Ventura said that migrant groups such as this one "want" to be apprehended by border agents because it will give them a chance to make their case to stay in the U.S.
The migrants' support in the video shows how Biden taking office has painted a picture of improved chances to be accepted in the U.S., but the reality for migrants is far from their expectations.
Migrants have surged to the U.S.-Mexico border since Biden promised a top-to-bottom revamp of the immigration system. But while the administration has been working to dismantle former President Donald Trump's immigration policies, migrants have been arriving in droves, hoping they will be accepted under the new president.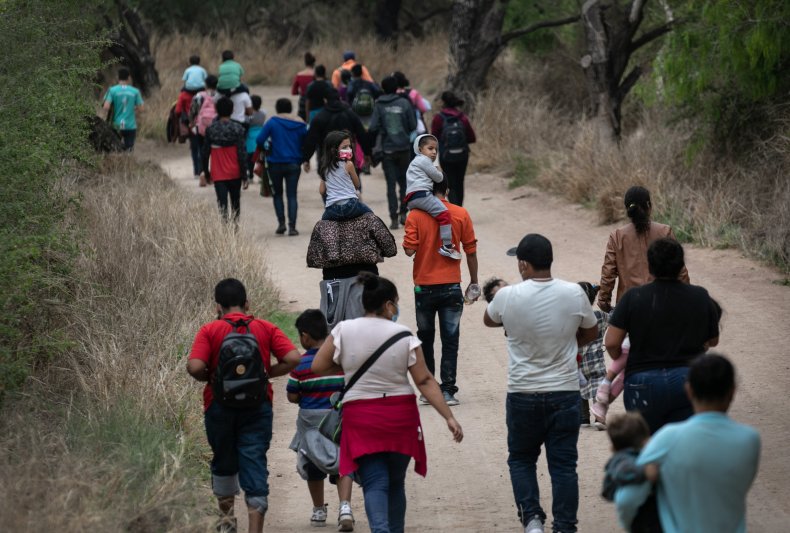 U.S. Customs and Border Protection (CBP) reported more than 100,000 migrant encounters in February, the highest monthly total since mid-2019, according to Reuters. Many of the arrivals have been coming from Honduras, like the group in Ventura's video. More than 44,000 migrants came from the so-called Northern Triangle, which includes Honduras, El Salvador and Guatemala, in February, according to CBP.
Biden repealed Trump's Migrant Protection Protocol, which sent migrants back to Mexico to wait for their immigration hearings. Biden has also rescinded the Trump-era "zero tolerance policy" that resulted in the separation of thousands of families, according to the Council on Foreign Relations.
But Biden has yet to design a new system that will allow thousands of migrants to apply for asylum and be safely housed in immigration facilities. Migrants such as the group Ventura recorded support Biden's message about supporting immigrants, but the president has made his message to migrants simple: "I can say quite clearly: Don't come over," Biden said in an interview with ABC News last week.
"What we're in the process of getting set up, and it's not going to take a whole long time, is to be able to apply for asylum in place. So, don't leave your town or city or community. We're going to make sure we have facilities in those cities and towns...to say you can apply for asylum from where you are right now."
Because it lacks a process to handle so many arrivals, the administration is expelling single adults and family units while it keeps unaccompanied migrant children, according to a statement last week by Homeland Security Secretary Alejandro Mayorkas.
Newsweek reached out to CBP for comment but did not receive a reply by publication time.