'Better Call Saul' Star Rhea Seehorn Talks Kim's 'Heart-Breaking' Decision
When Better Call Saul first began it spawned a number of questions among fans of Breaking Bad, particularly around what would happen to the spin-off's new characters who don't appear in the original.
Now, the sixth season's ninth episode has finally revealed the answer to one question viewers have been asking about for years: What happened to Kim Wexler?
Rhea Seehorn, who has played Kim since Season 1, has weighed in on the "heart-breaking" fate that her character faces in the show, and why it made sense to her for Kim's story to go this way.
Warning: This article contains spoilers for 'Better Call Saul' Season 6 Episode 9
'Better Call Saul' Star Rhea Seehorn Talks Kim's 'Heart-Breaking' Decision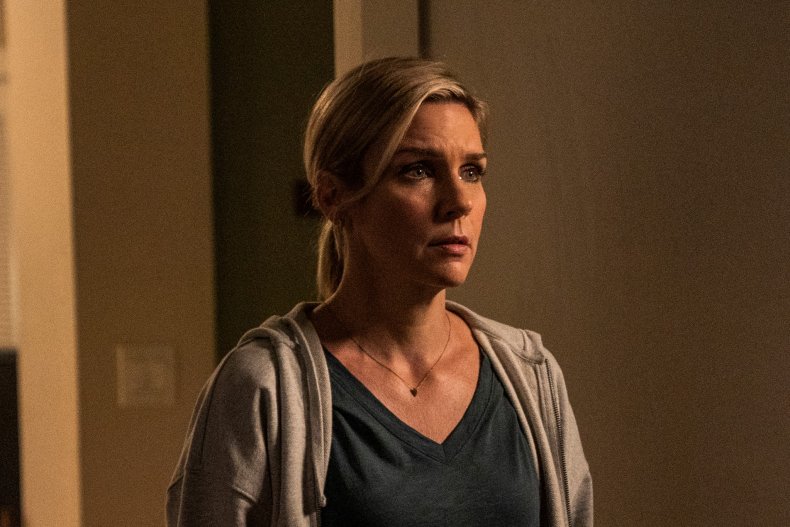 The second episode of Better Call Saul Season 6 Part 2 followed Kim and husband Jimmy McGill (Bob Odenkirk) as they struggle with the role they played in the death of Howard Hamlin (Patrick Fabian) at the hands of Lalo Salamanca (Tony Dalton).
An episode previously, Kim was sent by Lalo to try and kill Gustavo Fring (Giancarlo Esposito) or risk Jimmy's death as well, but the interventions of Mike Ehrmantraut (Jonathan Banks) and Gus meant they were safe, as it led to Lalo's death and Mike and his crew faking Howard's suicide so Jimmy and Kim weren't suspected.
While Jimmy, aka Saul Goodman, appeared more than capable of moving on from the tragic events, Kim could not, and her guilt over Howard's death eventually led her to quit the law and, in the end, leave Jimmy.
Seehorn reflected on the "devastating" decision that Kim was forced to make, and in an interview with Rolling Stone shared how she felt the first time she read what happened to the character.
She said: "It was alarming, and it was heart-breaking. I found it just an incredibly heart-breaking scene. Because it is not about two people falling out of love. They still love each other deeply.
"That scene is the first time we've heard them say 'I love you,' even though I personally think they've said it to each other often off-screen before. But to hear him say it for the first time in the show, and her response to be, 'So what?' — and not in a flippant way, but her saying that it can't alter the erosion of who she is at this point.
"She's aware that whatever it is, whether he's the fire and I'm the match, or the other way around, the two of us together, whatever has happened, the road that she has gone down, she loathes herself far more than she has ill feelings about him. It's about herself. I just found it tragic and sad, and really interesting storytelling."
Seehorn added that she hadn't predicted the "intricacies" of Kim's reasoning behind leaving Jimmy, but that it felt right to her for Kim to make the decision and that she thought the manner in which it happens would be "rewarding" for fans.
Speaking with The Hollywood Reporter, Seehorn said of her reaction to Kim's decision to leave her job: "I was surprised. But as was frequently my reaction when I read these great scripts over the last seven years of my life, you're surprised, and then you're not. It immediately makes sense.
"Nothing ever feels like clever shock value. I was like, 'Oh right. That's how much she can't live in her own skin anymore.'
"While she's dealing with it by looking almost catatonic in her suppression of emotion, she's imploding, and she's absolutely desperate. She's like, 'I cannot be this person anymore. I have no right to practice law. I have absolutely no right to pass judgment on others.'"
Seehorn added that Kim now struggles with "an incredible amount of self-loathing" and feels she doesn't deserve to do anything she loves after the part she played in Howard's untimely death.
Seehorn also spoke with Entertainment Weekly about her character's final conversation with her husband Jimmy, telling the publication how much she enjoyed the way her co-star was able to play the scene.
"I love the way they wrote Bob's side of that scene when he finds out that she has quit the law and also the way that Bob played it," the actor said. "It allows Kim, who I felt is still compartmentalizing — she's not freaking out about these decisions she's making.
"They're very, very hard for her, but you can see that she's a bit of a shell of a person — just desperate to try and figure out any way out of this."
She later added: "Ultimately to me, storytelling-wise, it makes it an even bigger tragedy that we are aware of what Kim was capable of — and what she could have done with her life."
After Kim decides to leave Jimmy, Better Call Saul skips ahead several years and finds the character firmly in Saul Goodman mode, with his office and car changing to match what he had in Breaking Bad.
With four episodes left to go until the end of the show, it seems that anything could happen in Jimmy's life to bring his story to a conclusion. What fans know now, though, is that Kim will no longer be in it (for now).
When asked if the character might return in future episodes, Seehorn simply told Deadline that fans "will have to wait and see."
Better Call Saul airs Mondays at 9 p.m. ET on AMC, and episodes are also available to stream on AMC+.