How 'Better Call Saul' Season 6 Episode 12 Sets Up Saul and Kim's Downfall
The penultimate episode of Better Call Saul featured several shocking moments, teasing a dark end for both Jimmy McGill, aka Saul Goodman (Bob Odenkirk), and Kim Wexler (Rhea Seehorn).
Titled "Waterworks," the episode followed Gene Takovic, Saul's post-Breaking Bad persona, and Kim as they both made decisions that likely spells their downfall in the forthcoming finale.
Here is everything that happened in the episode, Vince Gilligan's last as director, and why it could mean doom for both Saul and Kim.
Warning: This article contains spoilers for 'Better Call Saul' Season 6 Episode 12
How 'Better Call Saul' Season 6 Episode 12 Sets Up Saul and Kim's Downfall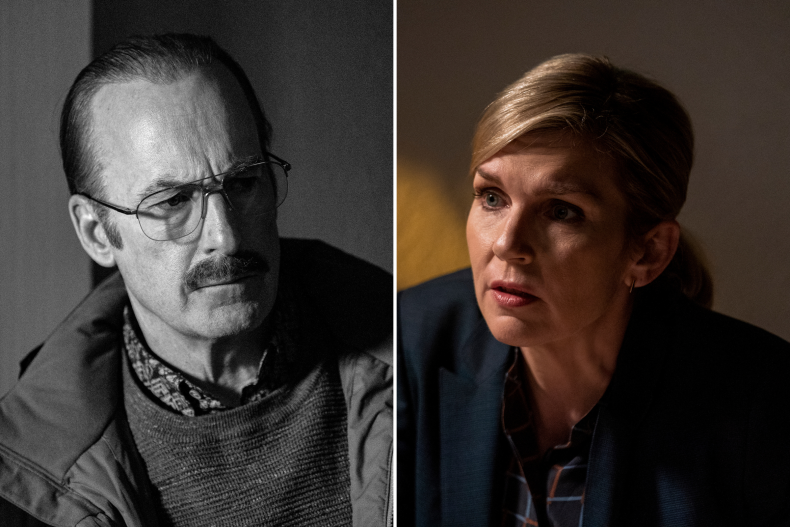 Better Call Saul's penultimate episode follows Saul and Kim in parallel narratives, with the latter's decisions triggered by her conversation with her ex-husband when he contacted her from a payphone.
Kim asks him why he doesn't turn himself in to the police, and Saul argues that they didn't do anything wrong that would warrant such a reaction. Kim, clearly, sees this differently as she later decides to return to Albuquerque to confess.
In a bid to right her wrongs, Kim has an affidavit made that details everything she and Jimmy did to thwart Howard Hamlin (Patrick Fabian) and how their actions led to his death at the hands of Lalo Salamanca (Tony Dalton).
She even admits that the crime was covered up and made to look like a suicide, though she doesn't know where Howard's body is, and she takes this to Howard's widow Cheryl (Sandrine Holt) so that she can finally know the truth.
Cheryl criticizes Kim for what she and Jimmy did to smear Howard's reputation before his death, adding that she could be tried and go to jail for what they did.
Kim argues that this is true but that she may well not be tried since there's no physical evidence or remaining witnesses to tie her to Howard's death, it's just her confession. But this could all still result in a grim fate for Kim, like Cheryl said she could well go to prison for what she and Jimmy did.
This brings us to Jimmy, aka Saul, aka Gene. The former lawyer is in a bit of a bind and, really, it's mostly his fault that things have turned out this way.
After embarking on a long-running con to steal the personal information of various businessmen, Gene couldn't leave well enough alone when his co-conspirators didn't want to target a man with cancer.
Deciding to do things his way, Gene breaks into the man's home while he is passed out and steals his information, as well as several of his belongings. Gene almost gets caught when the man wakes up briefly, but it was cab driver Jeff's (Pat Healy) reaction to seeing police parked behind him while waiting for Gene that sealed the deal.
Jeff panicked and tried to run away, but rather than end up in a high speed chase, the character crashes into a nearby car and is taken into custody by the police, who were just enjoying a break to eat tacos, it turns out.
He asks Gene for his help in getting him out of custody and the conman tells his mother Marion (Carol Burnett) what happened, but saying he wants to help Jeff triggers a memory on her part and she decides to look up any conmen from Albuquerque. Cue Marion discovering Gene is really Saul Goodman.
When Saul comes to pick her up from her home to help Jeff he learns what she has discovered, and though he tries to warn her not to call for help Marion does indeed do so via her Life Alert button.
Saul has no choice but to run for his life given he is a wanted man, and the episode ends with him escaping Marion's home.
With only one episode left to go, it doesn't seem likely that Saul will be able to get away with things this time and if he ends up in prison he certainly will need a very good lawyer, shame he can't "call Saul."
The Better Call Saul Season finale airs on AMC and AMC+ on Monday, August 14, at 9 p.m. ET.