'Better Call Saul': How Bryan Cranston and Aaron Paul Returned as Walt and Jesse
The moment Breaking Bad fans have been waiting for since Better Call Saul Season 6 began finally arrived: Bryan Cranston and Aaron Paul returned as Walter White and Jesse Pinkman.
The actors reprised their iconic roles for the prequel spin-off, which follows lawyer Jimmy McGill (Bob Odenkirk) and how he became the Saul Goodman fans know and love.
Here is everything you need to know about Cranston and Paul's return to the Breaking Bad franchise.
How Did Bryan Cranston and Aaron Paul Return?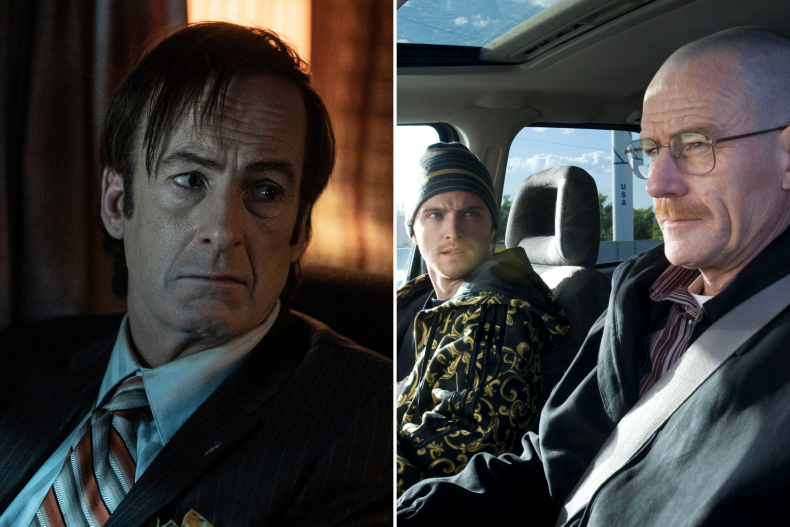 Better Call Saul Season 6's 11th episode is titled "Breaking Bad," giving fans the biggest hint they needed to know that the episode would indeed see Cranston and Paul appear as Walt and Jesse.
The episode opens with a recreation of Saul Goodman's introductory episode in Breaking Bad, aptly titled "Better Call Saul," which saw Walt and Jesse kidnap the lawyer and make him kneel in front of an open grave to convince him to work with them.
Fans of the iconic AMC series will realize this is the first time that Saul also mentioned Lalo Salamanca (Tony Dalton) and Ignacio "Nacho" Varga (Michael Mando), both of whom played a major role in Better Call Saul.
The opening sequence sticks to keeping the camera on Saul, though, with only hints of Walt and Jesse's famous RV being shown (including the bullet holes covered in duct tape in the door) before it cuts to the post-Breaking Bad storyline.
Fans had to wait patiently for the story to return to the Breaking Bad timeline where it showed Saul entering the RV after agreeing to work with Walt and Jesse, and the pair entered the vehicle after him.
Immediately back to their best, Cranston and Paul's Walt and Jesse bicker with each other in what Saul later describes as a "Laurel and Hardy act" and they discuss the way they wish to work together.
Saul admires the way in which Walt and Jesse do business, clearly seeing an opening for a new money-making scheme and recognizes instantly that the duo are the ones making the blue methamphetamine and Walt is the infamous Heisenberg.
Now fully on board with working with the pair, Saul demands to ride shotgun while Walt demands to drive and Jesse sits on the floor, and the pair bicker when Walt is unable to get the RV running (much like how the vehicle would often fail to start in Breaking Bad).
This scene is the only one that Walt and Jesse appear in during this episode, but Saul continues to appear in the Breaking Bad timeline as he has Mike Ehrmantraut (Jonathan Banks) to investigate Walt and Jesse and reveal their real identities to him, since he only knew them by their pseudonyms.
Mike warns Saul not to get involved with Walt and Jesse and says Walt will either get caught or die with a bullet to the head, he also says that drug cartel boss Gus Fring (Giancarlo Esposito) is not aware of them because they're "small potatoes."
The episode then ends with a dual cliffhanger, one during the Breaking Bad timeline and the other set after the show when Saul is on the run and using the name Gene Takovic.
In the Breaking Bad era of Better Call Saul, Saul is seen walking up to Walt's high school doors before entering. This appears to be the lead-up to the scene at the end of his first episode in the original series where he meets Walt in his classroom.
The scene in Breaking Bad sees Saul tell Walt how it only took his private investigator (aka Mike) three hours to find him, and that it should be harder for him to be traced if he wants to do well in the illegal drug trade.
It's also in this scene that Saul tells Walt that he wants to become a silent partner in his business, ending the episode by saying: "If you want to make more money and keep the money that you make, Better Call Saul." Bringing the two shows together in perfect harmony.
Fans will have to wait and see whether this means that Walt and Jesse could appear again in the final two episodes of Better Call Saul.
Better Call Saul airs Mondays at 9 p.m. ET on AMC and AMC+.