Beyoncé all but reiterated to her fans that they should expect the unexpected on Monday night when she released her surprise single, "Break My Soul."
The Grammy-winning singer, 40, had given her fans a matter of hours to prepare for the grand unveiling, announcing that the track would be arriving at midnight EST, though it subsequently dropped two hours earlier.
And the surprises didn't stop there, with "Break My Soul"—Beyoncé's lead single from her upcoming album, Renaissance—showcasing a new direction for the star, with a dance-themed, '90s nostalgia sound.
Sampling the distinctive bassline of the Robin S. early '90s enduring classic "Show Me Love," Beyoncé also employs Big Freedia's infectious New Orleans bounce hit "Explode" for the single's opening seconds, peppering excerpts throughout.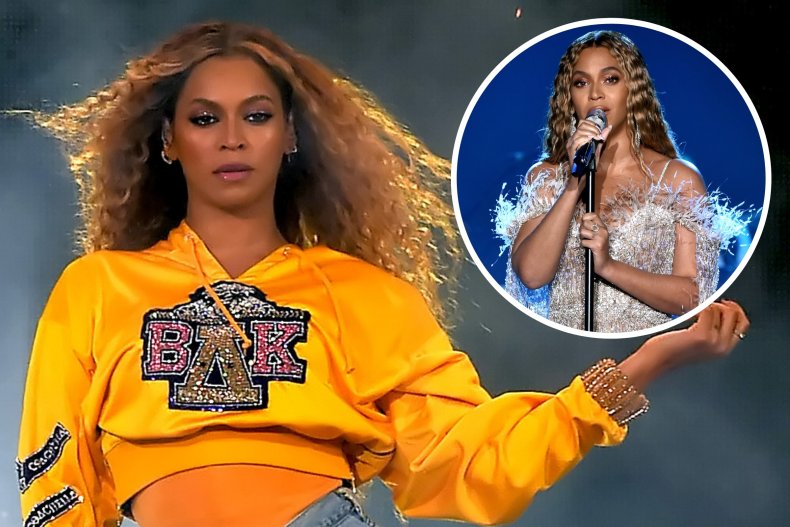 "I'ma let down my hair 'cause I lost my mind / Bey is back and I'm sleeping real good at night," Beyoncé croons in a commanding tone. "The queen's in the front and the Dom's in the back / Ain't taking no flicks but the whole clique snapped."
While the sound is nostalgic, Beyoncé brings the lyrics into today's post-COVID world, singing: "Good at night, and we back outside / You said you outside but you ain't that outside / Worldwide hoodie with the mask outside / In case you forgot how we act outside."
The track marks something of a new direction for the Texas native, though she did collaborate with Big Freedia on "Formation," the lead single from her last solo studio album Lemonade, which was released way back in 2016.
Shortly after the single was unveiled, Big Freedia, real name Freddie Ross Jr., took to Twitter to express his joy at being included in the high-profile project.
"It feels surreal to be on the track with the Queen Beyonce once again I'm so honored to be apart of this special moment I'm forever grateful lord," wrote the rapper, who added, "someone please catch me."
It is not yet known whether "Break My Soul" heralds a new sound for the entire album that Beyoncé is scheduled to release later this summer, on July 29.
Last week, Beyoncé announced her project Renaissance—after sparking speculation among fans that new work was afoot when she deleted her social media profile pictures beforehand.
Variety had previously reported that the album will feature dance and country-themed tracks, with contributors including Ryan Tedder, who co-wrote Beyoncé's 2008 hit ballad "Halo." OneRepublic star Tedder has also penned hits for the lines of Adele, Taylor Swift, and the Jonas Bros.
Also reported to be included on the project is Raphael Saadiq, who shot to fame in the group Tony! Toni! Toné! and has crafted hits for an array of stars, including Stevie Wonder, Erykah Badu, Jill Scott, D'Angelo, TLC, En Vogue, Kelis, Mary J. Blige, Whitney Houston, John Legend, and Beyoncé's sister, Solange.
Beyoncé has become adept at surprising her fans over the years. Back in December 2013, she released her self-titled album overnight without any warning.
The mother of three previously revealed that she spent a lot of time working on music during the pandemic.
"With all the isolation and injustice over the past year, I think we are all ready to escape, travel, love, and laugh again," she told Harper's Bazaar in August 2021.
"I feel a renaissance emerging, and I want to be part of nurturing that escape in any way possible. I've been in the studio for a year and a half.
"Sometimes it takes a year for me to personally search through thousands of sounds to find just the right kick or snare. One chorus can have up to 200 stacked harmonies.
"Still, there's nothing like the amount of love, passion, and healing that I feel in the recording studio. After 31 years, it feels just as exciting as it did when I was nine years old. Yes, the music is coming!"