Social media users are suggesting that Beyoncé hire a fan as a costume designer, after discovering the woman's stunning DIY concert outfit on TikTok.
In a clip posted to the video-sharing platform on Thursday, Julasha (@baldheadjuju) broke down the step-by-step process of creating her killer foil bustier—complete with matching pants and boots—ahead of the singer's upcoming Houston gig on September 24.
The footage begins with super-fan Julasha sticking pieces of rose gold leaf to a pair of underwear, using a large piece of cardboard to keep the panties stretched out. She then repeats the process with a corset, ingeniously using a gift bag to help the girdle maintain its shape while she works.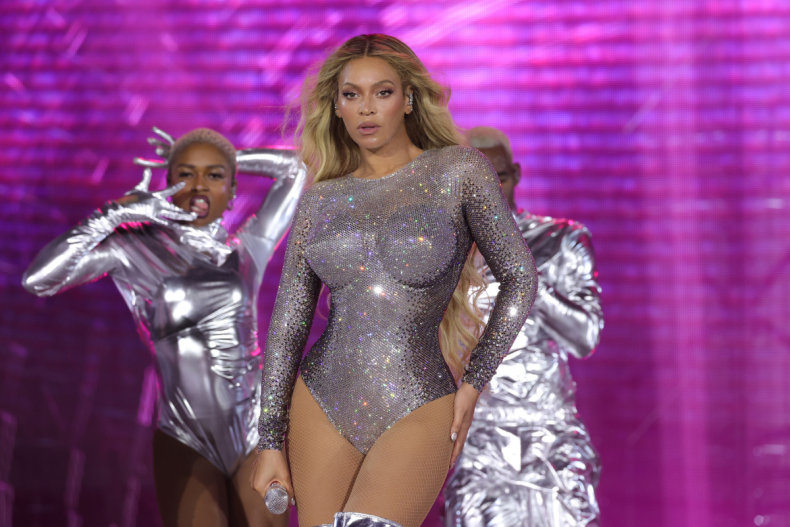 Next, Julasha does the same thing to a pair of thigh-high snakeskin boots, before coating all three with a sealant to give a smooth finish. She then brushes off the excess, revealing a slick, shiny co-ord. To finish off the design, Julasha glues pink faux fur to the edges of the panties, before modeling the completed outfit for followers.
"I think we're almost ready for Houston!!" she wrote alongside the post. "I am not a diy girl by any means so this was a huge undertaking for me!! I'm obsessed with the results!"
Viewers also couldn't get enough of the homemade showstopper, with the video receiving 1.4 million comments.
"This is everything," said Laura Brooks. "Ate this up," wrote Ms Put It On.
"Mind blown .. waits on details? Was this gold leaf? Was glue or heat involved? Have you been doing this your entire life! Info needed thanks," wrote another TikTok user.
"So gorgeous," agreed Kiss.
"Girl what!!! Lookin like a delucious metallic pink goddess," agreed Jose Alfonso.
"Beyoncé need to hire you for costume designing cause this is," said Mayah, along with a flame emoji.
"My brain literally cannot compute what i just saw. you go girl!!" said Pleigh, while Rachel commented: "Ma'am you just blew everybody minds."
In a follow-up video, Julasha explained how to use gold leaf for her followers with a tutorial called "How to Use Gold Leaf Like a Baddie Part 1."
"Y'all not playing games with me about posting this tutorial," she said in the clip. "Y'all starting to call the gatekeeping police on me, the people are upset, so here we are."
Julasha began by introducing the fans to the adhesive she used to prepare the fabric before adding the gold leaf, linking to all of the items in her TikTok bio.
"When you're applying the glue, because it's water-based it's very thin, but you don't want to over-apply it or over-brush it. Any texture that you have in your glue will show up in your gold leaf, so you want to make sure that's thin, smooth and even."
Julasha recommends leaving it for 15 minutes before adding the gold leaf strips. She advises overlapping the segments for a consistent finish.
"Don't be cheap, overlap that thing," she said. "If you want a seamless look, you're going to have to put in seamless effort baby.
"You want a seamless, smooth, metal goddess look."
Beyoncé is currently on the North American leg of her Renaissance World Tour, which began in May. Several moments from the tour have already gone viral, including an on-stage wardrobe malfunction and footage of the 42-year-old taking "revenge" on a microphone that wronged her.
Newsweek has reached out to @baldheadjuju for comment.