Beyoncé's 'Renaissance' Horse Sparks Slew of Theories Ahead of Album Launch
Beoyncé's inclusion of a horse in the imagery for her hotly anticipated album Renaissance has sparked a flood of memes and theories on social media.
The striking cover art for Beyoncé's seventh studio album—which is set to be released on Friday—features the iconic singer, 40, sitting atop a silver holographic horse, wearing a diamond-encrusted body harness.
This is not the first time the erstwhile Destiny's Child frontwoman has gone for an equestrian theme in her work, having included horses in videos for such tracks as "Run the World (Girls)" and "Daddy Lessons."
Still, a range of theories surrounding her choice for this particular project have been heavily discussed among the Beyhive.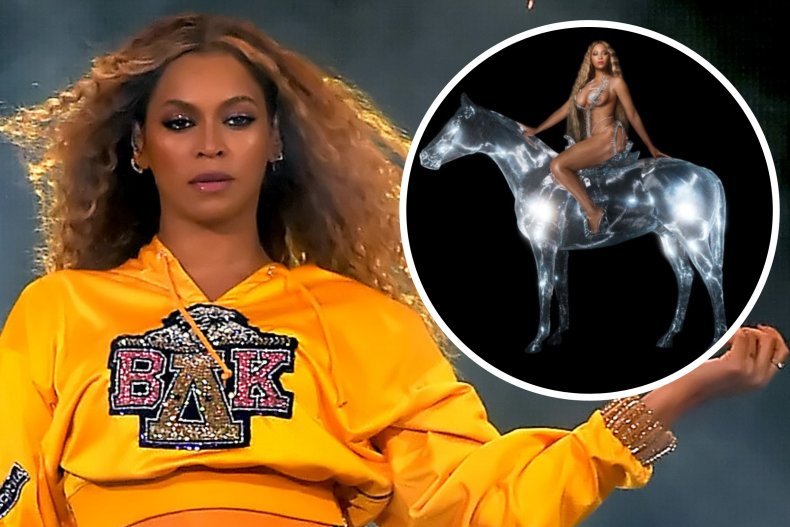 Bianca Jagger Influence?
One prevailing talking point on Twitter in recent days has been where Beyoncé got the influence from for her eye-catching album cover art.
A number of fans have shared their belief that Beyoncé's imagery is a nod to Bianca Jagger, who was famously photographed on a white horse at legendary New York City club Studio 54 while celebrating her birthday back in May 1977.
And it doesn't just end at imagery for fans, many of whom believe that the 45-year-old photo—taken during disco's golden era—indicates a new sound for the star.
"Beyoncé's album artwork is a reference to this image of Bianca Jagger on a horse in Studio 54 taken in 1977, the era of disco and house music and if you didn't know now you know," tweeted one fan.
Another shared an image of Beyoncé's British Vogue cover from June, which also featured the star posing in majestic form atop a horse.
"It's Beyoncé's disco era," they captioned the image. "The disco lights dance floor, and sitting on a horse like Bianca Jagger on her birthday in Studio 54."
The Apocalypse Theory
Defying Beyonce's tuneful denouncement on "Formation" of those who associate her with "that Illuminati mess," another theory that has been circulating among fans is that the star is referencing the Four Horsemen of the Apocalypse.
In July 2020, Beyoncé was seen on a white horse in the Black Is King movie, while she posed with a black horse for Harper's Bazaar in August 2022.
With her recent British Vogue cover showing her on a red horse, the holographic horse on the Renaissance cover was been seen as the fourth in the line-up.
"The Beyhive is buzzing and theorizing about the possible relation between Beyoncé's recent appearances with horses and the Four Horsemen," read one Twitter post, which showed Beyoncé's images alongside one of the Four Horsemen.
Showing the similar imagery, another opined: "Beyonce channeling the four horsemen as a symbolism of the ordeals the planet has gone through in the past 2 years and that it is the sign of the times indeed."
Just a Proud Texan?
As countless theories continue to circulate as to the meaning and thought process behind Beyoncé's newest cover art, some fans are telling others that it may just relate to the fact that the Houston native is proud of her Texan roots.
Indeed, earlier on in her career, the singing superstar arrived on horseback to perform for her hometown crowd when she made an appearance at the Houston Livestock Show and Rodeo way back in March 2004.
"Y'all talkin bout Beyoncé is ushering in the apocalypse cuz of the horses," tweeted one fan of the ongoing chatter. "Babe, She's from Texas...... maybe she just likes horses and wants to have a disco yeehaw moment."
Echoing that sentiment, another commented: "Everybody keep talking about Beyoncé on this damn horse maybeeee she just likes horses n is she from Texas, Stop tryna make everything a thing."
Whatever the reasoning, Beyoncé's album is all but guaranteed to be a certified hit once it's released on Friday.
The first track from Renaissance, "Break My Soul," was released in June to huge acclaim. Fans hailed its anti-work sentiments, with many joking that they were ready to quit their jobs as soon as they listened to Beyoncé's track.