With Biafra and Oil Militants, Nigeria's Security Troubles are Heading South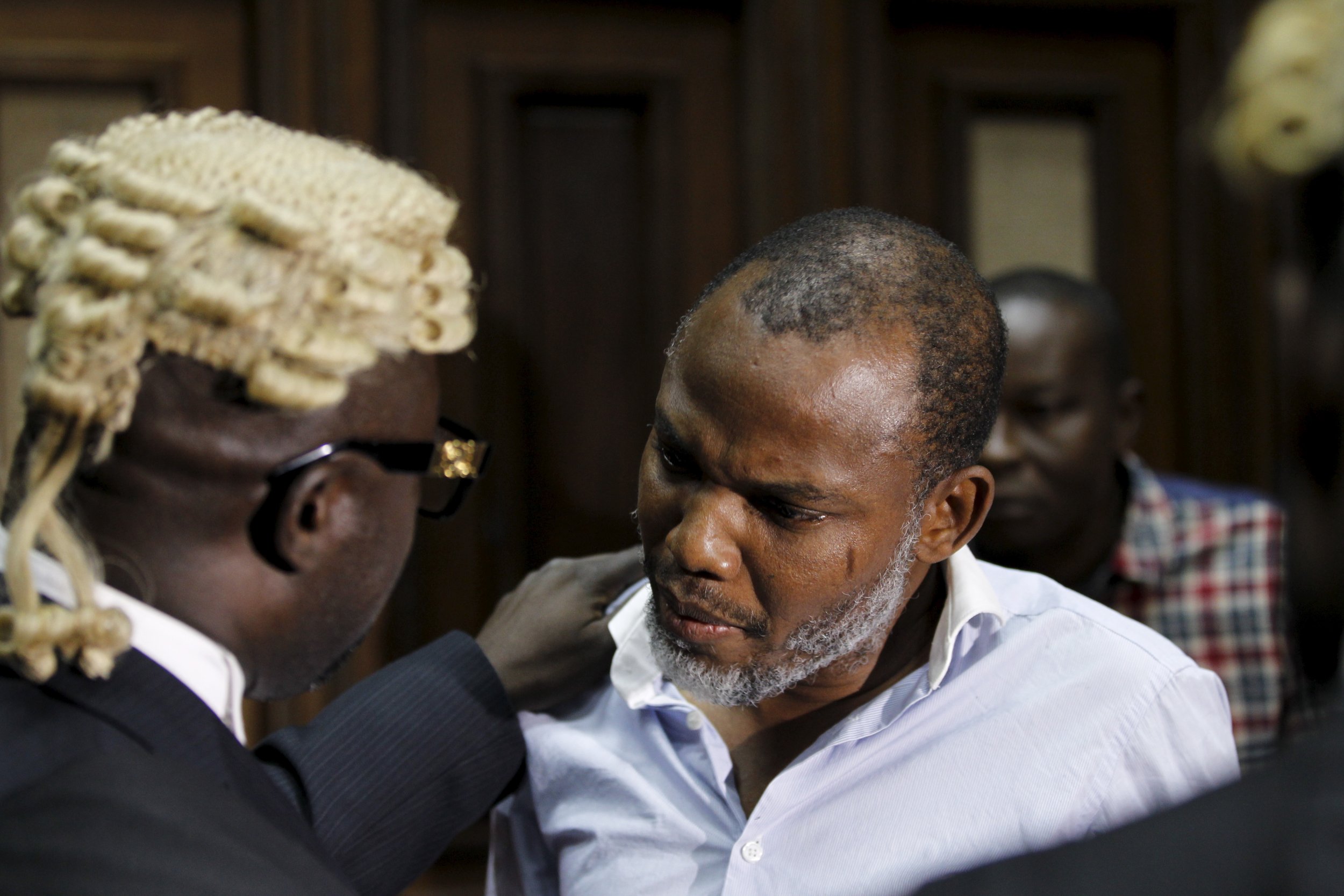 After six years fighting Boko Haram militants in Nigeria's northeast, the country's new security threats are coming from the south, with the ongoing Biafra agitation and a resurgence in activity by oil militants.
Protests in southeast Nigeria calling for an independent state of Biafra have swelled in recent months, particularly following the arrest of Nnamdi Kanu, the director of underground outlet Radio Biafra and leader of the Indigenous People of Biafra (IPOB) group, in October 2015.
In the oil-producing Niger Delta region—which covers a large swathe of southern Nigeria—there has been a worrying reemergence in the targeting of oil facilities. The region experienced a deadly militancy during the mid-2000s that, at its peak, cut Nigeria's oil production to less than a third of its maximum capacity. There have been several recent attacks on facilities in the region, leading the state oil company to shut two major refineries. One government minister recently put the cost of the attacks at $2.4 million per day.
There are now hints of collaboration between Biafran agitators and fighters formerly active in the Niger Delta. A group of faceless militants hijacked a merchant ship on Friday off Nigeria's southeastern coast and have demanded the release of Kanu—who is awaiting trial on charges of treasonable felony—or else the vessel will be destroyed and the crew murdered. Earlier in January, a group of former Niger Delta militants reportedly issued President Muhammadu Buhari with a 31-day deadline within which to release Kanu, and the hijackers cited the same deadline, suggesting it may be the same group involved in both incidents.
Both groups are motivated by a sense of unjust discrimination—the Niger Delta militancy was launched on the belief that the region is not benefiting from its oil wealth, while the ethnic Igbos agitating for Biafra have complained of prejudice against southeastern Nigeria from the government led by Buhari, a northerner. There is also a large degree of geographical crossover between the Niger Delta region and the states included in the republic of Biafra, which existed between 1967 and 1970.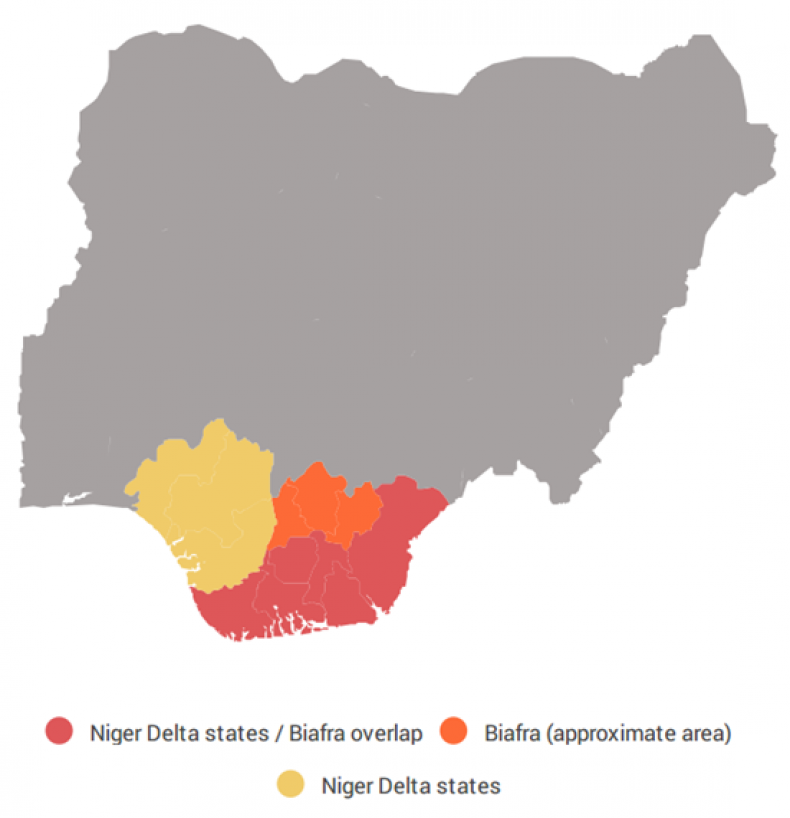 "At the moment, there is no evidence of any kind of structural cooperation between the two groups. Both of them have different objectives, but because of the problems in Nigeria generally, they seem to find support in each other," says Athanasius Atta Barkindo, the founder of the Jangani Research Network that researches ethnic and socio-political issues in Nigeria.
Since Kanu's arrest, pro-Biafran demonstrations have been at risk of boiling over. There have been reports of clashes between protesters and security forces, with AP reporting that more than 20 protesters and two police officers have been killed since October 2015. (Pro-Biafran groups maintain that the death toll among protesters is much higher.)
According to Manji Cheto, Nigeria analyst at political risk consultancy Teneo Intelligence, the Biafran agitation shows hallmarks of developing into a concrete security threat to the country. "This mirrors the way that the Niger Delta militancy started," says Cheto. "It started with low-level agitation, [that] the government by and large ignored and when they decided to respond, it was usually through heavy security crackdowns that went under the radar."
Cheto says there is little reason for former leaders of the Niger Delta militancy to involve themselves in the Biafran cause. Ex-militant leaders have benefited from providing lucrative security contracts to the oil firms they once terrorized and a total of 30,000 militants receive monthly subsidies of 65,000 naira ($327) under a generous presidential amnesty program established in 2009.
With the amnesty program unlikely to continue for more than a year, however, Cheto says that the Biafran agitation could find support among "foot soldiers" of the Niger Delta conflict, who may be out of pocket once the subsidies dry up. "For them, they've got nothing to lose because it's not like they had any economic fallback activities after the amnesty program. If there's another militancy arising in the region, why not?" says Cheto.
Regardless of whether or not the two groups collaborate, the threat to Nigeria's peace and security is clear. Pro-Biafran activists have made it clear they will continue to protest until Kanu is released, while the issuing of an arrest warrant for ex-Niger Delta militant leader Government Ekpemupolo—also known as Tompolo—has seemingly reignited tensions between the former fighters and the government. "The whole region is likely to get violent depending on how the federal government responds to the crisis," warns Barkindo.