Biafran Activist Nnamdi Kanu in 'High Spirits' Ahead of Trial: Lawyer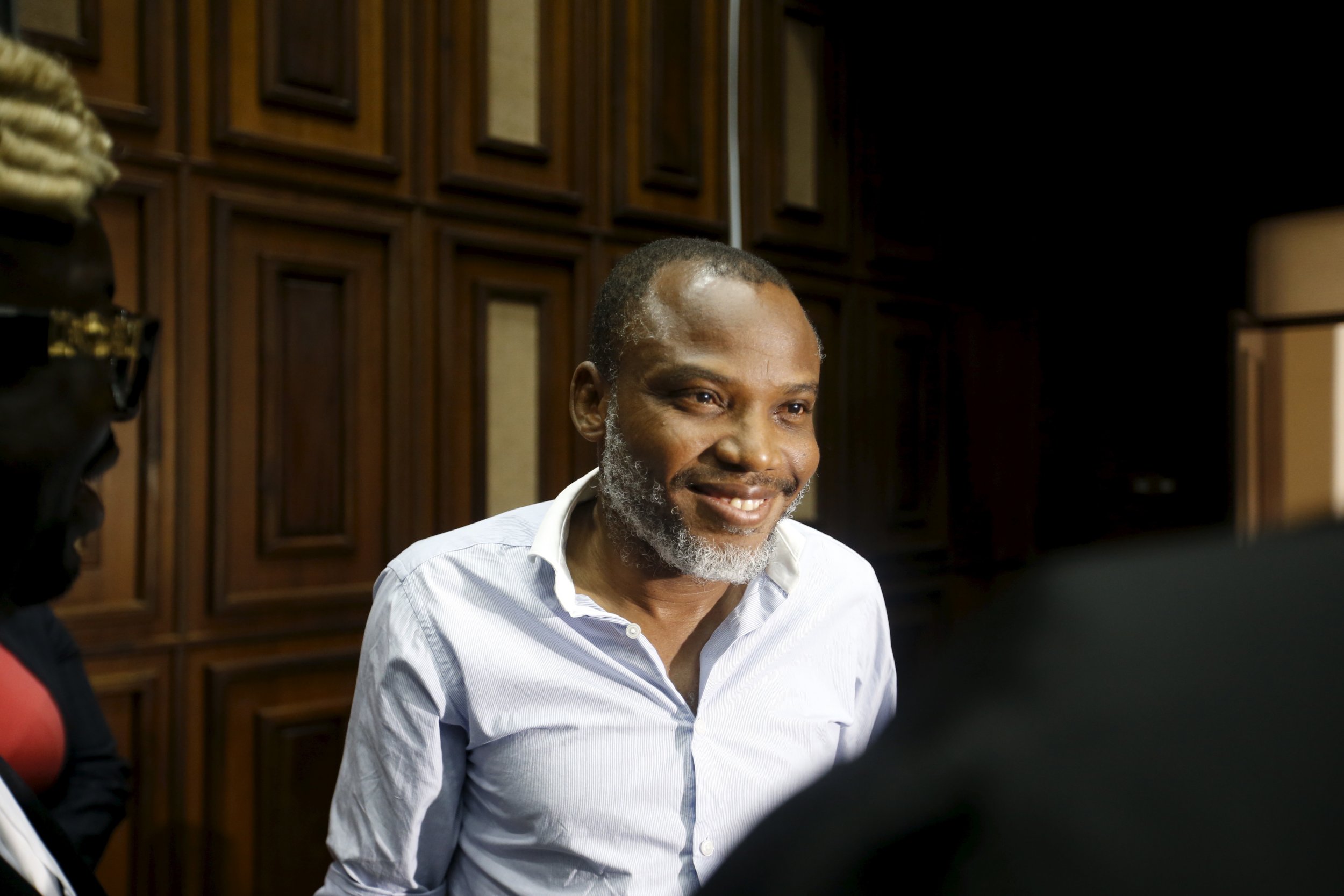 A lawyer for Biafran activist Nnamdi Kanu told Newsweek his client is "in high spirits" ahead of the opening of his trial for treason on Tuesday.
Members of Nigeria's intelligence agency, the State Security Service (DSS), arrested Kanu—the leader of the Indigenous People of Biafra (IPOB)—in October 2015 on charges including sedition and ethnic incitement. The Nigerian government has previously tried to shut down Radio Biafra, an underground media outlet of which Kanu is director and which refers to Nigeria as a zoo and denigrates Nigerian President Muhammadu Buhari in its broadcasts.
Kanu's arrest has prompted thousands of people to demonstrate across southeast Nigeria, demanding the activist's release and calling for independence for Biafra, which existed as a republic in southeast Nigeria between 1967 and 1970. Kanu, who is in his 40s, has been described by IPOB members as "a legend in the making," according to IBTimes U.K., and he has previously said that Biafra would be established "no matter what happens," though the group has denied that their leader endorses violence.
Kanu's trial is due to begin in the Nigerian capital Abuja on Tuesday on the back of a controversial period of detention. A federal high court in Abuja ruled in December that Kanu should be granted unconditional bail and released immediately, only for the Nigerian government to file new charges against Kanu, including treason. A Nigerian court ruled on January 29 that Kanu should be denied bail but transferred him from DSS custody to Kuje Prison in Abuja.
Nigerian President Muhammadu Buhari has rejected calls for Kanu to be released, describing the activist—who is based in the U.K. but frequently returns to Nigeria—as a flight risk. In his maiden presidential media chat on December 30, 2015, Buhari claimed that Kanu entered Nigeria without using a passport and had brought in broadcasting equipment to propagate Radio Biafra's secessionist message in the country. "There is a treasonable felony against him and I hope the courts will listen to the case," Buhari said.
Barrister Ifeanyi Ejiofor, a member of Kanu's defense team, told Newsweek that Kanu was positive when they met on Sunday ahead of the trial. "We are ready to put our heads together and get our arsenals ready for tomorrow's action," Ejiofor said on Monday. "We have strong belief that the charge Mr. Kanu is currently facing is bogus and empty...We are ready to establish inside the court that that charge cannot be sustained."
Ejiofor added that the office of the British High Commissioner in Abuja had been in contact with him regarding the timing of the trial and that he expected to see a representative of the British government at the trial. The British High Commission in Abuja did not respond to requests for comment.
Kanu's wife, Uchechi Ogwu-Kanu, is "at breaking point" after giving birth to the couple's first child in January, according to Ace Nnorom, a spokesperson for the Kanu family. "It's so stressful. We just have to help her [by] trying to update her on the situation to calm her down," says Nnorom, who adds that Kanu has not been able to communicate directly with his wife but only via his lawyers.
Nnorom says that, despite his ongoing detention, Kanu remains firm in his convictions. "Mr. Kanu is a very resilient gentleman. He is very fortified by what is happening and the fact that he believes in what he is fighting for, which is the restoration of Biafra," says Nnorom.
The issue of Biafran independence is gaining traction outside of Nigeria. A group of Dutch lawyers filed a case against Buhari at the International Criminal Court in the Hague in January, demanding that the Nigerian president be investigated for allegedly overseeing the deaths of Biafran protesters at the hands of Nigerian security forces. More than 20 protesters and two police officers have been killed in pro-Biafra protests since October 2015, AP reported, though Biafran activists claim the figure is much higher.
The matter was also raised with the British Foreign and Commonwealth Office by Labour MP Harriet Harman. Kanu, a dual British-Nigerian citizen, resides in Harman's constituency of Camberwell & Peckham.
There have been calls for Kanu to be offered an amnesty in order to de-escalate the tensions, but the Nigerian government seems set on seeing the case through. Kanu could face a lengthy prison sentence if found guilty and pro-Biafran groups have made it clear they will continue to protest until their leader is released. Despite the limited clashes so far, there does seem to be potential for the protests to turn violent. Manji Cheto, Nigeria analyst at political risk consultancy Teneo Intelligence, recently told Newsweek that the Biafran uprising mirrored the start of the Niger Delta militancy, which saw militants destroy oil facilities, kidnap workers and murder security forces during the mid-2000s. "It started with low-level agitation [that] the government by and large ignored and when they decided to respond, it was usually through heavy security crackdowns that went under the radar," Cheto said.
Nigerian military officer Chukwuemeka Odumegwu Ojukwu established Biafra as an independent republic in 1967, sparking a three-year civil war with the Nigerian army in which more than one million people died, many due to hunger. Biafra had a population of around 13.5 million and had its capital in Enugu, which now lies in Enugu state in southeastern Nigeria.