Biden Adviser Says Congress Is Only Place Where GOP Doesn't Support $1.9 Trillion Stimulus
Cedric Richmond, a senior adviser to President Joe Biden, pointed to significant support for the administration's proposed $1.9 trillion COVID-19 stimulus package among Republican voters as well as among GOP mayors and governors on Monday—calling out congressional Republicans for not backing the package.
"We have many Republican mayors, we have Republican governors, we have more than 50 percent of Republicans in this country—46 percent of Trump supporters [backing this bill]," Richmond said during an interview with CNN. "There's just one place that we don't have anybody that has signed on yet and that's in the United States Congress," he added.
Earlier this month, a bipartisan group of 411 mayors sent a letter to the Democratic and Republican House and Senate leaders urging them to quickly pass Biden's relief package. "Your quick action on President Biden's plan is a crucial step to making meaningful progress in one of the most challenging moments in our country's history," they wrote.
It's unclear what specific polling data Richmond was citing in his interview, but polls have shown significant support among Republicans for Biden's response to the COVID-19 pandemic. A recent survey carried out by Quinnipiac University showed that 64 percent of Republicans approve of the $1,400 stimulus checks included in the package—despite GOP lawmakers attempting to reduce the amount of the direct payments or opposing them altogether. However, just 37 percent of Republican voters said they backed Biden's overall relief plan.
Although Republican lawmakers largely fell in line to push through massive pandemic-related relief bills under former President Donald Trump, they have largely opposed Biden's proposed stimulus package—which includes another round of $1,400 stimulus checks and enhanced unemployment benefits, among other priorities. A group of moderate Republican senators put forward a substantially smaller COVID-19 package totaling about $600 billion, but was dismissed by Democrats. However, a number of local Republican leaders have expressed support for the package while polls suggest many GOP voters approve of the legislation as well.
Richmond explained that the Biden administration is still "working every day" to get bipartisan congressional support for the relief bill—dubbed the American Rescue plan—before it passes. But the White House adviser said Democrats would not "slow down" nor "fail to meet the needs of the American people."
Newsweek reached out to House Minority Leader Kevin McCarthy, a California Republican, and Senate Minority Leader Mitch McConnell, a Kentucky Republican, for comment but did not immediately receive a response.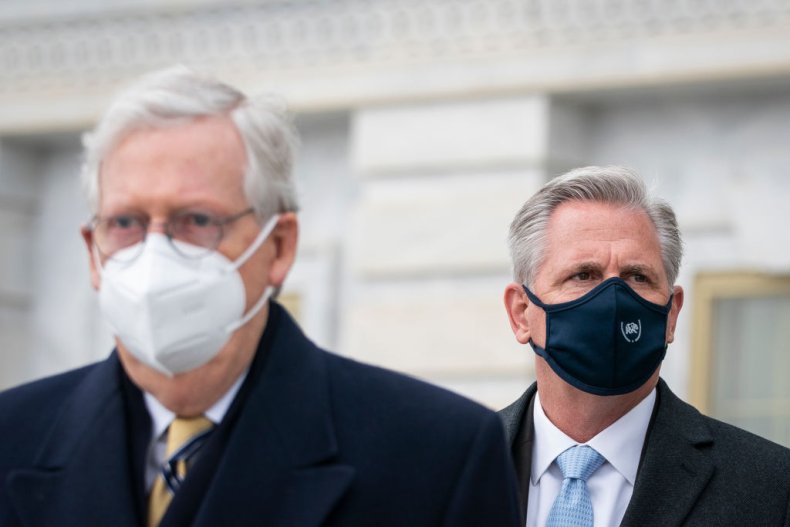 But another recent poll conducted by The Hill and Harris X showed that the majority of Republicans supported Democrats using the budget reconciliation process to push through their legislation without the support of GOP lawmakers. About 6 in 10 Republicans said they approved of lawmakers using the legislative maneuver for the $1.9 trillion relief package.
Democrats have turned to the budget reconciliation process to pass the relief bill as it appears unlikely they will garner Republican lawmakers' support. In the Senate, most legislation generally requires 60 votes to pass due to the legislative filibuster rule. With an evenly split senate—50 to 50—it's unlikely that Democrats will convince 10 Republicans to vote to approve the package. But Democrats can pass the legislation with a tie-breaking vote cast by Vice President Kamala Harris, in her role as president of the Senate, through budget reconciliation.