A significant majority of Republicans support Democrats in Congress using the budget reconciliation process to pass President Joe Biden's $1.9 trillion COVID-19 relief package, new polling shows.
Democrats have turned to the budget reconciliation process to push through the massive economic stimulus package after facing Republican opposition to the high price tag and some key Democrat priorities. The process will allow Democrats to pass the legislation through the Senate with a slim majority, instead of the 60 vote threshold generally required due to the legislative filibuster rule.
In the evenly split Senate, Democrats could pass the package without any support from Republican lawmakers with Vice President Kamala Harris casting a tie-breaking vote.
The new poll by The Hill and Harris X showed that about 6 in 10 Republicans approve of Democrats using the reconciliation process, even as GOP lawmakers criticize Biden and their Democratic colleagues for pushing ahead without their approval. Unsurprisingly, 94 percent of Democrats also approve of the reconciliation process and 68 percent of independent voters said they approve as well.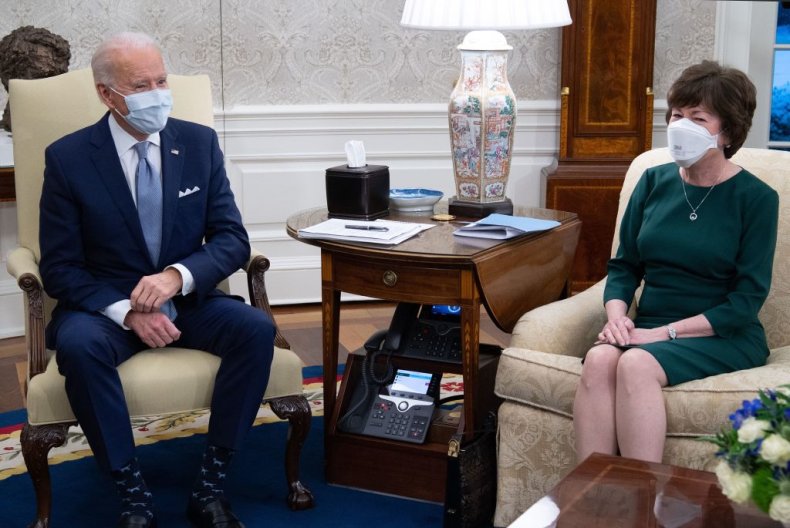 Overall, 67 percent of survey respondents said they support using the budget reconciliation process. And just one-third (33 percent) said they do not back Democrats turning to the legislative maneuver to push through the COVID-19 relief. The poll was conducted from February 8 to 9, and has a margin of error of plus or minus 3.2 percent.
The proposed package includes another round of $1,400 direct stimulus checks, raising current federal unemployment payments from $300 per week to $400, additional funding for the Paycheck Protection Program, billions for vaccine distribution and COVID-19 testing and significant funds to help schools reopen, among other priorities. The version that will pass in the House of Representatives will also include a provision to gradually raise the federal minimum wage to $15 per hour by 2025. It's unclear whether this will survive in the Senate and be included in the final legislation.
Although Republicans have raised concerns about the size of the overall proposal, economists have generally warned that the greater risk to the economy is to do too little as opposed to spending too much. Previous polls have shown widespread support for further COVID-19 stimulus.
A poll published this week by CBS News/YouGov showed that 83 percent of Americans favor Congress passing another pandemic relief bill. The same survey found that 64 percent of Americans approve of Biden's response to the crisis.
Speaker of the House Nancy Pelosi, a California Democrat, said last Friday that the package will be passed later this month.
"Hopefully in two weeks time we'll send something over to the Senate and this will be done long before the expiration of initiatives," she remarked, adding that lawmakers should "finish our work before the end of February."