As Congress continues to debate the $1,400 stimulus checks in President Joe Biden's coronavirus relief package, new weekly unemployment claims were higher than expected last week.
Some 793,000 workers filed first-time jobless claims during the week ending February 6, the Department of Labor reported on Thursday morning. That's more than 30,000 higher than what economists surveyed by Dow Jones had projected ahead of the report, CNBC reported. However, the new jobless claims were still down somewhat from the previous week, when they came in at 812,000.
While new unemployment claims have declined significantly from their peak during pandemic-related shutdowns in the spring of 2020, they still remain at historic levels. Before the coronavirus outbreak, the highest number of initial jobless claims recorded in one week was 695,000 back in October 1982. During the Great Recession of 2009, the highest number was 665,000 during one week in March of that year.
During the pandemic, weekly jobless claims soared to 6.86 million last spring before leveling off and declining over the summer. But even though significantly fewer workers are filing initial claims compared with the start of the pandemic, the overall picture looks stark as millions of continued claims are filed weekly.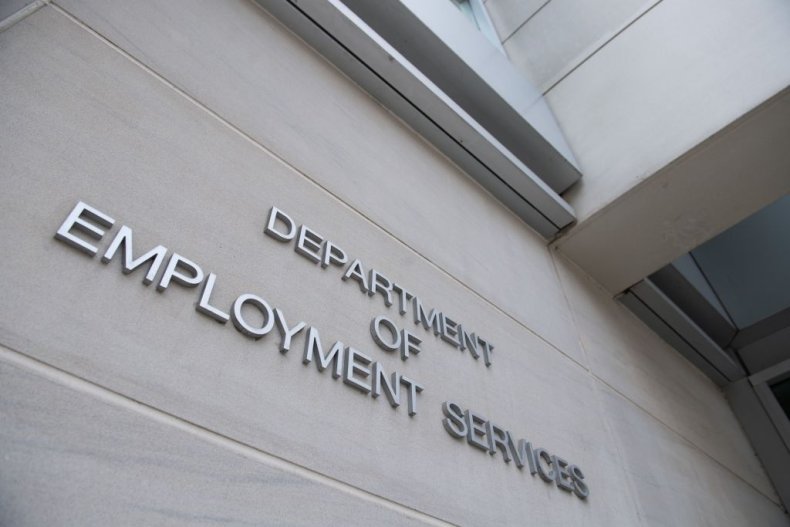 "There's no real relief from unrelenting jobless claims when one looks at the broader picture," Mark Hamrick, a senior economic analyst at Bankrate, said in an email to Newsweek. He warned that "the clock is again ticking for millions of Americans on the edge of a fiscal cliff, facing the threat of a mid-March cutoff of increased and extended unemployment benefits."
Although the Labor Department said last week that the overall unemployment rate in January stood at 6.3 percent, Federal Reserve Chair Jerome Powell insisted this number was inaccurate during a virtual Wednesday speech at the Economic Club of New York. Powell said that the real unemployment rate was "close to 10 percent," pointing out that many Americans have been misclassified as employed.
Meanwhile, Congress is working to pass the $1.9 trillion economic relief package proposed by Biden and Democrats. Although Biden has repeatedly emphasized his desire to work with Republicans to approve a bipartisan package, Democrats have moved forward with the budget reconciliation process, which would not necessarily require support from GOP senators to pass the bill.
Typically, legislation is subject to the filibuster rule in the Senate, requiring 60 votes to pass. But the budget reconciliation process allows for bills to pass by a slim majority. With an evenly split Senate, Democrats can push through the relief package without GOP backing as long as no members of their caucus defect. Vice President Kamala Harris, who serves as president of the Senate, would then cast a tie-breaking vote to pass the legislation.
Biden and Democrats plan to include another round of stimulus checks in the package. These are expected to be for $1,400, although some moderate Republicans have pushed for lowering them to just $1,000. There is also discussion about the annual income level of those who will receive the checks.
The president initially signaled that he was open to lowering the income level from $75,000 but received significant pushback from progressive Democrats. House Democrats are moving forward with a package that will include $1,400 checks, with the amount decreasing for those earning $75,000 to $99,000. Those earning higher incomes will not be eligible for a direct payment under the plan. The White House signaled this week that Biden backs the House Democrats' plan and no longer wants to compromise on the income threshold.
Currently, unemployed workers are receiving an extra $300 per week from the federal government. Under the Democrats' plan, that amount will be raised to $400. Back in the spring, Congress approved a bipartisan package that temporarily provided an extra $600 in federal unemployment payments.
"The question now is whether Congress looks carefully at the lagging claims numbers and passes an extension of unemployment benefits soon enough to avoid another plagued rollout of aid," Andrew Stettner, a senior fellow at the Century Foundation and a leading expert on unemployment insurance, told Newsweek.