Joe Biden Faces Inauguration as President During Worst of America's COVID Pandemic
During the heat of the 2020 election campaign, just as President-elect Joe Biden was painting for voters a contrasting picture of how his administration would handle COVID-19 differently to President Donald Trump's, the pandemic seemed to be in retreat on U.S. soil.
As Biden laid out a sweeping plan to halt the spread of infection and slow the grim rise of America's death toll, which passed 200,000 in September, the trends were going in the right direction and the virus plateaued. The plan's urgency looked lesser and lesser.
America had all but reopened and life was starting to return to normal for many people. But in Europe, a second wave was unfolding and brought with it an ominous warning of what may be coming down the line for the U.S.
Now, COVID-19 is surging again in America, putting Biden on course for inauguration as president on January 20, 2021 right when the country is experiencing the worst of the coronavirus pandemic so far.
The seven-day rolling average of newly confirmed COVID-19 cases is spiking fast and hit its highest level to date on December 6, at 196,233, per data compiled by the tracker at Johns Hopkins University (JHU).
As of the same day, 101,487 people were hospitalized with COVID-19, according to The COVID Tracking Project, a record high and rising by thousands each week.
With the European Union's figure now in sharp decline, national governments are softening their lockdowns. In the U.S., much of California has entered lockdown again. Other states may soon follow with strict measures of their own.
The following graphic was provided by Statista.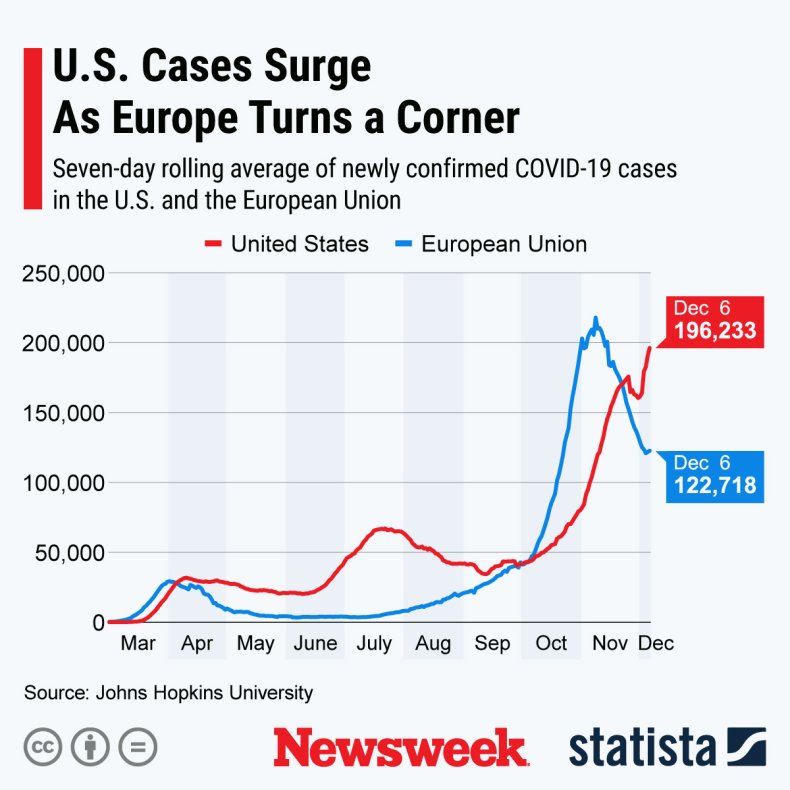 Death projections are bleak for the U.S. Estimates cited by the Centers for Disease Control and Prevention (CDC) have been growing worse in recent days and weeks. Its latest ensemble forecast, compiled from the forecasts of 37 modelers, predicts the U.S. death toll will exceed 300,000 by the end of December.
On Monday, Biden announced several nominations and appointments to his health team, including Dr. Anthony Fauci, who serves as the top infectious diseases official in the Trump Administration, and who has an uneasy relationship with the president over COVID-19.
Fauci will continue to serve as Director of the National Institute of Allergy and Infectious Diseases and become Biden's chief medical expert too.
Prior to the announcement, Fauci gave a stark warning about what January heralds for public health after the holiday season when families and friends traveled to be together for celebrations.
"I think January is going to be terrible because you're going to have the Thanksgiving surge super-imposed upon the Christmas surge," Fauci told Newsweek in an interview last week. "So it's entirely conceivable that January could be the worst."
The sudden resurgence of a virus that has claimed more than 1.5 million lives worldwide since it first emerged in China in November 2019 is what Biden's team has been preparing for. Come January, it will be the real test of what has been a theoretical presidency to date.
Biden will, upon taking office, appeal to Americans to wear a mask for 100 days and will mandate mask-wearing in federal buildings.
His plan also includes making testing "widely-available and free," reporting daily on test numbers, deploying emergency hospitals with hundreds of beds to increase capacity, and beefing up the federal resources available for tackling the pandemic.
Trump's controversial handling of the pandemic was a weak spot for his election campaign. There were questions over the pace and competence of his administration's early response to the virus, and if the president even took it seriously at all.
Those concerns were somewhat mitigated by Trump's "Operation Warp Speed," a program that guaranteed purchase orders of a COVID-19 vaccine from pharmaceutical companies and built a rapid distribution network to deliver them swiftly once FDA-approved.
With multiple vaccines on the cusp of approval by regulators, Operation Warp Speed may, if it is robust in practice, be a gift to the Biden Administration and ease the blow of coming to power at the height of the pandemic.
However, Biden said on Friday that he had not seen the current administration's detailed plan for distribution, and he raised a number of concerns.
"There is no detailed plan that we've seen, anyway, as to how you get the vaccine out of a container, into an injection syringe, into somebody's arm," Biden said, in comments dismissed by Trump's health secretary Alex Azar as "nonsense."
"We have comprehensive plans from the CDC working with 64 public health jurisdictions across the country, as our governors have laid out very detailed plans that we've worked with them on," Azar told Fox News Sunday.
"We're leveraging our retail pharmacies, our hospitals, our public health departments, our community health centers.
"We have the McKesson built kits that have the syringes, the diluent, the needles, the PPE to administer.
"This is being micro-managed and controlled by the United States Military as well as our incredible private sector. We do hundreds of millions of vaccinations a year. We're leveraging the systems that are known and that work here in the United States."
Dr. Moncef Slaoui, who leads the Trump Administration's efforts to develop a COVID-19 vaccine, said there were plans to be shared with the Biden Transition Team but they had not yet met. The first meeting is lined up this week.
Slaoui told CNN's State of the Union he thinks Biden's encouragement of people to wear masks is "a good idea, it's never too late."
"This pandemic is ravaging the country. We all need to take our precautions, have our masks, wash our hands, keep our distance, remain aware that this virus is a killer," Slaoui said.
He also emphasized that while a vaccine is in sight it will be some time before everyone feels the benefit of that, showing that Biden will not be able to rely on shots to get him through what is shaping up to be a very difficult first few months of his presidency.
"We have a vaccine. There is light at the end of the tunnel. But we will not all have the vaccine in our arms before May or June, so we need to be very cautious and vigilant," Slaoui said.
Newsweek has asked the Biden campaign for comment.