Although President Joe Biden's approval rating remains low, new polling suggests that he would narrowly beat former President Donald Trump in a hypothetical matchup if the 2024 election were held now.
While Biden has repeatedly said that he plans to seek reelection, Trump has not officially confirmed whether he will run in the next presidential election. However, the former president has repeatedly teased the possibility, and most recent polls have suggested he would be well positioned to potentially defeat Biden in a rematch.
However, the latest polling data from London-based Redfield & Wilton Strategies shows Trump slightly behind the current president.
"With regard to the 2024 Presidential Election, Joe Biden is back to leading over Donald Trump in our latest hypothetical voting intention, after our previous three polls found Trump ahead," the strategic consulting company said in a write-up of the polling data released Thursday.
The survey results showed that 43 percent of eligible voters would cast ballots for Biden. Just 41 percent said they would vote for Trump, so the former president trails the current president by 2 points. Eleven percent of eligible voters said they didn't know how they would vote.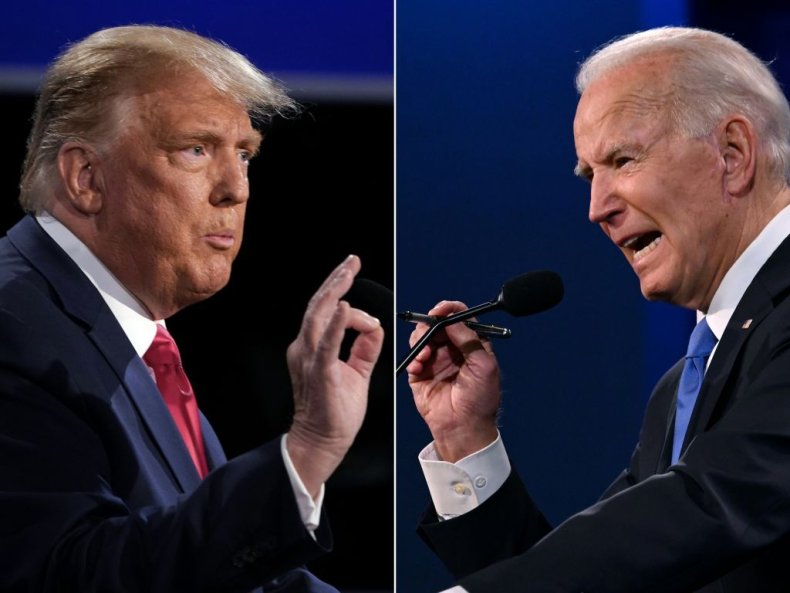 The same poll found that Biden's approval rating remains underwater. Some 44 percent of eligible voters said they disapprove of the president, while only 39 percent said they approve of his job performance. FiveThirtyEight's average of recent polls shows that about 42.4 percent of Americans approve of Biden, and 51.4 percent disapprove.
The poll had a sample size of 1,500 respondents and was conducted from January 8 to 9.
Biden's overall approval rating has declined by double digits during his first year in office. FiveThirtyEight's average showed Biden at about 53 percent approval when he took office in January 2021. A year later, that has declined by just over 10 points.
Although Redfield & Wilton Strategies' latest data shows Biden ahead of Trump, a poll released this week by the conservative Rasmussen Reports had Trump several points ahead. That survey found that 46 percent of likely voters would back Trump and that only 40 percent would support Biden if the election were held today.
Rasmussen's polling data was released Tuesday. The survey was conducted on January 5 and had 1,016 respondents.
Biden first said in March 2021 that he intended to seek reelection, despite some concerns expressed about his age. The president, 79, is already the oldest in U.S. history and would turn 82 shortly after the 2024 election.
Even as his approval rating has declined substantially—and while some have speculated about alternative Democratic candidates—Biden has insisted that he plans to run again. In December, he said a Trump decision to make another White House bid would make it even more likely that he would stick to his plan.
"Why would I not run against Donald Trump if he were the nominee? That would increase the prospect of running," Biden said during an interview with ABC News.