Biden Right About Putin Not Having a Soul: Biographer
Phillip Short, who has written one of the most comprehensive and up-to-date biographies on Russian President Vladimir Putin, said he believed President Joe Biden was right when he described his Russian counterpart as a man without a soul.
Asked about the comments former U.S. presidents have made about Putin, Short said, "all" the quotes from Biden to former presidents Barack Obama and George W. Bush "reflect aspects of Putin."
During a 2011 visit to Russia when he was the vice president, Biden told Putin, "I don't think you have a soul." The comment was in reference to Bush's infamous remarks, in which he said of Putin, "I've looked in his eyes and saw his soul."
Short said while he agreed with Biden's comments, he didn't believe Bush's comment to be "stupid," adding that the former president was likely talking about a collective Russian "soul."
Putin has said he doesn't recall Biden's comments, telling NBC News last year, "I don't remember this particular part of our conversation, to be honest with you, but [Biden] probably has a good memory."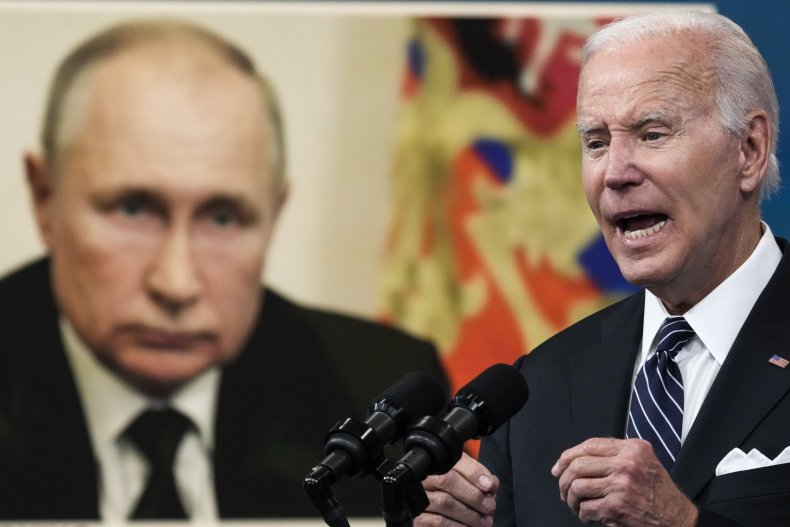 Speaking to PBS' Amanpour & Company last week, Short called Putin a "man of many faces."
"He's kind of a shapeshifter. He tries to appear, quite successfully, what his interlocutor wants to see in him," Short said. "Kind of a chameleon."
Short added that while Putin often changes his behavior around his audience, he would still consider Putin a "killer," agreeing with Biden's remarks to George Stephanopoulos in the new Hulu documentary about the war in Ukraine, Two Men at War.
"Yes, Putin is a killer in the sense that he's ordered assassinations—Not every assassination that takes place in Russia, most of them have been the work of other forces, but Putin has allowed them to happen," Short said.
"Yes, he's extremely ruthless," Short added. "Yes, he is becoming more and more dictatorial as the years have passed...He became more and more autocratic. Now the slide is very much towards dictatorship."
Short has often commented on Putin's relationship with various U.S. leaders, including former President Donald Trump, who the author said would be unlikely to have "the political strength to turn around U.S. relations with Russia."
Last month, Short said while Putin would "welcome" a second Trump term, "it would be with serious reservations."
"Relations between Russia and America got worse and worse while Trump was in power, and Putin certainly did not appreciate Trump's unpredictability," Short said, adding that Putin did find Trump to be a "useful idiot."