Biden Spent the Summer Saving His Presidency. Can He Save the Economy Too?
What a difference 12 months can make.
President Joe Biden has spent the last several weeks of the summer championing his administration's victories on both the domestic and foreign fronts, buoyed by a resurgent U.S. presence on the world stage, a strong economy at home, and rising poll numbers in line with historic averages for a president nearly two years into his administration.
The change in narrative marks a stark difference from the summer of 2021, which found his presidency in a free fall that seemed destined to carry his party's midterm hopes along with it.
At the end of that summer, Biden was dealing with the catastrophic fallout of the withdrawal from Afghanistan, a COVID-19 resurgence and a continuously declining approval rating. A year later, he signed the Inflation Reduction Act into law—marking a victory for his campaign promise to "Build Back Better"—eliminated an Islamic State militant group (ISIS) leader and is finally starting to see positive signs for his approval rating.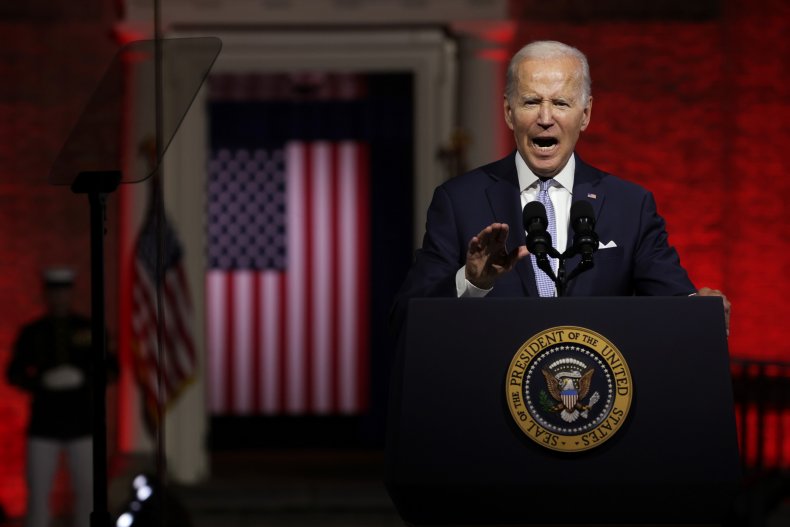 "When you're promising folks, 'Elect me and I'll make your life a little bit better,' it gets a lot easier when you have something to show them," Svante Myrick, executive director of the progressive non-profit People for the American Way, told Newsweek. "When folks [are in] an optimistic mood, I think they're less receptive to the Republican message, which is the idea that government isn't the solution but rather, the problem."
One of Biden's greatest headaches last summer was America's withdrawal from Afghanistan. Even members from his own political party criticized his ability to execute plans to leave—plans that left 13 American service members dead and thousands of Afghans scrambling to leave the country. Although Biden's approval rating had been trending downward, the withdrawal led to the plummeting of his popularity.
Within a week, Biden's approval ratings were overcome by his disapproval ratings, according to aggregate data by FiveThirtyEight, and they continued to fall in the coming months.
While images from Afghanistan plagued his presidency last year, Biden had an opportunity to demonstrate America's military prowess this year with the killing of ISIS leaders Abu Ibrahim al-Hashimi al-Qurayshi in February and Maher al-Agal in July. He also revived talks to restore an Iranian nuclear arms compact scrapped by President Donald Trump's administration that, while seemingly distant, has made headway in recent weeks.
Although not a home run for his approval ratings, Biden has seen a bit of a rebound this summer at about 43 percent, climbing from his administration's low mark of 37.5 percent in mid-July.
Democrats as a whole are seeing higher polling this summer as voters feel spurned by the overturning of the landmark abortion protections established under Roe v. Wade by the U.S. Supreme Court. With unexpected enthusiasm from voters, Democrats scored numerous upsets in the special elections in a political environment that once overwhelmingly favored Republicans.
As Democrats mobilized voters, Republican voters largely stayed home amid waning inflation and falling gas prices—the key issues in most polls.
"Sometimes victory draws in more victory," said Barbara Perry, a presidential historian at the University of Virginia. "[President John F.] Kennedy himself once said that victory has a thousand fathers but defeat is an orphan. The one way you get people on your side is to be victorious."
Biden's domestic agenda, Perry said, represented a monumental gamble in the mold of narrowly elected presidents like Kennedy, who sought to remake the country during times of great political strife, earning with them the popular support of the country and Congress. And the spoils of those victories are beginning to accrue at the right time for Democrats.
After negotiations stalled throughout 2021 and into early 2022, large portions of Biden's domestic agenda—the Inflation Reduction Act and the CHIPS and Science Act once seemingly doomed to fail in the Senate—began to fall into place over the summer, the result of what Biden confidante and House Majority Whip Jim Clyburn credited to extensive and quiet negotiations with on-the-fence party members like West Virginia Senator Joe Manchin that took place well out of view of a skeptical Beltway press corps.
Their passage coincided with increasingly optimistic polling for the president, and a shifting midterm election outlook that was slowly beginning to move toward Democrats.
"I think what led to so much disappointment on people's part was that people look at partial accomplishments as being the total of the results," Clyburn told Newsweek this month.
"You can't just look at one entity and declare success or failure when you've got a process going on. As the old saying goes, Rome was not built in a day. We're not going to get everything in one fell swoop. And that's why I'm saying throughout this whole process, 'let the process work.'"
Inflation and economic troubles are still a weight on Biden's approval rating, but the U.S. economy added more than 315,000 jobs in August, with unemployment numbers reaching 50-year lows.
Numbers from the U.S. Department of Labor in August showed that all of the nation's major metropolitan areas had their jobless numbers decline year-over-year. Some media commentators—and even Biden—began to evoke comparisons to President Franklin Roosevelt's New Deal, or President Lyndon Johnson's Great Society, accomplished on a shorter timeline and with thinner margins of support.
"Candidates are not running away from Biden but are also just sort of talking about his successes in their own terms," said Aaron Pickrell, an Ohio-based Democratic strategist who led President Barack Obama's victorious campaigns in the state in 2008 and 2012. "They're not wrapping themselves in it, completely giving the president a big bear hug all the time, but they're certainly talking about things that he's advocated for, things that have successfully passed and are popular with voters."
But success, historically, has not translated to immediate victory. Presidents in power tend to lose their majorities in their first midterm.
Part of Biden's—and the Democrats'—success in the midterms could depend on who turns out to vote. The 1966 midterms were the high watermark for youth voter turnout, according to Statista, in a midterm election that preceded decades of decline that would not turn around until the "blue wave" in 2018.
While women and disaffected Democrats helped surpass a deflated Republican electorate in this summer's special elections, Biden's recent announcement to forgive some student loan debt could help galvanize the voters that returned control of the House to Democrats four years ago.
While a spring poll of young voters from the Harvard Institute on Politics demonstrated steep declines in Biden's approval rating at the summer's start, a CBS/YouGov poll released at the end of August showed Biden's highest approval ratings among voters under 30—a sign that the tide was turning among one of his more skeptical constituencies.
"For young people, one of the most salient and visible promises that Biden made on the campaign trail was partial loan forgiveness," Alan Zhang, chair of Harvard's Youth Poll, told Newsweek. "Even those who didn't have student loan debt, we did focus groups with people who never went to college who, by definition, had no debt and they even brought it up, saying, 'Oh, he promised to cancel that and we haven't seen him do that yet.' It was a very big sticking point for those arguing Biden's ineffectiveness."
The lingering question is whether Biden's momentum carries through the midterms and, most of all, whether his policies ultimately do what they claim to do: not only rebuild the economy, but build it back better.
Though most polls show a plurality of voters favor Biden in a hypothetical 2024 matchup against Trump, an August poll by the Los Angeles Times found just four in 10 respondents in California favored Biden trying for a second term in 2024 over people like Gavin Newsom, who has begun to make inroads with the national electorate.
Then there is the question of what comes after the midterms. In an August 29 appearance on CNBC's Street Signs Asia, Johns Hopkins University economist Steve Hanke said he believes the U.S. is headed for a "whopper" of a recession in 2023 as the White House press office begins preparing the public for a cooling down of the jobs market and the Federal Reserve announces plans to avoid outright economic collapse via a protracted period of rising unemployment and slow growth.
But Biden's domestic programs, said William Glasgall, a former Bloomberg editor and senior vice president of the pro-government-spending Volcker Alliance, might have given American society the tools it needs to better weather a potential economic downturn by bolstering state budgets and producing external impacts not reflected in the Biden spending package's bottom lines.
The biggest factor for Biden, politically, is the timing.
"It's an unknowable thing, but I think that the Democrats and the Biden administration have done a pretty good job, number one, putting a floor under the economy, but number two, building some foundation for better infrastructure delivered with equity," Glasgall said. "We're going to have to see how that turns out. Some of this is really long term."