Women Lead Surge In New Voter Registrations Since Roe Overturned
Newly released voter registration data shows a surge in women registering to vote in the months following the Supreme Court decision overturning the landmark abortion protections established under the 1973 Roe v. Wade decision.
According to data compiled by Democratic political data and data services firm TargetSmart, women have made up the vast majority of newly registered voters in battleground states in the months since Roe was overturned, with the numbers weighing heavily in favor of Democrats.
In the battleground state of Pennsylvania, women have accounted for more than 56 percent of newly registered voters since the June 24 decision, with nearly two-thirds registering as Democrats and more than half under the age of 25.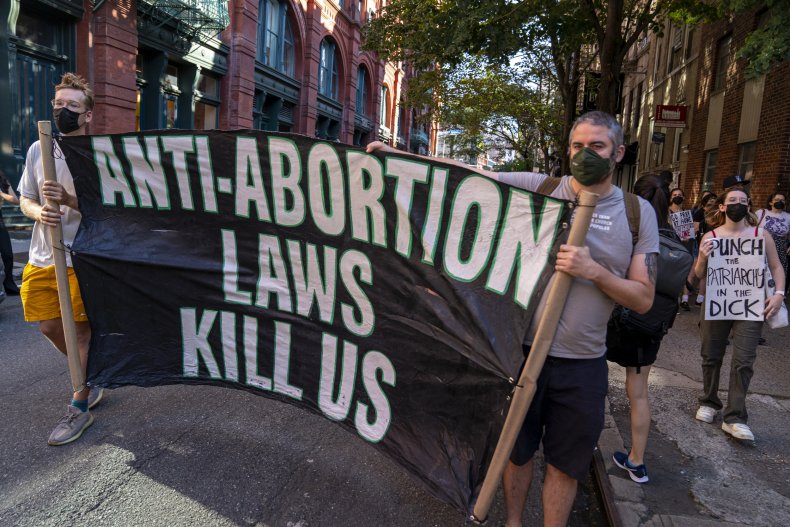 In other battleground states like Michigan and Ohio, the number of women registering to vote outpaced the number of men by double-digit percentages while Kansas—where voters recently rejected efforts to overturn abortion protections in the state constitution —saw a similar surge.
"This decision came at a point in the election cycle where running for office was essentially off the table," executive director of the Center for American Women and Politics at Rutgers University Debbie Walsh told Newsweek. "Filing deadlines have largely passed. But voting is still a powerful way for women to exercise their voice and this issue is energizing women, and they're registering as Democrats."
From a big-picture perspective, the trend is not too shocking. Over the last several decades, women have proportionally outnumbered men in regard to voter registration and voter turnout, according to historic data compiled by CAWP.
Whether the trend matters will rely on their enthusiasm to go to the polls and by how much they outnumber men. When Republicans held control of the U.S. House of Representatives in the 2014 midterms, women only outpaced men at the polls by 6 million votes. However, four years later when Democrats retook the House, women outvoted men by more than 8 million votes, with the spoils largely going to the Democratic Party.
Some believe the overturn of Roe could prove a flashpoint for Democrats at a time when they were expected to face an uphill battle to retain their House majority in the fall.
"We are seeing early signs of what could lead to a huge increase in women voting in November," TargetSmart CEO Tom Bonier said in a Twitter thread announcing the findings. "These registration patterns closely resemble that of younger voters in '18 post-Parkland, which fueled the blue wave that year. This surge is young and female."
Democrats are already seeking to take advantage. According to AdImpact data analyzed by the New York Times earlier this month, Democrats have spent approximately $31.9 million on abortion-related TV ads since the overturn of Roe, nearly eight times that of Republicans. Walsh said the trend represents a marked shift from Democratic politics even several years ago, where the taboo subject of abortion access has since become a rallying cry in a campaign season that has only recently turned competitive.
"Five years ago, the conventional wisdom for most Democrats was to try not to go to the abortion issue, to stay away from it," Walsh said. "And now, Democratic candidates are taking it on full-scale. The thing about this decision is it strikes such a chord because it's taking away a right that women had for decades. And when people lose something they had, I think it's even more it has more of an impact, and in this case, can be even more motivating."