Biden's First Prime-Time Address Tops Trump's by Roughly 700,000 Viewers on Major Four Networks
Millions of Americans tuned in for President Joe Biden's first prime-time presidential address on Thursday night, beating former President Donald Trump's viewership numbers from his first speech and drawing a sharp contrast in tone one year after the coronavirus pandemic began.
"While it was different for everyone, we all lost something," Biden said from the White House's East Room. "A collective suffering. A collective sacrifice. A year filled with the loss of life—and the loss of living for all of us. But, in the loss, we saw how much there was to gain in appreciation, respect and gratitude."
Fewer than 18 million people watched Trump's first prime-time presidential address, which was about the war in Afghanistan, in August 2017. But nearly 20 million turned on Biden's 20-minute-plus speech, which he delivered to the public mere hours after he signed the $1.9 trillion American Rescue Plan into law.
Top networks including ABC, NBC, CBS, Fox and Univision broadcast the speech, which surpassed viewership for Trump's first speech by about 700,000, according to Nielsen data reported by Deadline. Fox, a favorite network of Trump supporters, drew in the largest cable news audience, with 4 million viewers, but ABC led the night with 6 million.
On the one-year anniversary of the nation's coronavirus lockdown, Biden urged Americans to listen to top infectious disease expert Dr. Anthony Fauci, condemned hate crimes against Asian Americans and said all people 18 and over should be eligible for vaccination no later than May. He cited the struggles of parents, educators, health care workers and business owners, and he outlined a plan to deliver 2 million coronavirus shots a day to achieve a return to "normal" life by July 4.
ABC and CBS earned a rating of 0.8 among adults 18 to 49, according to Deadline. NBC and Fox earned a 0.5 rating, and Univision had a 0.4.
Biden's words presented a sharp contrast with Trump's rhetoric during the pandemic, which the president implied was lacking in "truth."
"We were hit with a virus that was met with silence and spread unchecked. Denials for days, weeks, then months," Biden said. "A mask...divides us."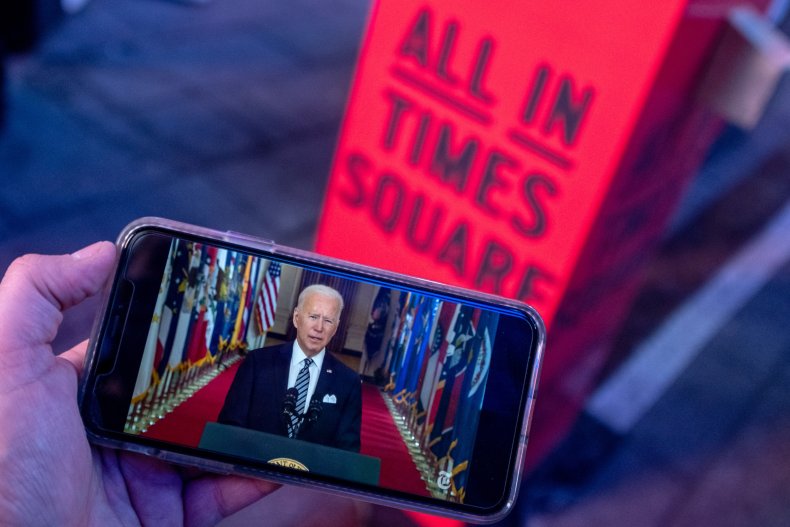 Forbes reported that across the three cable news networks, Fox News won with more than 4 million viewers, while MSNBC pulled about 2.9 million audience members. About 2.7 million CNN viewers watched Biden's speech, which ran between 8 and 8:30 p.m.
Biden's inaugural address on January 21 also beat Trump's numbers, with nearly 40 million people watching, according to Nielsen data cited by The New York Times.
He concluded his words to the American people with a message of hope and collective action.
"My fervent prayer for our country is that, after all we have been through, we'll come together as one people, one nation, one America," Biden said on Thursday. "I believe we can and we will. We're seizing this moment. And history, I believe, will record: We faced and overcame one of the toughest and darkest periods in this nation's history—darkest we've ever known."