The Biggest Takeaways From Trump Grand Juror Interviews
Emily Kohrs is letting us in on some of what's going on behind closed doors in Donald Trump's grand juror interviews.
After a public records request turned up the name of the jury's foreperson, Emily Kohrs, various news outlets have published interview after interview with the 30-year-old Fulton County resident, seeking to earn a glimpse into the 23-member panel's deliberations, raising new questions—and occasionally, frustration—from close followers of the case.
This comes after, last week, a special grand jury in Georgia released a partial list of recommendations from its monthslong inquiry into allegations former President Donald Trump and his associates improperly sought to overturn the 2020 result of the state's elections, recommending Fulton County District Attorney Fani T. Willis pursue indictments in the case.
In some cases, Kohrs' public comments have raised more questions than they answered, including the key question of whether Trump himself could be indicted.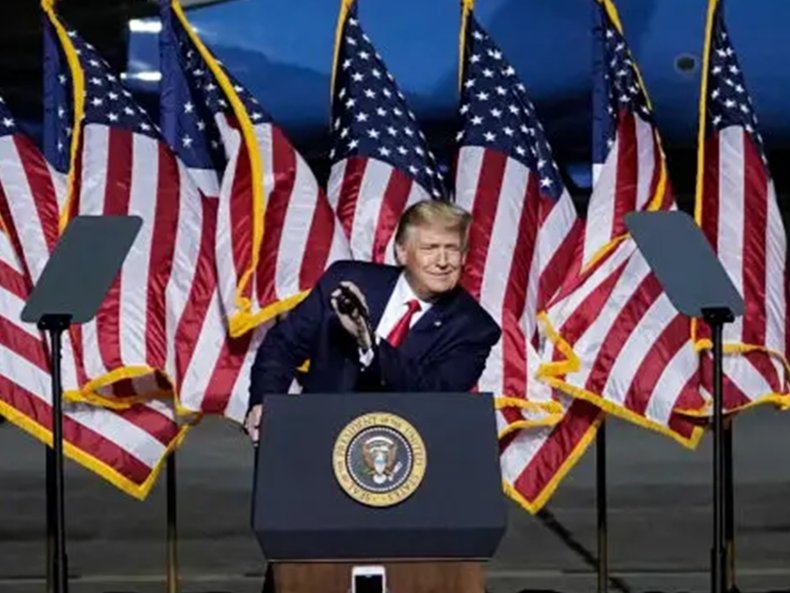 "I really don't want to share something that the judge made a conscious decision not to share," she told CNN earlier this week. "I will tell you that it was a process where we heard his name a lot. We definitely heard a lot about former President Trump and we definitely discussed him a lot in the room. And I'll say that when this list comes out, you wouldn't, there are no major plot twists waiting for you."
What Did Emily Kohrs Say?
However, Kohrs' responses did help illuminate other facets of the case, offering some clarity as to the thinking of Trump's associates surrounding the infamous 2020 phone call Trump made to Georgia Governor Brian Kemp and Secretary of State Brad Raffensperger urging them to "find" him enough votes to win. They are...
People got immunity deals to talk
In Kohrs' first interview with the Associated Press, Kohrs claimed at least one person who was reluctant to talk to members of the grand jury ultimately relented when they were offered immunity in the case.
"At least one person who resisted answering questions became much more cooperative when prosecutors offered him immunity in front of the jurors," the AP reported. "Other witnesses came in with immunity deals already in place."
There are phone calls with Trump that haven't been revealed
In a Tuesday interview with the Atlanta Journal-Constitution, Kohrs noted that while they heard the already public recordings of phone conversations with Raffensperger, she claimed there were recordings of other calls Trump made that had not yet been made public.
"We heard a lot of recordings of President Trump on the phone," she told the paper. "It is amazing how many hours of footage you can find of that man on the phone...Some of these that were privately recorded by people or recorded by a staffer."
Trump could likely be among those recommended for indictment
While the grand jury did not interview Trump—in anticipation he would likely decline to answer questions under his Fifth Amendment protections—the former President claimed in statements to Newsweek and others after the report's release he believed he was "totally" exonerated by the group's partial findings, which did not mention him or any other of the figures it recommended for indictment by name.
"Thank you to the special grand jury in the great state of Georgia for your patriotism and courage," Trump wrote on Truth Social. "Total exoneration."
When a CNN reporter read Trump's post to Kohrs on live television, she laughed, suggesting the exact opposite could be true.
"It was fascinating," she said. "I'm not positive he read the right document."
As for any surprises? "I don't think that there are any giant plot twists coming," she said in another interview on MSNBC.
Reactions
Not everyone was thrilled with Kohrs' forthcomingness, however.
After one interview with CNN in which a laughing Kohrs expressed excitement over the prospect of interviewing Trump, one of the network's anchors—Anderson Cooper—lamented Kohrs' press tour in a panel with former U.S. Attorney and CNN legal analyst Elie Honig, calling what she was doing a "horrible idea" due to the fact it could provide Trump's legal team with ammunition to bring a motion to dismiss any indictments Willis could issue against him.
While the grand jury's recommendations are just that—recommendations—some already feel her media appearances could complicate the case before it even began: especially given the fact the grand jury's role was largely to provide the proceedings with additional credibility.
"It's a prosecutor's nightmare," Honig said. "Mark my words, Donald Trump's team is going to make a motion if there's an indictment to dismiss that indictment based on grand jury impropriety. She's not supposed to be talking about anything, really."
"But she's really not supposed to be talking about the deliberations," he added. "She's talking about what specific witnesses they saw, what the grand jury thought of them. She says some of them we found credible, some we found funny. I don't know why that's relevant, but she's been saying we found this guy funny or interesting. I think she's potentially crossing a line here. It's gonna be a real problem for prosecutors."
Trump has already indicated he could.
"This is not JUSTICE, this is an illegal Kangaroo Court. Atlanta is leading the Nation in Murder and other Violent Crimes. All I did is make TWO PERFECT PHONE CALLS!!!" Trump raged on Truth Social.