Jeffrey Epstein's Death a 'Perfect Storm of Screw Ups' Says Attorney General Bill Barr
Attorney General William Barr has said that despite his initial suspicions over the death of Jeffrey Epstein, he is convinced it was a suicide which occurred simply because of a catalogue of errors.
In an interview with the Associated Press, Barr said he had been concerned about irregularities at the Manhattan jail where the disgraced financier was being held awaiting charges of sex trafficking.
Epstein, 66, was found dead when prison guards came to give him breakfast on August 10. This was followed by conspiracy theories, including from his brother Mark Epstein, suggesting that he was killed.
But Barr said that he personally reviewed the security footage at the high-security unit at the Metropolitan Correctional Center that confirmed in his mind no one had entered the area where Epstein was the night he died.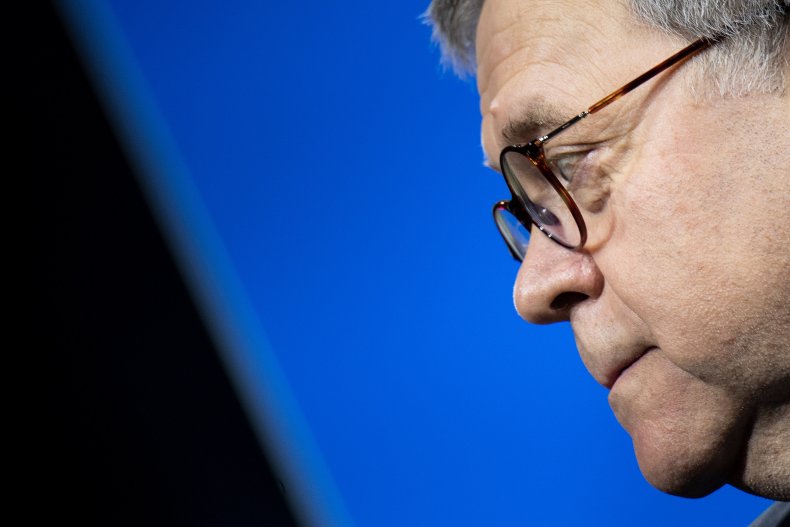 "I can understand people who immediately, whose minds went to sort of the worst-case scenario because it was a perfect storm of screw ups," Barr told the AP.
Two officers, Tova Noel and Michael Thomas, who were supposed to be guarding Epstein, have been charged with falsifying prison records and are accused of sleeping and browsing the internet instead of checking on the financier every 30 minutes, according to the U.S. Attorney Office.
Both guards have pleaded not guilty after a court appearance on Tuesday, the BBC reported.
An investigation by the Justice Department is looking at why Epstein was not given a cellmate.
Barr said: "I think it was important to have a roommate in there with him and we're looking into why that wasn't done, and I think every indication is that was a screw up," Barr said.
"The systems to assure that was done were not followed," he added.
Barr says he would investigate and charge anyone who may have helped Epstein, adding that investigators "are definitely pushing things along."
"I'll just say there is good progress being made, and I'm hopeful in a relatively short time there will be tangible results."
Meanwhile, calls have been growing for Epstein's friend, Prince Andrew, to give evidence to U.S. prosecutors about what he knew about the charges the financier was facing.
Lawyer Lisa Bloom, representing Epstein accusers, told the BBC she would be prepared to serve a subpoena forcing the Duke of York to speak to the FBI.
Bloom's mother, Gloria Allred, is representing other victims, including Teala Davies, who filed a lawsuit in a Manhattan federal court on Thursday for compensation.
The lawsuit says she was raped and sexually abused by Epstein at his residences in New York, Paris, Florida, New Mexico and the U.S. Virgin Islands, CBS News reported.
"It took me a long time to break free from his mind control and abuse. I still have flashbacks. It still hurts," Davies said in the statement.