Bill Maher: GOP Has Become 'Obsessed With Pedophilia' in 'Very Short Time'
Comedian and political commentator Bill Maher assessed that Republicans have become "obsessed with pedophilia" in a "very short time," noting that GOP lawmakers now routinely accuse Democrats and other opponents of being pedophiles.
Representative Marjorie Taylor Greene, a Georgia Republican, this past week called Democrats the "party of pedophiles." A spokesperson for Florida's GOP Governor Ron DeSantis said last month on Twitter that anyone who opposed the state's controversial anti-LGBTQ "Don't Say Gay" bill was "probably a groomer"—a term used for an older person who manipulates minors to sexually exploit them.
The accusations resonate with the bizarre QAnon conspiracy theory, which contends that Democrats and Hollywood elites sexually abuse children in Satanic rituals in their quest to control the world. Many Republicans, and particularly supporters of former President Donald Trump, believe that QAnon is at least somewhat accurate.
"Maybe this is not the most important issue in America, but I can't take my eyes off it, like a car accident," Maher said Friday night on his HBO show Real Time with Bill Maher. "It seems like in a very short time, Republicans have become obsessed with pedophilia. And I remember when pedophilia was like the worst thing you could ever call somebody—a pedophile. And now it's like casually thrown out by senators," he said, holding back an incredulous chuckle.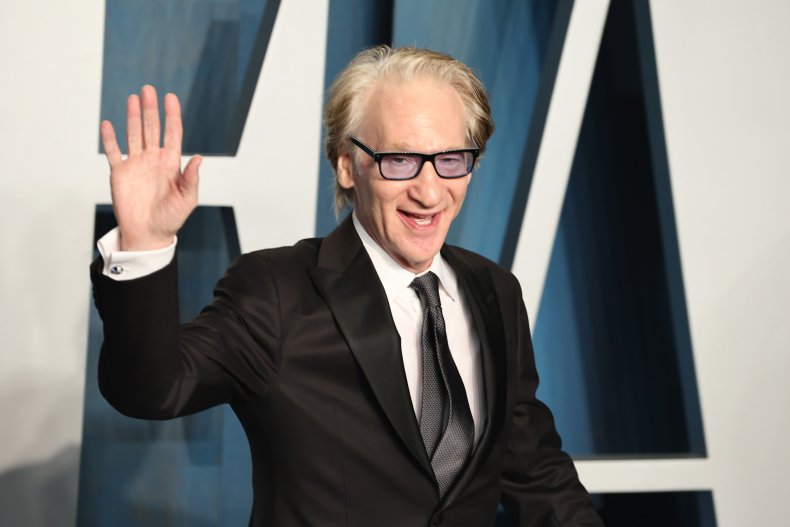 "What happened to 'my good friend from across the aisle?'" the comedian asked. "Now it's 'a pedophile'? This is coming from QAnon, right? I mean, it was only a couple years ago that we were making fun of QAnon like it was such a fringe thing. I pretended I was Q—I mean I really am," Maher quipped with a wink at the camera.
The pedophile accusations against Democrats surfaced during the Senate confirmation hearings of Judge Ketanji Brown Jackson, who was confirmed as the nation's first-ever Black female Supreme Court justice on Thursday, with the support of all Democrats and three Republicans. Those GOP senators were Mitt Romney of Utah, Lisa Murkowski of Alaska and Susan Collins of Maine.
Ahead of Judge Jackson's confirmation hearings, Senator Josh Hawley, a Missouri Republican, alleged that the judge was soft on child porn offenders—highlighting a number of cases and the sentences she handed down. However, legal experts—including some prominent conservatives—rejected the assessment, pointing out that her sentencing was in line with standards judges regularly adhere to.
Nonetheless, a number of Republican lawmakers jumped behind Hawley's allegation in an apparent effort to present Judge Jackson as soft on pedophiles. "The Senate should reject Judge Jackson for her light-on-pedophiles record," GOP Representative Lauren Boebert of Colorado tweeted on March 31. Greene also attacked Romney, Murkowski and Collins this past week, saying they were "pro pedophile" for supporting the judge's confirmation.
"MUST WATCH: Senator@HawleyMO runs through seven cases where Ketanji Brown Jackson was lenient on pedophiles, giving them sentences that were far below the federal guidelines," the Republican National Committee Research account tweeted on March 21, including a clip of Hawley.
Polling conducted by Public Religion Research Institute and the Interfaith Youth Core in March of last year showed that 15 percent of Americans believe that the "government, media, and financial worlds in the U.S. are controlled by a group of Satan-worshipping pedophiles who run a global child sex trafficking operation." Among Republicans, nearly a quarter (23 percent) said they held that belief.
Survey results released by Pew Research Center in November 2020 showed that 41 percent of Republicans say that the QAnon theories are good for the country, with 32 percent saying they are somewhat good while 9 percent said they're very good. An October 2020 poll by Morning Consult similarly found that 38 percent of Republicans said they believe the bizarre conspiracy theories are accurate, with 21 percent saying very accurate and 17 percent saying somewhat accurate.
Newsweek reached out to the Republican National Committee for comment.