Bill O'Reilly Defends Alexandria Ocasio-Cortez Against Man Who Heckled Her
Former Fox News anchor Bill O'Reilly came to Representative Alexandria Ocasio-Cortez's defense on Thursday after the congresswoman was heckled on the steps of the Capitol this week.
On Wednesday, Ocasio-Cortez was filmed going up the Capitol steps by a man who repeatedly called her his "favorite big booty Latina."
"I love you AOC. You're my favorite," the man told the congresswoman before turning to the camera and saying, "She wants to kill babies but she's still beautiful."
"You look very beautiful in that dress. You look very sexy," he added. "Look at that booty on AOC, that's my favorite big booty Latina."
"Some loon stalked and insulted Congresswoman Ocasio-Cortez then posted it. This has to stop. We need new laws to protect public officials and others. And we need them now," O'Reilly tweeted.
The conservative commentator's departure from Fox was widely covered in 2017 after it was reported that he and the network had settled five cases involving women who accused O'Reilly of sexual harassment.
Wednesday's incident came amid a series of threats and protests directed at public officials in recent days.
Over the weekend, an armed man was arrested outside of Democratic Representative Pramila Jayapal's Seattle home for allegedly threatening to kill her. Days earlier, abortion-rights protesters gathered outside of a steakhouse in Washington, D.C., after learning Justice Brett Kavanaugh was dining at the restaurant.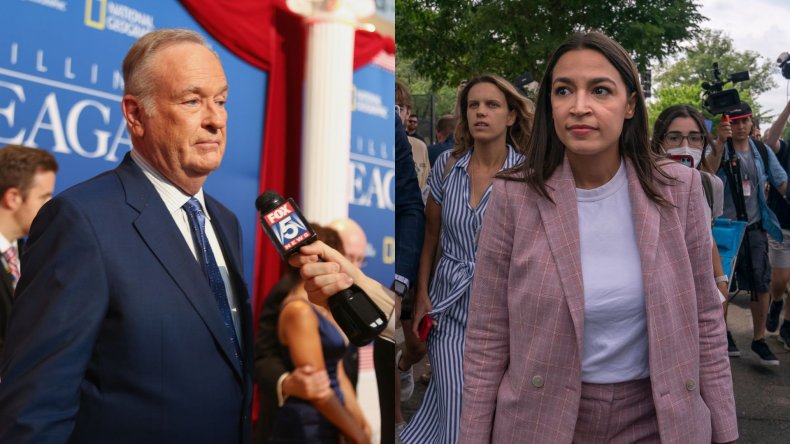 Shortly after the encounter on Wednesday, the congresswoman tweeted a photo of the man, captioning it: "This guy followed me up the Capitol saying 'look at your juicy a**', 'you *** Latina' & bunch of other disgusting garbage in front of an officer who let him continue, so I'm just going to share his photo here since there's no other protection." She later deleted that tweet.
Later that evening, Ocasio-Cortez addressed her decision to remove the tweet, saying she "took it down bc it's clearly someone seeking extremist fame."
"It's just a bummer to work in an institution that openly allowed this, but talking about it only invites more. Just really sad," she wrote.
While O'Reilly called for more protection of elected officials, some conservatives have mocked Ocasio-Cortez for bringing light to the incident, calling her hypocritical for doing so.
Former Trump lawyer Jenna Ellis replied to the congresswoman's tweets with a screenshot of another tweet from Ocasio-Cortez, dated December 2, 2020, in which the Democrat wrote, "The whole point of protesting is to make ppl uncomfortable."
"Weren't you just cheering on the harassment of Brett Kavanaugh?" John Hawkins, the founder of Right Wing News, replied to Ocasio-Cortez. "Why do you think you deserve a pass? Maybe you should think about that the next time you're asked whether it's fine to harass people in restaurants or in their homes."
Newsweek reached out to Ocasio-Cortez for comment.