Scandinavia's biggest newspaper has set up billboards mocking Donald Trump and Vladimir Putin's treatment of the press ahead of their summit in Helsinki.
Nearly 300 billboards lined the route from the airport to the center of the Finnish capital bearing headlines taken from previous editions of Helsingin Sanomat.
The headlines appeared in both English and Russian and came from articles published by the newspaper between 2000 and 2018. They took aim at Putin's muzzling of the media in Russia, and Trump's critical comments about the press.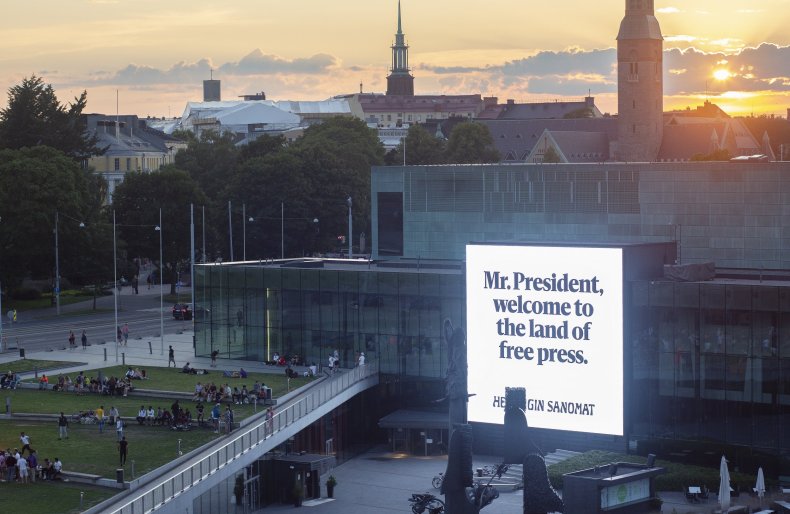 One of the billboards read: "Mr. President, welcome to the land of free press." Another reads: "Trump calls media enemy of the people."
Others said "Putin increases attacks on the media" and "Media critiquing Trump has changed the meaning of fake news."
Senior editor-in-chief Kaius Niemi said the billboards were interspersed along the main routes into the city with the aim that both leaders would see them as they arrived from the airport.
Niemi told Newsweek that Russia's breach of media freedom was worse than in the U.S. but that his newspaper was equally concerned about Trump's "appalling" criticism of the media.
"[Trump] is really questioning the fundaments of free press, which is problematic. It is also creating a problem in how people are trusting the media. He is giving a very bad example for other countries by speaking about 'fake news,'" Niemi said.
Founded in 1889, when Finland was a duchy under the Russian empire, Helsingin Sanomat is the largest newspaper among Nordic countries, with a subscription circulation of around 360,000.
Finland is ranked fourth in the world for media freedom, according to the Reporters Without Borders' World Press Freedom Index. Russia is listed as 148th out of 180. Since 2000, dozens of Russian journalists have been murdered.
The U.S. is ranked 45th, but Trump has repeatedly criticized the media since he has been in office.
The mainstream media in Russia, which is tightly controlled by the Kremlin, was critical of the U.S. in light of the extension of sanctions imposed against Moscow by Washington. Russian media, however, did welcome Trump's election victory and his comment that he would consider recognizing Crimea, which Moscow illegally annexed, as part of Russia.
Michael McFaul, former U.S. ambassador to Moscow under the Obama administration, told Newsweek, "The Kremlin-controlled media outlets say nice things about Trump because Trump says things that are perceived in Moscow as useful to Russia.
"When Trump says that he will look into recognizing Crimea as part of Russia, or floats the idea of inviting Russia into the G-7, or beats up on Germany, or hints at pulling out of Syria, the Kremlin-controlled media applauds," McFaul said.