Steve Bannon's Billionaire Backer Guo Wengui Reveals He's Bankrupt
Guo Wengui, the eccentric billionaire backer of Steve Bannon and social media site Gettr, has filed for bankruptcy just days after he was hit with a sizable fine for unpaid debts.
A court in New York gave Guo—a fugitive of the Chinese government and vocal critic of its ruling party—five days to pay a $134 million fine, after being found in contempt of court on February 10.
In a Gettr post on Tuesday, he announced his personal bankruptcy and signed the documents on camera.
The self-styled Chinese dissident, also known as Miles Kwok or Kwok Ho Wan, said he "signed the personal bankruptcy application form for the first time in my life."
"From this moment on, I'm personally bankrupt due to the persecution of the Chinese Communist Party," he said, without elaborating.
His troubles stem from $30 million he borrowed from Hong Kong-based Pacific Alliance Asia Opportunity Fund in 2008. Having used the loan to finance one of his businesses, the money was never repaid, the hedge fund said, resulting in a 2017 lawsuit to reclaim the sum, which had grown with interest to more than $100 million.
Guo's creditors eyed his $28 million superyacht, the Lady May, which a court ordered to remain in the U.S., but he moved the boat outside of American jurisdiction in October 2020 in order to shield it from debt collection, according to New York state court Justice Barry Ostrager, who found Guo to be in contempt of court.
The Chinese exile was fined $500,000 for every day the yacht remained outside of U.S. waters.
Guo, meanwhile, told the court he doesn't own the Lady May, on which former White House adviser Bannon was arrested for unrelated fraud charges in 2020.
The two men have had a commercial relationship since Bannon stopped working for former President Donald Trump in 2017, with Guo financing media projects and hiring the China critic as a consultant.
A foundation owned by Guo is also behind the operations of Gettr.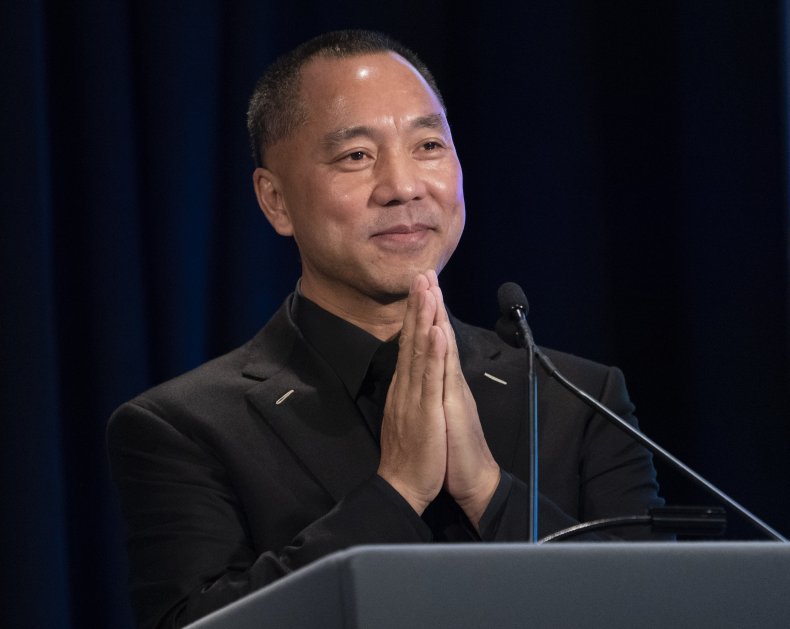 In Guo's bankruptcy filing, which he also shared online, he said he owed money to between 50 and 99 people. He placed his personal worth between $50,000 and $100,000—a claim sure to challenged by his many creditors.
Guo owns a multimillion dollar penthouse in New York's Upper East Side, but, like his superyacht, he's told the court it isn't really his.
Guo fled Beijing in 2014 after Chinese authorities accused him of fraud. Living in America, he soon became a hard-line CCP critic and an influential political commentator among certain conservative Chinese-American circles.
However, human rights activists and others persecuted by the Chinese government have accused him of hijacking their cause.
In a live stream on his Gettr account on Sunday, Guo said he had "no interest in political whatsoever [and] I want nothing but to take down the CCP."