Bipartisan Group Predicts 'Violence' If Trump Loses Election and Refuses to Leave White House
A bipartisan group of about 80 political operatives and academics has been involved in discussions about what could happen if President Donald Trump were to lose the November election and then contest the results, potentially refusing to leave the White House.
The Boston Globe first reported on Sunday that the group of Democrats and Republicans (all of whom do not support the president) convened an online meeting to hash out scenarios as part of what has been called the Transition Integrity Project in June.
The online meeting, which reportedly used the so-called Chatham House Rules that allows participants to discuss the conversation but not those who participated, played out a variety of scenarios that resulted in "violence." The discussion reportedly included a former swing state governor, a former head of the Department of Homeland Security, and a former White House chief of staff.
"All of our scenarios ended in both street-level violence and political impasse," said Rosa Brooks, a professor of law and policy at Georgetown University, and a former Defense Department official who helped organize the group, told the Globe. "The law is essentially ... it's almost helpless against a president who's willing to ignore it," she said.
Brooks told Newsweek on Sunday in an email that the "scenario exercises don't predict the future," but "explore possible futures: some of the 'what ifs.'"
"Our scenario exercises did not end in good places, but important to note that this does not mean that there is something inevitable about chaos and constitutional crisis in the coming months – just that these particular exercises suggest that these are real possibilities," she said.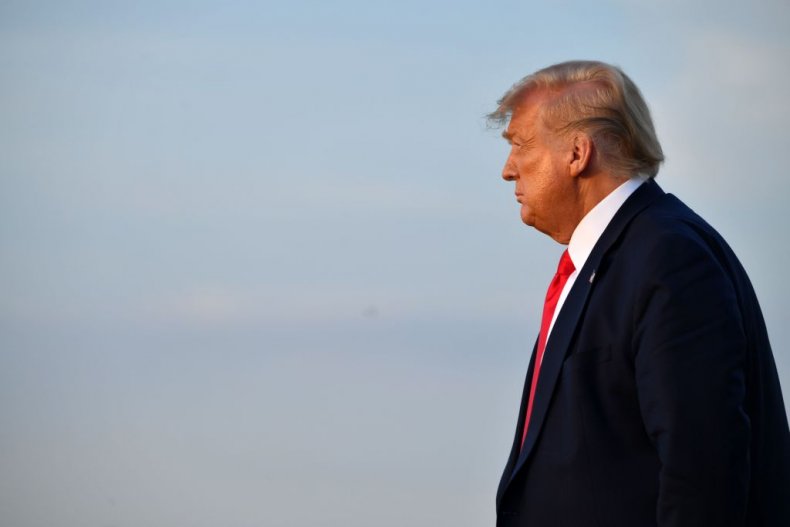 "The goal of the exercises was not to give people nightmares, but rather to identify possible inflection points to prevent or mitigate catastrophic outcomes to the 2020 presidential election," she said.
Brooks said that the group concluded that "state governors, attorneys general, legislative leaders and secretaries of state need to think through these issues now, and understand the electoral system and relevant laws now, and not wait until Election Day to think about everything that could go wrong."
Newsweek reached out to the White House for comment, but it did not respond by the time of publication.
"We have norms in our transition, rather than laws," Rachel Kleinfeld, a senior fellow in the Democracy, Conflict and Governance Program at the Carnegie Foundation, who participated in the project, told the Globe. "This entire election season is something a democracy expert would worry about."
Some political analysts have previously raised concerns that Trump will refuse to leave office. The president has fueled those concerns by repeatedly disparaging mail-in voting, and claiming without evidence that Democrats are attempting to rig the election. When asked directly about whether he will accept the election result, Trump declined to say he'd accept a loss during a recent interview with Fox News Sunday.
"I have to see. Look ... I have to see," Trump told Fox News Sunday host Chris Wallace for the interview which was broadcast last week. "No, I'm not going to just say yes. I'm not going to say no, and I didn't last time either."
But the president previously told Fox News in June: "Certainly, if I don't win, I don't win," he said, adding that he'd simply "go on, do other things."
Democratic presidential candidate Joe Biden, who currently leads Trump by a significant margin according to numerous polls, raised concerns that Trump would refuse to leave the White House in June as well.
"I am absolutely convinced they [the military] will escort him from the White House with great dispatch [if he refuses to leave]," Biden told The Daily Show host Trevor Noah in an interview.
The outcome of the election, of course, remains to be seen. There are still more than three months until Election Day on November 3. And even if Trump were to lose, it's speculation to suggest that he would contest the results. But Brooks and the bipartisan group believe it is important to begin thinking about the possibility just in case.
"I think the exercises led to some important insights, one being that forewarned is forearmed; in all our exercises, events unfolded very quickly in the days after the election, and those who had thought in advance about the 'what ifs' were better positioned to succeed than those who had not," she told Newsweek.