Bitcoin Falls, But MicroStrategy Buys; World Bank Says Recovery Will Be Uneven
CryptoCorner
Bitcoin has plunged as much as 50% from its record high, but MicroStrategy plans to increase its holdings in the cryptocurrency.
The Tysons Corner, Virginia-based analytics and business-intelligence company plans to offer $500 million in debt to acquire additional Bitcoin.
"We pursue two corporate strategies," the publicly traded company said in a note to investors: "(First) grow our enterprise analytics software business to promote our vision of Intelligence Everywhere, and (second) acquire and hold Bitcoin, which we view as a dependable store of value supported by a robust, public, open-source architecture untethered to sovereign monetary policy."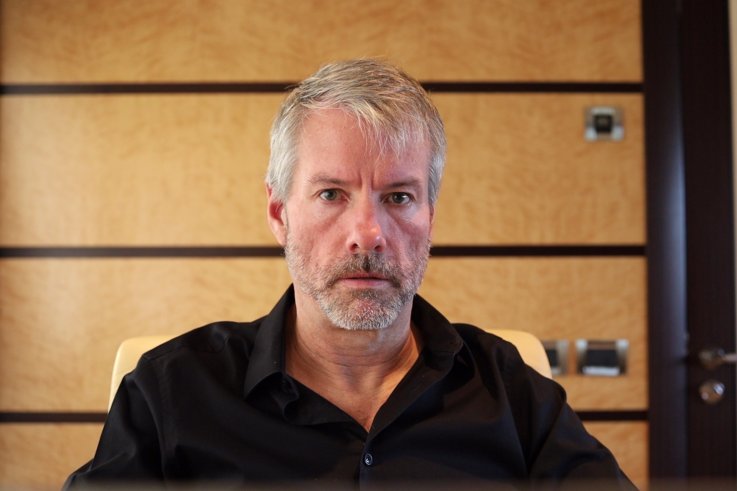 "We pursue two corporate strategies," MicroStrategy said in a note to investors: "(First) grow our enterprise analytics software business to promote our vision of Intelligence Everywhere, and (second) acquire and hold Bitcoin, which we view as a dependable store of value supported by a robust, public, open-source architecture untethered to sovereign monetary policy. Pictured CEO Michael Saylor of MicroStrategy.
Courtesy of MicroStrategy
The company said it now holds about 92,079 Bitcoins. It will form a new subsidiary, MacroStrategy, to hold its current coins and future acquisitions. At least 25 publicly traded companies have doubled their initial investment in Bitcoin.
MicroStrategy's private offering will be made to "qualified institutional buyers."
After deducting expenses, the company expects to raise $488 million through the sale of senior secured notes due 2028.
The notes will have an annual interest rate of 6.125% and must be repaid before other debts if the company goes bankrupt.
MicroStrategy's action underscores the growing split between major companies that buy and hold Bitcoin as a long-term investment and individual investors who apparently panic during market wobbles and sell into a downdraft.
Greg Cipolaro, an analyst at New York Digital Investment Group (NYDIG), said a review of blockchain data showed that those who held Bitcoin for one to six months "were an important factor in driving the sell-off" while most experienced investors sat tight.
"Our opinion is that long-term holders were largely unaffected by the price action and continued to hold," he said.
NYDIG is the Bitcoin subsidiary of Stone Ridge, a manager of alternative assets valued at about $10 billion.
MicroStrategy is often credited with igniting the bull market that carried Bitcoin to its record high.
Unlike buying stock in Apple, Intel, Pfizer or Burlington Northern Santa Fe Railway, Bitcoin has no fundamentals to drive its price.
MicroStrategy is making a pure momentum play and CEO Michael Saylor shows guts in shrewdly buying the dip.
There's a market for Bitcoin and its price movements aren't random. But price is driven by anticipation of future gains and public sentiment, and current attitudes are downbeat about the cryptocurrency.
Bitcoin got a boost earlier this year when entrepreneur Elon Musk said Tesla had invested $1.5 billion in the cryptocurrency. But it later took a hit when Musk said Tesla would no longer accept Bitcoin as payment for its electric cars.
In a series of ambiguous tweets, Musk appeared to say Tesla had sold some of its Bitcoin holdings. It hadn't.
The optimistic view: Musk's ability to drive Bitcoin's price higher or lower on nothing but a few tweets underscores the crypto's nascent development as an asset. The pessimistic view: The market's response to the whims of one man underscore Bitcoin's vapidity.
Most agree that Bitcoin is too volatile to be used in commerce. In a research paper, the Federal Reserve Bank of St. Louis said Ethereum, the world's second most popular cryptocurrency by market cap, is better suited for commerce.
But major Wall Street firms and Boston mutual funds now offer Bitcoin investments to select clients. The Bank of New York Mellon, the nation's oldest bank, offers a secure place for major investors to park their Bitcoin.
Some major investors apparently see Bitcoin as a hedge against inflation.
Recent news has both pummeled and boosted Bitcoin. Many have expressed concern that Bitcoin can be used to fund illicit activity, including terrorism.
But crypto proponents dismiss the concern as largely irrelevant because the U.S. dollar is widely used in criminal activity and no one frets that thugs diminish its value.
In any case, the FBI recovered most of the Bitcoin used to pay hackers in the recent ransomware attack on the Colonial Pipeline.
Stricter regulation of Bitcoin is almost certainly coming from governments worldwide, including the U.S., which is exploring creating a digital currency of its own. A digital dollar would preserve the government's monopoly on issuing money.
Crypto backers welcome the increased oversight and believe it will make the market more transparent and therefore more attractive to investors.
In what could be a major change or an irrelevant one-off event, El Salvador announced plans to make Bitcoin legal tender along with the U.S. dollar. The El Salvadoran colon trades at about 8.75 to the dollar.The move could mean Bitcoin would be classified as a foreign currency, and that could change the way Bitcoin investments are taxed, boosting the crypto.
What's clear is that Saylor, MicroStrategy's CEO, is, like Musk, unusually smart. The difference is that Saylor appears to be steadier with clear investment goals.
In mid-day trading Wednesday, Bitcoin changed hands at $36,187.28, up 12.9% in the last 24 hours and up 25.79% for the year. The 24-hour range is $31,904.78 to $36,723.18. The all-time high is $64,829.14. The current market cap is $677.80 billion, CoinDesk reported.
MarketPulse
The worldwide economic recovery from the COVID-19 pandemic is expected to be rapid but uneven, the World Bank said in its June Global Economic Prospects, and this will widen the gap between rich and poor regions of the world.
Distribution of COVID-19 vaccine is a major factor in the uneven recovery.
"While there are welcome signs of global recovery, the pandemic continues to inflict poverty and inequality on people in developing countries around the world," David Malpass, World Bank Group President, said in a report. "Globally coordinated efforts are essential to accelerate vaccine distribution and debt relief, particularly for low-income countries."
Worldwide, the economy is expected to grow 5.6% in 2021, up from the World Bank's January estimate of 4.1%.
That would be the fastest recovery from the five major recessions experienced since World War II, the World Bank said.
The U.S., the world's largest economy, is expected to grow at 6.8% this year, up from the World Bank's January estimate of 3.5%.
China, the world's second-largest economy, is expected to grow at 8.5%. India is expected to grow at 8.3% and Europe is projected to expand at 4.2%, the World Bank said.
Growth in low-income economies this year is expected to be the lowest in 20 years, excluding the pandemic year of 2020.
Low-income economies—those with a per capita of $1,035 or less and concentrated in sub-Saharan Africa—are expected to grow 2.9% in 2021 and 4.7% in 2022. As a group, 2022 output in low-income countries is expected to be 4.9% lower than pre-pandemic estimates.
"As the health crisis eases, policymakers will need to address the pandemic's lasting effects and take steps to spur green, resilient, and inclusive growth while safeguarding macroeconomic stability," Malpass said.
The World Bank said inflation will rise this year, but is expected to remain within the target range of central banks in developed nations.
Global consumer prices fell 0.9 of a percentage point between January and April 2020 many consumers stopped spending and instead fattened their savings accounts.
But inflation returned as the world's economy rebounded and exceeded pre-pandemic levels by April 2021. Global inflation is expected to increase 3.9% this year from 2.5% in 2020. However, inflation is expected to increase more rapidly in undeveloped nations, but the increase is unlikely to require a "monetary policy response" if it is temporary.
Despite the robust economic recovery, global production at the end of the year will remain about 2% below pre-pandemic estimates.
Per capita income losses won't be made up for about two-thirds of emerging market and developing nations for at least 18 months and perhaps longer.
"Rising food prices and accelerating aggregate inflation may also compound challenges associated with food insecurity in low-income countries," the World Bank said. "Policymakers in these countries should ensure that rising inflation rates do not lead to a de-anchoring of inflation expectations and resist subsidies or price controls to avoid putting upward pressure on global food prices."
Increased trade is the best way to lift poor nations out of poverty, but lack of adequate infrastructure in poor nations boosts costs nearly 50% above developed nations, the World Bank said.
"Efforts to streamline trade processes and clearance requirements, to enable better transport infrastructure and governance, encourage greater information sharing, and strengthen competition in domestic logistics, retail, and wholesale trade could yield considerable cost savings," the report said.
The World Bank was created in 1944 to rebuild Europe after World War II. Today, it seeks to foster development in low- and middle-income nations. It has about 190 member nations and is based in Washington.